Head for Cecil & Kent Counties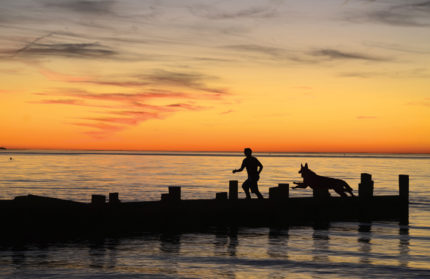 Head for Cecil County
Now on to Maryland and Cecil County, our neighbor to the southwest, at the top of Chesapeake Bay, midway between Philadelphia and Baltimore. Discover charming small towns, parks with miles of trails, specialty and antique shops, award-winning restaurants, and cozy inns and B&Bs. Plenty of attractions—like the July 20-28 Cecil County Fair, Prime Outlet shopping and Maryland's first casino—make this a destination. See SeeCecil.org.
The Chesapeake Bay
For outdoor fun you can hike, bike, camp, bird watch, horseback ride, or drop a fishing line. Explore five rivers, the Chesapeake Bay and the C&D Canal by boat or by land. Enjoy panoramic views from Turkey Point Lighthouse on a bluff overlooking the Bay or from the banks of the C&D Canal where ships from around the globe cruise.
Fair Hill
Beyond its fame as an equestrian destination for Fair Hill Races in May and a 3-Day Eventing Competition, October 18–21, the over 5,000-acre Fair Hill Natural Resource Management Area is known for beautiful meadows, lush woodlands, historic sites and natural beauty. Once owned by William du Pont Jr., who used the property for cattle, fox hunting and steeplechase racing, the land welcomes hikers, anglers, archers and history buffs in search of Mason Dixon markers and covered bridges.
Great Outdoors
Calling all boaters, fishermen, golfers, equestrians, hunters, campers, hikers and bikers! Cecil County boasts a diverse selection of state parks and forests, each with nature trails for walkers, hikers and bikers, plus wildlife highlights from birds to reptiles to fish, and nearby attractions from arboretums to winery tasting rooms. Get a copy of the Nature Guide from the tourism office.
Chesapeake City
Visit a classic town, like Chesapeake City, a historic town on the National Register of Historic Places boasting 19th-century Victorian homes and shops that suggest a step back in time.
Outside of town and set in an early 19th-century pump house, the C&D Canal Museum tells the story of the 14-mile-long man-made waterway connecting the Chesapeake and Delaware Bays. Started in 1824—when workers were paid 75 cents a day to dig the 10-foot-deep, 66-foot-wide original canal—the canal, now 35-foot deep and 450-foot-wide, is the third busiest in the world and busiest in the U.S., serving 15,000 vessels a year, from pleasurecraft to transatlantic ships. Open Mon.–Fri. and weekends through Labor Day.
And don't forget to enjoy a sunset view before heading home.
Sample Maryland's Eastern Shore
Maryland merits another stop for the full Chesapeake experience, so head for the Eastern Shore, across the Bay, about two hours from Chester County. At Kent County's Eastern Shore you'll find an area that's unspoiled, with charming waterfront towns, stretches of rolling farmlands, and miles of scenic landscape. Watch watermen hauling in their catch, cyclists cruising on untrafficked roads, and everyone from antiques lovers to Maryland blue crab lovers enjoying the special flavor of the Eastern Shore.
Here are three must-see destinations, and more choices at Kent County Tourism Office, KentCounty.com.
Chestertown
Chestertown, a former Colonial port, is now a well-kept historic treasure on the scenic Chester River. Take a walking tour along red-brick sidewalks past the second largest collection of 18th-century structures in Maryland. Chestertown was named by the National Trust as one of a "Dozen Distinctive Destinations," an annual list of unique, preserved communities. Visit the Geddes-Piper House Museum (c. 1784), 101 Church Alley, the Charles Sumner G.A.R. Hall on Queen Street (one of four Civil War Trail sites), and Washington College's historic campus—one of the ten oldest liberal arts colleges in the country and one with links to George.
Enjoy performances at Princes Theatre and shopping at the Chestertown Farmers' and Artisans' Market on Saturdays, plus special events on First Fridays in a town that's a designated Arts and Entertainment District. For more, visit Chestertown.com.
Rock Hall
To celebrate Independence Day, head southwest and find the sky full of fireworks at Rock Hall, a fishing village—aka the "Pearl of the Chesapeake"—nestled between the Chesapeake Bay and Chester River. Once a tobacco port, then a fishing and crabbing center, the town now thrives as a sailing, boating and tourist destination and was named a best small town to visit by Southern Living Magazine. You'll find Eastern Shore flavor and character throughout the town in B&Bs, inns and shops featuring local artwork, crafts and antiques. Don't miss the many restaurants serving the freshest seafood.
Eastern Neck National Wildlife Refuge
Nature lovers will want to make time for Eastern Neck National Wildlife Refuge, for wildlife, waterfowl, birding and fantastic observation decks and  walking trails, many of which lead to the water. Be sure to visit the Butterfly Observation Deck for a panoramic view of Chesapeake Bay. A birders' paradise, the refuge is sanctuary for more than a hundred thousand bald eagles, ducks, geese and swans, along with migratory songbirds and shorebirds. 1730 Eastern Neck Rd., 6 miles S. of Rock Hall, Fws.gov/Northeast/EasternNeck.
back to top