Food News / November 2018
A few of our favorite things to share this month about local food and drink.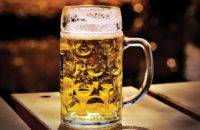 Microbrew, Macro Impact
Brush up on your ABCs—Appalachian Brewing Company is now serving West Chester. Founded in Harrisburg with eight locations including Collegeville, ABC Brewery offers handcrafted beer and PA wine and spirits with bar bites and pub grub to match. Pair your IPA with bourbon beef tips or enjoy flagship brews like maple brown ale or seasonal treats like hefeweizen. Check out the second floor wine bar featuring wine on tap from Spring Gate Vineyard. Cheers! 142 E. Market St., West Chester. ABCBrew.com.
Super Powders
Need a diet reset after indulging every Thanksgiving? Superfood powders will save the day. Powdered extracts require minor effort but provide major health benefits. Add antioxidant-rich açaí for a berry boost to your juice. Moringa and spirulina elevate average smoothies. Brew matcha tea for energy boosts and lower blood pressure. Mix dragon fruit powder into yogurt for pretty purple parfaits. Find super powders at The Prana House and TranquiliTEA Temple, both in West Chester. ThePranaHouse.com, TranquiliteaTemple.com.
Yummy in Pink
Who knew veggies could be so Instagram-worthy. Pink radicchio, a rose-colored version of the salad mainstay, is taking over restaurant menus and your local produce aisle. Though this blush beauty hails from Italy, it's grown on Camporosso Farm, Berks County and found in local farmers markets. Pink radicchio is sweeter and mellower than its purple cousin and pairs well with ricotta, walnuts and pomegranate seeds. Eat your leafy pinks and don't forget to snap an Instagram pic!
Espresso Yourself
Perk up coffee lovers! National Espresso Day, November 23, falls on Black Friday this year. So, sip an espresso shot for early morning energy and #ShopSmall at local boutiques all weekend long, including Small Business Saturday. Rather sleep in? Enjoy espresso at local favorites like The Farmhouse Coffee & Espresso Bar in Downingtown and Pour Richard's Coffee Co. in Devon. Satisfy your sweet tooth with an affogato (ice cream drowned in espresso) at the Coffee and Ice Cream Bar in West Chester. Facebook.com/ShopSmallWC.
Rum Runners & Revolution
The rabble-rousing past of 12 PA taverns where American revolutions were born comes to life in Well-Behaved Taverns Seldom Make History, new from author M. Diane McCormick. Take a pub crawl through one local spot, Malvern's General Warren Inn, and discover their rebellious history from nighttime reconnaissance missions to debonair British spies. While you're there, sip from their extensive beer, wine and cocktail selection in the glow of a real wood fire. 9 Old Lancaster Rd., Malvern. GeneralWarren.com.
back to top