Food News / July 2020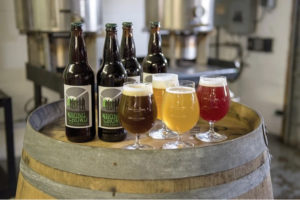 New Brews. Raise a glass to Wrong Crowd Beer, opening soon in West Chester and promising to add unique flavors and exceptional tastes to the local beer scene. Started by Dan Shaw, of Pinocchio's Beer Garden, and Bob Bagonis, the brand is currently available at spots like Side Bar in West Chester. While their space finishes construction, subscribe to their newsletter and follow them on Facebook and Instagram for updates on the grand opening and events. 342 Hannum Ave., West Chester. WrongCrowdBeer.com.
Forage Fever. Flavor and fun mix in the art of foraging—finding food in the wild. A nutritional and self-sufficient hobby, foraging works as an independent or group activity. Join an online group, like PA Foragers Club, or visit WildFoodies.org to learn where to go, what to look for and how to work your findings into a meal. Dandelions and wild berries are easy plants to forage and bring home to your table. And each season brings a different harvest!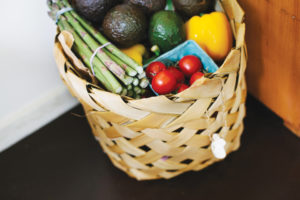 e-Eats! Looking to lend a hand but can't do it in person? Consider hosting a virtual food drive for the Chester County Food Bank. The food bank partners with local farms and businesses to combat food insecurity in Chester County. Through the online Fenly platform, creating a food drive is easier than ever. Select Individual or Team fundraiser on the website and contribute funds towards food boxes full of nutritional options. Your donation could make a difference in someone else's life. ChesterCountyFoodBank.org.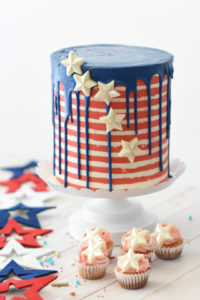 Foodie Flags. America's flag has gone through 27 different designs since 1777. The design has been reproduced into dozens of edible versions, from cakes to pies and pizza to hot dog platters! This July 4th channel your creative juices into commemorating our nation's colorful history through your favorite dessert or dish. Not sure where to start? Try a patriotic and healthy Watermelon Feta Flag Salad, a sure scene-stealer on your Independence Day table or a tri-color cake. TasteofHome.com.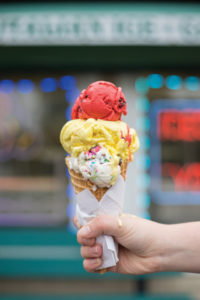 Ice Cream Dream. Treat yourself to tantalizing flavors from Scoops 'N' Smiles! This sweet spot in the heart of Malvern recently opened in West Chester. One catch: with flavors like Cake Batter Swirl, Death By Chocolate and Salted Caramel Pretzel, choosing may freeze your brain. Celebrate National Ice Cream Day on July 19th with a visit. Call for curbside pick-up. 327 E. King St., Malvern; 6 E. Gay St. West Chester. ScoopsOnKing.com.
back to top