Food News / December 2018
A few of our favorite things to share this month about local food and drink.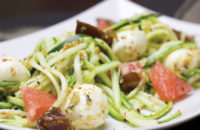 Veggie Tales
New Year's resolution diets are tough, but veggie carb substitutes make them simple. Swap the carbs for your daily dose of veggies—it's easy, plus they're less than half the calories. Remix noodle dishes with zucchini "zoodles" and fiber-rich chickpea pasta. Wedge butternut squash and parsnips into low-starch fries. And trade Uncle Ben's for riced cauliflower and squash risotto. Shop local farmer's markets for fresh vegetables and stop by Rize Pizza in West Chester for cauliflower crust for your pizza. RizePizza.com.
Keep it Kosher
We'll eat Jewish culinary creations any day. But with Hanukkah kicking off December, latkes are the perfect addition to holiday dinner. No need to run to the butcher for kosher meat—latkes are vegan, so they're perfect for every dinner guest. Tip: pop your potatoes in a food processor for easy grating. Dip them in locally sourced applesauce from Weaver's Orchard, Morgantown. The holiday season is all about inclusivity—and your taste buds will thank you! WeaversOrchard.com.
Major Mixology
Anxious about last-minute holiday entertaining? Two-ingredient cocktails drown the stress. Anglophiles will love gin-and-T's, remixed gin and tonic with London Dry Gin and Earl Grey tea. Get seasonal with a Cape Codder—vodka and cranberry juice, garnished with lime. Top mulberry gin with sparkling rosé for a Rosé Royal.  Fall firepits are incomplete without hot chocolate, spiked with Kahlua or peppermint schnapps. With just two ingredients, holiday cheer will never be a chore. Recipes on BestLifeOnline.com.
Sip, Sip Hooray
This month 85 years ago, Americans toasted with a well-deserved drink. Prohibition Repeal Day, December 5, marks the day that "America's noble experiment" was revoked. What better way to celebrate your Constitutional right than pouring a glass of your favorite spirit? Grab a friend (or three) and head to happy hour at Black Powder Tavern in Wayne or The Gables at Chadds Ford. Beer drinkers have tons of choices in our area and causes for celebration. BlackPowderTavern.com; TheGablesAtChaddsFord.com.
Outside the Gingerbread Box
Say "bah, humbug" to plain old gingerbread. Try fun new twists on gingerbread houses and create a family tradition. For a salty take on a sweet classic, exchange gingerbread for mini pretzel sticks. Cover upside-down ice cream cones with green icing, coconut shavings and gumdrops for a Christmas forest. Try stick gum for mint condition roofing and siding. Use leftover trail mix to cover the house with your favorite nuts—and remember the pistachio "trees." Recipes on Pinterest.
back to top