Food News / April 2017
Think Fresh, Stay Local. A Chester County native, Eric Yost—formerly of The Gables, White Dog Café and Wyebrook Farm—recently opened Suburban Restaurant and Beer Garden in Eagleview Town Center in Exton, featuring his take on farm-to-table cuisine. The restaurant, adorned with long, family-style wooden tables and refurbished barn doors, features fresh produce from Chester County farms and an outdoor beer garden highlighting local craft beers to enjoy. Want to know more? Sign up for their newsletter. SuburbanBG.com.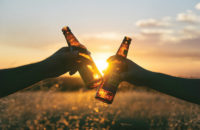 Sweet and Tweet. With spring in full swing, there's no better time to take a little inspiration from Mother Nature. If you're tired of the same old strawberry shortcakes, opt instead for bird's nest desserts! These miniature marvels can sit atop cupcakes or be made as no-bake versions—good when working with kids. Start with a base—like crunchy chow mein noodles or mini pretzel sticks—then top with chocolate candy eggs or a classic favorite—Peeps. Recipes on TasteofHome.com.
Something to Celebrate. Get your pint glass ready for New Beer's Eve on April 6th. The night before National Beer Day on April 7th, New Beer's Eve celebrates the end of Prohibition in the U.S. On April 6th, 1933, throngs of thirsty people waited outside bars and taverns until midnight, when buying alcohol would be legal for the first time in 13 years. Celebrate this historic event at your favorite bar or watering hole and toast New Beer's Eve!
Farm-Forward. King of Prussia Town Center added another eatery to its restaurant row: Founding Farmers Restaurant Group. This co-op from the North Dakota Farmers Union works to promote farmers' rights and advance the quality of their livelihoods while serving locally inspired fare. Founding Farmers offers dishes like Farmers Slaw Reuben, Seafood Bucatini and Glazed Bacon Lollis—short for lollipops. This two-story venue has its own bakery along with a dining room and bar on the second floor. More at WeAreFoundingFarmers.com.
Power Up! Too busy to whip up a quick, nutritious meal? Breathe easy because Wegmans now has Power Meals—grab-and-go prepared meals packed with flavor and nutrients to get you through the day. Each Power Meal is crafted by certified nutritionists, has fewer than 600 calories, and packs at least 25 grams of protein. And with tempting options like Black Pepper Salmon, Tuna Tataki and Ceviche over Quinoa, eating on the go never tasted so delicious. More at Wegmans.com.
back to top