Feeding a Community, One Garden at a Time
And you can help
It's peak season for locally grown produce. Ripe fruits and vegetables are in abundance. Summer crops are still producing their bounty as the fall crops begin to reach maturity. Tomatoes are heavy on the vines, potatoes are being dug up from the soil, lettuce and greens are thriving, and winter squash is almost ready to be harvested.
This is a great time to enjoy the bounty of local produce in the mid-Atlantic region.
Still, not everyone is able to afford the fresh, nutritious vegetables that abound this time of year. That's why our local food banks play such an important role for those in need. And you can help.
Addressing Food Insecurity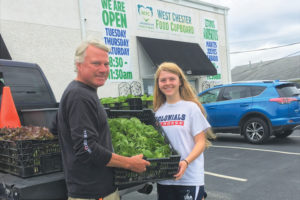 You may be surprised to learn that according to estimates from the national anti-hunger group Feeding America, there are about 43,000 food insecure individuals in Chester County alone. That number accounts for about 8.4% of the total population of the county.
Food insecurity, as broadly defined by the Chester County Food Bank, refers to a household without reliable access to a sufficient quantity of affordable and nutritious food at any given time. And although Chester County is the wealthiest county in Pennsylvania, food insecurity remains a serious issue for too many of our neighbors.
Often when people who want to help think of donating food, their first thought is collect canned goods or non-perishable items that can be stored long term. While this kind of food has an important role in providing meals, fresh fruits and vegetables afford the best nutrition options. And fresh is tastier, too.
Collecting enough fresh produce, however, takes extra effort by food banks. Fortunately, spring, summer and fall in the mid-Atlantic region offer ample opportunities for local farms and backyard gardens to grow food to donate regularly to our local food banks. These food banks play the important role of seeing that the food harvested goes to those who need it most.
Formed in 2009, the Chester County Food Bank plays an important part in meeting the needs of families facing food insecurity. The Food Bank's goal is not just distributing food to those in need but supporting other organizations with the same mission. Today the Chester County Food Bank serves 120 partner agencies in the County and distributes over 3 million pounds of food per year.
A unique aspect of their donation program is the partnership with local farms.
Partner Farms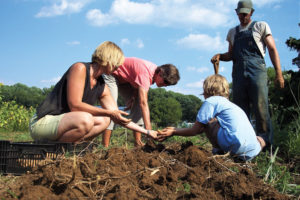 A prime example of a local partnership, Pete's Produce Farm at Westtown School has a long history of donating fresh fruits and vegetables to area food banks and has worked with the Chester County Food Bank since it started. Early on, owner Peter Flynn dedicated two acres of his farm to grow and glean food solely for donation.
Today Bill Shick, Director of Agriculture at the Food Bank, helps oversee volunteers who come out regularly to help maintain and harvest thousands of pounds of diverse crops ranging from peppers to collards and broccoli grown on the farm. These community volunteers help get fresh food to those in need through this direct method of local food donation.
Another local source, Rushton Farm, part of Willistown Conservation Trust's Community Farm Program, grows food in their fields and gardens to donate to the West Chester Food Cupboard. Rushton Farm was one of the first farms to contribute fresh produce for distribution to the Food Cupboard.
There's also a dedicated donation garden at Rushton Farm, run by volunteers, that harvests and donates all the food grown there throughout the season. Called Henry's Garden after Henry Jordan who helped develop the Chester County Food Bank, this garden welcomes volunteers every Wednesday from 9 to 4 to come out and help manage over 700 pounds of crops a year that are harvested for donation.
Rushton Farm itself donates an additional 3,000 pounds of food a year with the help of volunteers. Today members of Rushton Farm and Willistown Conservation Trust volunteer not just in the fields but also in the donation centers helping to collect, pack, weigh and distribute the fruits and vegetables that come in each day.
These farms and local food banks provide an excellent opportunity for individuals to help fellow community members.
Shared Victory Gardens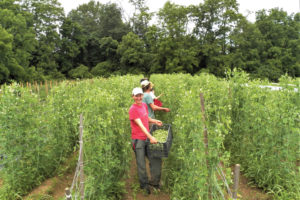 Of course, it's not just area farms that provide produce to local food banks. Backyard gardeners can also play an essential part.
Families and individuals often take a portion of their harvest and donate it to local food banks and food cupboards. These individual growers contribute generous amounts of food each year. For many it's a way to engage community members of all ages in the joy of growing food that's greatly apprciated by those who rely on it.
When growing a garden with the goal of donating part of your harvest, consider vegetables like beans, squash, cucumbers and peppers—crops that are not as perishable as others, like tomatoes. See more tips in the sidebar.
Remember, whatever you grow will be a welcomed addition to a meal.
Volunteering at a farm that donates food, donating food from your garden, or volunteering at a food bank are great ways for both adults and children to become involved in the rewarding experience of helping others in our community.
The Willistown Conservation Trust Community Farm Program and Rushton Farm are dedicated to conserving agricultural land, providing food and educating people about the importance of local food to support a community. More at WCTrust.org.
Where to Volunteer to Help
There are plenty of ways you can volunteer at a local food bank or a farm that produces food for those in need. Here are organizations that support volunteers for local food donation. These organizations, of course, also welcome financial donations to support their ongoing efforts to feed communities in Chester County and beyond.
Chester County Food Bank
ChesterCountyFoodBank.VolunteerHub.com
Willistown Conservation Trust/Rushton Farm
WCTrust.org/Volunteer
West Chester Food Cupboard
WestChesterFoodCupboard.org/Ways-To-Help-2
FoodPantries.org
FoodPantries.org/CI/Pa-West_Chester
Food Pantries in the Philadelphia Region
HungerCoalition.org/Food-Pantries
Home Gardeners Can Help
Are you a home gardener with an overabundance of crops (think zucchinis in August), or just looking to give back to your community? Here are some tips when planting and harvesting your own produce for donation.
When planning your garden for the year, contact your local food bank to find out what types of produce are most needed and the requirements for donation.
In the spring, plant an extra row or bed of each crop to be donated to your local food bank.
Partner with neighbors or other local gardeners to increase your donation size, and take turns making trips to the food bank donation center each week.
back to top