Cool Spots, Cooler Treats
Start your summer on a sweet note.
From ice cream to gelato to milkshakes and more, these locally owned spots for refreshing treats are sure to satisfy that summer sweet tooth. Check out these unique places and the cool treats they serve all around County Lines country, starting with West Chester, Chester County's hub for delicious eats.
West Chester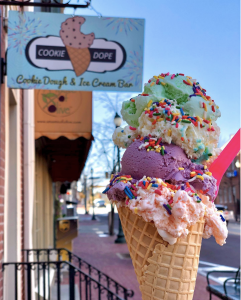 Dope Desserts. Craving a sweet treat, but can't decide exactly what? Head to Cookie Dope where you can get ice cream, cookie dough, baked goods, snow cones and more. Try ice cream sandwiches made with the flavor of your choice plus your pick of cookies, brownies or a waffle taco. Then add your favorite toppings. While you wait for your tasty treats to be customized, play a classic arcade game! 28 S. High St. Mon–Fri, 3 to 9 p.m.; Sat–Sun, 2 to 9 p.m. TheCookieDope.com.
Decadent D'Ascenzo's. Indulge in rich gelato and refreshing sorbet under string lights on D'Ascenzo's Gelato's brick patio. Handmade right in West Chester, the gelato is crafted from local ingredients for quality flavor — including dairy products from Baily's Dairy at Pocopson Meadow Farms. Try popular flavors like stracciatella (with chocolate shavings) and Belgian butter cookie. Vegan options are always available among the daily rotating flavors. 132 E. Gay St. Mon–Sat, noon to 10 p.m.; Sun, noon to 8 p.m. DAscenzosGelato.com.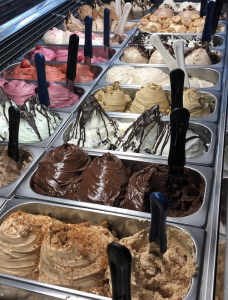 Taste of Italy. Take your taste buds to Italy at Gemelli Artisanal Gelato & Dessert Café and enjoy their award-winning artisanal gelato. Owner and maker, Vincenzo, born in Ferrera, Italy, trained with some of the best gelato stars before bringing his talents to West Chester. Dig into the delectable farm-fresh gelato from a menu of rotating flavors, including vegan options. Pair the cool summer treat with baked goods or espresso drinks.
Scooping Smiles. Get your all-year-round ice cream fix at Scoops 'N' Smiles, priding themselves on their Dutch Farm ice cream made with fresh ingredients the traditional way. Their 20 fun flavors rotate daily with favorites like chocolate brownie, blueberry swirl and tandy cake (vanilla ice cream with cake pieces, chocolate chips and peanut butter swirls). Plus, check out vegan flavors including almond bark, butter pecan and wildberry. Make sure to visit their other location in Malvern. 6 E. Gay St. Sat–Sun, noon to 9 p.m; Wed–Fri, 3 to 9 p.m. ScoopsOnKing.com.
Chester Springs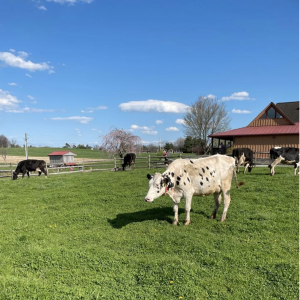 Moolicious. Are you an animal lover and ice cream lover? If so, then Chester Springs Creamery is for you! Enjoy ice cream from Milky Way Farm's dairy herd at their creamery shop, while strolling around the farm to see the cows each flavor is named after. The Creamery keeps quality and safety as their top priorities, including protocols to protect customers with allergies. They even offer sugar-free vanilla ice cream and lactose-free flavors, including their seasonal sorbets. 521 E. Uwchlan Ave. Spring: Fri–Sun, 1 to 9 p.m.; Summer: TBD. MilkyWayFarm.com.
Exton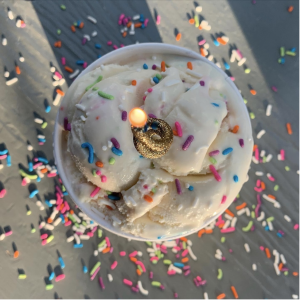 Summer Scoops. Browse for vinyl records while enjoying award-winning ice cream, gelato and sorbet made on site at Scooped Ice Cream (yes, really!). Try a variety of homemade flavors including a blue fan-favorite, "Cookie Monster" ice cream — a mix of cookies and cream and cookie dough with vanilla ice cream colored to match the beloved Sesame Street character. Not going to be in Exton for a sweet bite from Scooped? Take a trip to their other shop in Media. Check their Facebook page for more info on the menu and hours. 130 Pottstown Pk. Tues–Sun.
Hockessin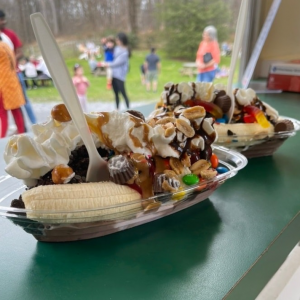 Farm Fresh. Bring the kiddos to a farm-filled day — with ice cream as a bonus — at Woodside Farm Creamery. After exploring the nearly 230-year-old farm, grab a cup or cone of ice cream made from milk from their 30+ Jersey cows. Enjoy classics inside their rustic creamery including chocolate, vanilla or strawberry. If you're feeling adventurous, try unique flavors including bacon, butter brickle and motor oil. 1310 Little Baltimore Rd. Noon to 8 p.m. WoodsideFarmCreamery.com.
Kennett Square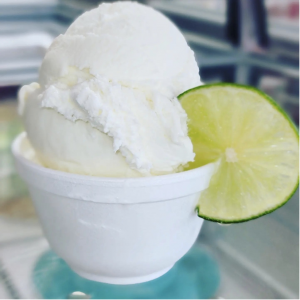 Presidential Sweets. Did you know President Joe Biden has a go-to ice cream fave in Chester County? La Michoacana has a variety of crazy and classic flavors — many with a traditional Mexican flair — that Pres. Biden returns to enjoy when he can. Try their 75 unique rotating flavors, including tequila, queso fresco, corn and dairy-free coconut. Couple the ice cream with drinks like horchata made from rice pudding or a Brain Freeze slushie made from their homemade sorbet. 231 State St. Mon–Sun, noon to 8 p.m. LaMichoacanaHomemadeIceCream.com.
Malvern
More Smiles. Double your Scoops 'N' Smiles fun by visiting their second location in Malvern. See the West Chester listing for more info. 372 E. King St. Sat–Sun, noon to 9 p.m; Wed–Fri, 3 to 9 p.m. ScoopsOnKing.com.

Media
More Scoops. Check out Scooped Ice Cream's second location in Media. See the Exton listing for more info. 25 W State St., Media. Tues– Sun.
Oxford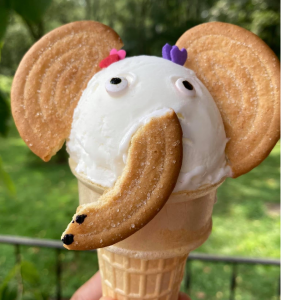 Fun Flavors. Summer heat calls for ice cream that's extra refreshing, and La Lupita Ice Cream Shop knows just how to satisfy. Named after owner Omar Sanchez's grandmother Lupita, this place serves up over 20 flavors of ice cream and icy drinks. Choose from their classics, including mango, coconut and bubblegum, or savor an eclectic flavor like pine nut, mamey (a tropical fruit) or gansito (a Mexican cookie with strawberry jelly and chocolate). Check out their Facebook page for more. 417 Market St. Mon–Sat, noon to 9 p.m.; Sun, 1 to 8 p.m.
Phoenixville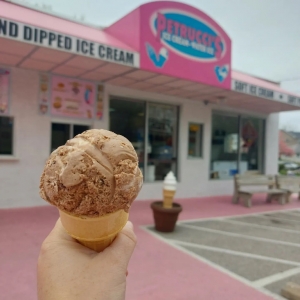 Petrucci's Perfection. Enjoy smoothies, sundaes and so much more at Petrucci's Ice Cream. Serving over 20 flavors each of hand-dipped soft ice cream and water ice — with rotating flavors like watermelon, piña colada and tangerine — they also whip up frozen cappuccinos, floats and milkshakes in any of their ice cream flavors. Head to their Phoenixville shop or their location at King of Prussia's NorView Farms. 472 Nutt Rd., Phoenixville. Noon to 9 p.m. 670 Henderson Rd., King of Prussia. 11 a.m. to 9:30 p.m. PetruccisIceCream.com.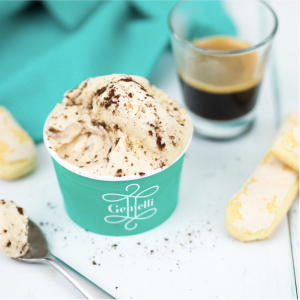 Holy Cow! Looking for udder-ly delicious ice cream and other cool treats? Head to Brown's Cow and get your fill with 40 flavors, scooped from world-famous Bassetts ice cream. Savor raspberry truffle, moose tracks, pomegranate blueberry chunk or sample a few of their seasonal flavors. As a bonus treat, enjoy a creamy milkshake — your choice of malted or not — or a rootbeer float. Check the website for more delicious flavors, including vegan, dairy-free and sugar-free options. 30 S. Main St. Tues–Thurs, noon to 10 p.m.; Fri–Sat, noon to 11 p.m.; Sun, 2 to 10 p.m. BrownsCow.com.
Get Your Gelato. See West Chester for more about Gemelli Artisanal Gelato, newly opened in Phoenixville. 247 Bridge St. Wed–Sun.
West Grove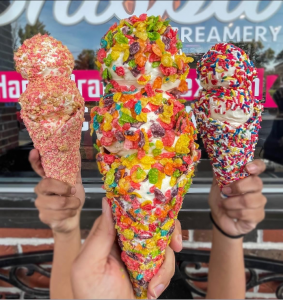 Sugar Heaven. Craving something sugary sweet? La Chispa Creamery has you covered. Sample their 20 flavors of ice cream and sorbet including key lime pie, caramel tres leches cake and milk 'n' cookies to pair with toppings galore. For an extra dose of sweetness, order a colorful milkshake like Cookie Monster or cotton candy bliss, loaded with sweet toppings. Choose from a wide range of desserts including peanut butter lava cake or a churro split, or select a fruit smoothie or a raspado (shaved ice drink) from their drinks menu. Check their Facebook page for more. 302 E. Baltimore Pk. Mon–Fri, noon to 9 p.m.; Sat–Sun, 11 to 9 p.m.
back to top