Battle of Brandywine's 245th Anniversary
Come celebrate a local battle for American independence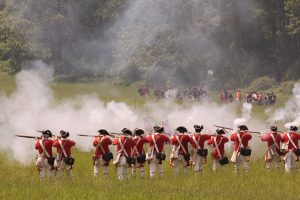 On September 11, 1777, George Washington's Continental Army and British troops under Sir William Howe met in a key battle for American independence near Chadds Ford at the Battle of Brandywine. With the 245th anniversary of this historic event approaching, local history buffs and reenactors are commemorating the second-longest conflict (11 hours) and the largest land battle of the war for independence.
To mark the event, a free reenactment will take place on September 24 and 25 at Sandy Hollow Heritage Park in West Chester, on 42 acres of land where a portion of the battle was fought. (The remainder was fought at the Brandywine Battlefield, which will hold a Remembrance Day on September 11.)
"This will be one of the major historical events for 2022 in this area, if not the nation," says Randell Spackman, chair of the Brandywine 2022 event. It's the third and largest reenactment at Sandy Hollow in the past five years.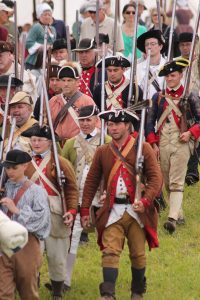 Come to honor our history and be part of an "immersive historical experience," along with enjoying vendors selling goods and colonial games for children. Plus, over 1,000 soldiers and camp followers are set to participate.
Besides the battle reenactment, visitors can interact with period-costumed interpreters playing Washington, Marquis de Lafayette and Alexander Hamilton. This event also includes performances by local singers from area schools and other organizations as well as a showcase including Adrian Martinez, who paints historically themed art, and local author Bruce Moway, who wrote about the Battle of Brandywine.
And if you're a history lover, Brandywine 2022 needs volunteers. Contact Randall Spackman on the Brandywine 2022 Facebook page or email Bruce Mowday at Mowday@Mowday.com to be part of the event.
This time-traveling opportunity honors those who fought for our freedom. So come and join in!
IF YOU GO:
When: September 24–25, 8 a.m. to 5 p.m.
Where: The reenactment is at Sandy Hollow Heritage Park, 1313 Birmingham Rd,. West Chester.
Info: BrandywineValley.com.
See More: Brandywine Battlefield National Historical Landmark is open Mar.–Dec. for tours. 1491 Baltimore Pk., Chadds Ford. BrandywineBattlefield.org.
back to top