Backyard Staycations
Beat the Summer Crowds and Enjoy a Place Close to Home—In your Own Backyard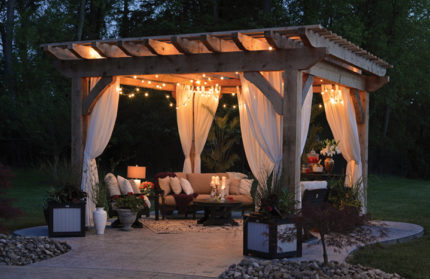 Summertime finds families flocking to beaches and resorts, all in the hope of catching some R&R. But with high-stress highways and airports, cumbersome luggage and crowded beaches, your trip may be more like National Lampoon's Vacation than your much-needed dream getaway.
So, why not skip the stress and update your backyard, transforming it into the vacation spot of your dreams? From making a plan, to updating gardens, patios and lighting, to building outdoor structures—think treehouses, bar-sheds and pools—let your imagination be your guide to creating a backyard oasis.
For ideas and inspiration on your backyard staycation location, keep reading …
Getting Started
Choosing to vacay at home doesn't mean you forgo your favorite luxuries at resort hotels. Decide what you like most—a cozy nook for quiet reading, a grand pool and lounge chairs, a spacious patio for mingling—and write down your ideas.
"Make a wish-list of what you want to include, and what you want the space to be for," says Brad Smith of Cullen Construction. Once you've got your list, choose a theme or style that will bring the whole concept together. Knowing what you prefer — a modern style with neutral colors, geometric shapes and contained plants and gardens, or a tropical feel with stepping stone paths, lush gardens with texture and movement, and curved defining edges — makes hiring professionals easier.
When you do start assembling your team of pros, look over their portfolios to see if their vision is in line with yours. And look for ideas you may not have thought of. "You may find something you can't live without," says Donald Pell of Donald Pell Gardens.
Planning means you need to know what you want your staycation to include even if you don't have the time or money to do it all at once. "Plan for any features you may want in the future even if budget doesn't allow you to do everything right away," says Bobby Kenyon of C. E. Pontz Sons. "This can save you tons down the road when adding onto your outdoor living space."
Landscaping
Lush gardens of grasses and blooms, shaded and spacious patios, fire pits or fire bowls, stone pathways—there's plenty to consider when upgrading a backyard. Once you hire a landscaper, it's best to begin with a broad, conceptual plan.
Map out where to place any new structures in your yard and the pathways that lead to them. Plans for your yard—new gardens, pathways and patios, structures and renovations—must, of course, adhere to applicable rules, codes and guidelines. "Check with your local township to find applicable codes, property setback lines, and proximity to neighbors beforehand," says Dan Wright of Tree Top Builders. Checking with your Home Owner's Association and your homeowner's insurance should also be on your list.
Next, think about plantings and how they'll fit into your overall design and flow. "We rely heavily on grand scale plantings. Not just as decorative elements, but using plants to define place and realize place," says Donald Pell of Donald Pell Gardens. "Gardening is a kind of place-making."
Bushes along the patio's perimeter help create an intimate space, trees and flowerbeds of grasses around the pool deck provide depth and texture, and trees along the edges of the property provide shade and privacy.
How about adding fire features? "People always like to gather around a fire," says Mark Burkholder from Burkholder Brothers, Inc. "It keeps people outside more, rather than being inside." Fireplaces, fire pits and fire bowls can keep the party staying outside well into the chillier fall months.
Lighting and furnishings can also enhance your yard's ambiance. Large, wraparound couches with plush outdoor cushions provide much-appreciated comfortable seating, while tiki torches and lanterns add that essential lighting for long summer evenings outside. Or string up some tiny lights on your pergola, along your fence, or in your garden to create a soft glow.
To save money on lighting, invest in good LEDs. They're cost-efficient and give you lots of variety. "A lighting product that's pretty advanced is LED, because you can change the color and intensity of the light," says Burkholder. Make lights red, white and blue for your July 4th cookout, or keep them warm and dim for a romantic dinner on the patio.
Outdoor Structures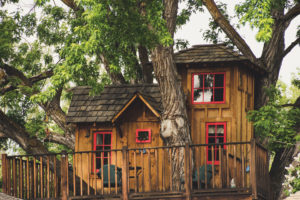 For the WOW-factor, think things that transform your yard from okay to oasis. Pools, treehouses, sheds and minibars, kitchens and outdoor theaters are a few worthwhile investments that give your home that real resort feel.
And a home resort isn't complete without a pool. Let's face it, on a hot summer day when the sun is blazing, nothing beats a dip in a pool. "There's no comparison to a nice water feature," says Darrin Risser of Carlton Pools. "A beautiful waterfall or sheer descent will enhance your pool experience indescribably both visually and audibly."
For building a new pool, consider how you'll use it and what features are must-haves. A straight-edged, rectangular or square pool is great for swimming laps, while free-formed, curved pools with waterfalls or grottos give a retreat feeling.
Pool trends include sun shelves, Jacuzzis, swim-up bars and upgraded interior finishes to make your pool the envy of the neighborhood. And ask your pool consultant about a heater. "Very affordable. The addition of a heater will increase your pool's comfort as well as extend your swimming season," says Risser. Think about enjoying your resort season from early spring to well into the fall!
Another WOW: treehouses let you take your vacation up into the skies. Climbing walls, rope bridges, tree swings, zip lines and cargo nets add fun for the kiddos. But you don't need to be a kid to enjoy a treehouse—art studios, yoga retreats, even sleeping lofts for afternoon naps can engage the whole family.
"Research shows we need quality nature time to provide physical, social, mental, emotional, relational and developmental benefits," says Dan Wright of Tree Top Builders. "Having a treehouse not only adds to these benefits but also encourages creativity and imagination in people of all ages."
Or hop on trend by repurposing your humble garden shed into something creative to bring new life to your backyard. "Sheds were never intended to be something other than agricultural," says Brad Smith. "So they become like artwork."
She-sheds can be a restorative getaway for the busy woman. Install windows for lots of light, add a fresh coat of paint and furnish with your favorite things—shelves of books, cabinets for crafts or room for meditation.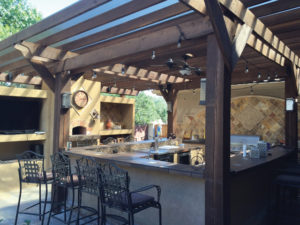 For cookouts and parties, a bar-shed makes your BBQ the best on the block. Add a mini-fridge, liquor cabinet, bar-top and bar stools, and install large windows or barn doors to open it up to your yard. You can chat with guests as you bartend.
Also consider other outdoor living spaces, like kitchens or theaters. Countertops, a mini-fridge, oven and other amenities give you freedom to enjoy your staycation as you cook.
And why not have a place for outdoor movie nights? All you need is a small, portable projector and screen to set up outdoors. Maybe pop your popcorn in the fire pit?
Here's hoping you're inspired with new ideas to transform your backyard. The next step is to start working on your staycation plan. You'll wish summer would never end!
back to top