Adding Outdoor Value
Outdoor Living Additions Increase the Value of Your Home… And Your Happiness!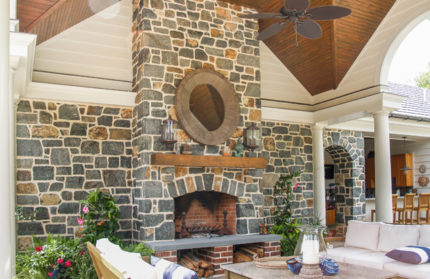 It's that time of year again. As temperatures rise, the outdoors beckon us to venture out to enjoy the season. And it may also be that time you think about updating what actually is outside your home.
Whether you're thinking of selling your home soon or you're comfortably staying put, resale value is always something to keep in mind when planning any new home improvements—inside or outside. Luckily, many of the most popular upgrades aren't just valuable to you—they're also desirable to future owners of your home as well!
Local experts can help you choose what makes sense to do.
Space to Live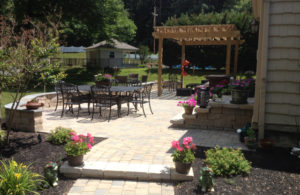 What if you don't have to leave your home to feel like you're on vacation? Your backyard has the potential to be a resort-like retreat that not only looks beautiful, but also serves as a functional gathering space.
"What people really want at their homes are family spaces," says Randell Spackman of Thornbury Services. "Things like fire pits, pools, water gardens, play areas and even putting greens and vegetable gardens are all memorable additions when poten­tial buyers check out your home." Both practical and attractive, these spaces bring people together and are a great investment. Plus many can easily be repurposed if desired—like a vegetable garden into flower beds, for example.
Patios, decks, terraces and pergolas are important founda­tions for designing your outdoor space. They provide a key focal point in your yard and are always pluses when selling. On the flipside, walls, fencing, pathways and outdoor lighting may not seem as exciting, but they all help bring the space together and frame it.
"Additions like fencing can be as pretty as they are practical," says Randell. "They can help add that finishing touch to a yard or garden." And if potential buyers are proud dog owners, a preexisting border around the backyard can be very attractive.
Other fun—but certainly not necessary—features like out­door kitchens, tree houses, hot tubs or even she sheds can't hurt, though their design and appropriateness for the space are key. The yard's landscaping, previous additions and your lifestyle are important to take into consideration before adding extra features.
As Randell notes, "When designing a space our first question is always 'What will you use it for?'" If you won't get sufficient use out of it while you live in your home, the money for the improvement will be lost when it's time to sell. But, if you build a well-loved space that's right for you, the investment is more than worth it.
Go Green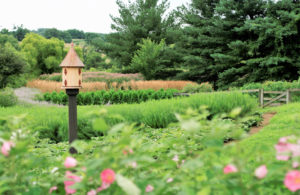 A well manicured lawn. Flowering bushes and welcoming trees. A stone path winding through the garden. These are the first things people notice when passing by or visiting your home. There's a reason they call it curb appeal—and it totally matters!
The more greenery surrounding your house, the better. Though it's important to consider the type of flowers, shrubs and trees to plant and their placement in your yard. For example, "Trees are a must, but there's such a thing as too much," says Holly Gross of Holly Gross Group/Berkshire Hathaway. "It's all about picking the correct species for our climate and considering the proximity to your house." Especially because our area suffers some snowy winters, like this past year's.
Another key consideration is upkeep. According to Holly, very large, high maintenance gardens may deter potential buyers who aren't gardeners themselves. A perennial garden that thrives with minimal care may be more attractive to buyers with black thumbs who still love the look—not the work—of a garden.
Likewise, a lush green lawn is generally a good thing. But again, and especially with smaller properties, using decorative stone and perennial gardens instead can be attractive to buyers who don't want to invest the time a lawn requires.
If you do choose to go all out and create a garden that needs consistent TLC, a well designed and cared for landscape adds enormous value to your everyday living experience. "To gardeners, these places are beloved and bring such great joy to our lives," notes Donald Pell of Donald Pell Gardens. "The garden needs to be beautiful so clients see great value in being stewards of these places, whether they're on a quarter acre or 1,500 acres."
When designing a landscape, Donald seeks to understand his clients' goals and often finds that slowing down the process helps uncover what the land itself reveals over time. This holistic approach to design allows for purposeful decisions about what works best for the space, making the property easier to maintain for current and future owners.
Built To Last
There's always something to be said for timeless quality design. There's also a much higher chance that if you invest in quality in the building process, you'll have less work to do when it comes time to sell your home.
"Natural stone will not go away," says Mervin Esh of Fifth Park Stoneworks. "And it ages well … like wine." Using 100% natural stone—like Pennsylvania bluestone and flagstone—ensures Mervin's clients' space will stand the test of time, adding to the home's value over the years.
And because of the long-lasting nature of the stone patios, fireplaces and outdoor kitchens, he also recommends that clients take their time and think about what they want in the long term before committing to a design. "Some more modern styles are constantly changing," he notes, "but they might not stay in vogue as the years go by." Mervin finds the best way to curb buyer's remorse is to get to know his clients' personal wants and needs so he can design a space they'll love—both now and
in the future.
Don't Wait
Another way to bypass backyard regrets—yes, it's a thing—is not to delay designing the space of your dreams until planning to sell.
In fact, Holly Gross doesn't recommend any big additions before putting your home on the market—instead suggesting focusing on general sprucing up and repair. "You won't get extra money, or even all your money back in the price of the home if you renovate last minute," she advises. "It's better to do those additions because you want them while you're still living there."
Randell Spackman agrees. "We've had clients absolutely love the additions we built and wish they'd done them sooner!" he says. And why wait to renovate for someone else when you could be enjoying the upgrades yourself before handing over your home resort to the next owners?
We don't have an answer either!
back to top