Wyndemere Farm
Wyndemere Farm – A 215-acre nature preserve in East Marlborough Township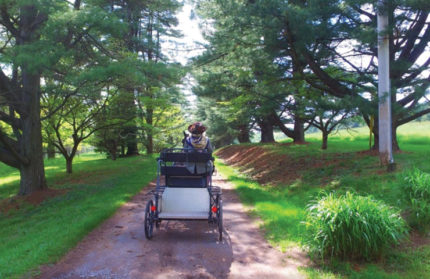 Owning a personal nature preserve may not be everyone's dream. But it could be yours.
With a deed connecting back to William Penn in 1681 and a hundred years of ownership by the same family, Wyndemere Farm is now a 215-acre sanctuary of untouched land ready for the next family to watch over and enjoy. It's a place to spot nesting bald eagles circle overhead past a rookery with a dozen great blue heron nests set near a spring-fed three-acre pond stocked with bass, carp, catfish and blue gills. If you're lucky, you'll see an eagle catch his dinner from the pond.
New Bolton Veterinary Center to the east and Hunt Country to the north make good neighbors, though they're neither seen nor heard. The property's size provides a generous buffer, creating a tranquil enclave with panoramic views in every direction and green fields large enough to land your own small plane. It's the kind of place local chefs visit to pick ramps and foodie friends cultivate exotic mushrooms.
Under easement with Brandywine River Conservancy (subdivision available) and with a long-time ban on hunting, the land has become a preserve for animals of all kinds. Herds of deer, solitary foxes, sunning snapping turtles can be seen on the acres of open meadows and centuries-old woods, home to what's thought to be Chester County's largest tree—a magnificent sycamore, 26 feet in circumference.
Fieldstone Manor House
Picture a horse-drawn carriage taking you down the tree-lined lane to the 1770s classic Chester County fieldstone manor house overlooking the pond. In fact, you can watch a YouTube video tour of the property that starts just that way! (Search 639 Mill Road)
The stately three-story home boasts all the rich details of the period: original wood flooring, beamed ceilings, deep windowsills, six working fireplaces, antique hardware. A large entrance foyer welcomes you, with fireplace at one end and curving staircase at the other. To the left, past the powder room and wet bar, you're drawn to the wood-paneled living room and library paneled in cherry wood thought to be harvested from the property. Built-in bookcases, window seats and more beamed ceilings accent the walk-in fireplace. A perfect place to feel the history of the home.
To the right of the foyer is the formal dining room, with fireplace, beamed ceiling and antique yellow pine floors. A newer, light-filled addition to the east end, the sunroom retained the original exterior stone wall and added a brick floor, plus three walls of windows for panoramic views of the pond and meadows. Beamed ceilings and built-ins blend the old and new in this family-friendly space.
A fourth fireplace graces the eat-in country kitchen, renovated in the style of R. Brognard Okie. Painted wood cabinets with antique-style hardware, beadboard walls, and box locks add to its charm.
On the second floor, a large foyer leads to two full baths and three spacious bedrooms, two with fireplaces, another with built-ins and all with antique heart-of-pine floors. At the east end, above the first-floor sunporch, is a large screened sleeping porch, used by a former owner in all seasons!
Surprisingly high-beamed ceilings, a skylight, original wood floors and ample storage make the third floor an inviting space for two more bedrooms, sitting area and full bath. The large, dry lower level houses laundry facilities, utility systems, storage closets and a root cellar, perfect for a future wine cellar.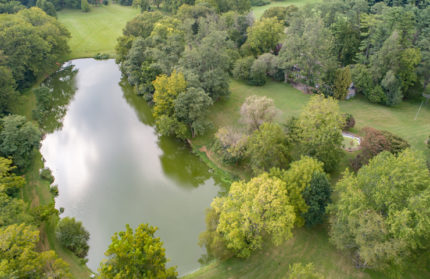 Brick School House
About 500 yards from the main house sits a classic 1884 one-room, brick "Little Red Schoolhouse." Complete with working school bell on top, it's now a spectacular guest house, studio or office—with a two-story, vaulted beamed great room, plus kitchenette, loft bedroom, study and full bath. Stunning views from the front porch and through floor-to-ceiling windows flanking the brick fireplace make it difficult for guests to leave!
Charming outside and dramatic inside, the schoolhouse is a special space suitable for a variety of dreams and dreamers.
Garage, Gardens, Gazebo
Steps from the main house and adjacent to a formal walled garden sits an oversized two-car stone garage. This dormered structure includes another guest or in-law suite on its second level, with living room, bedroom and full bath.
The brick wall surrounding the formal garden encloses a private space with stone patio, pergola, statuary along with perennials, specimen shrubs and trees. This secret garden was well established during the hundred years the current family lived here.
Yet another spot for private enjoyment is the pond-side gazebo, perfect for picnicking, reading or watching wildlife.  Near the pond's east end, an in-ground pool offers more entertainment options.
Other features on the property include two former quarries (now filled with water), lime kilns, remains of an old mill, South Brook Creek, horse trails, meadows, pristine woods and much more.
Wyndemere Farm offers opportunities both grand and humble: multi-generational family compound, equestrian estate or personal nature preserve. Once it finds its next caretakers.
This unique 215-acre property in East Marlborough Township, 45 minutes from the Philadelphia airport and 5 minutes from New Garden Flying Field,  is offered at a new price of $5,950,000. For more information, contact Margot Mohr Teetor, RE/MAX Preferred, 610-476-4910 (cell), visit MargotMohrTreetor.com, or attend the October 8 open house, 1 to 3 p.m.. Watch the video for 639 Mill Road on YouTube or below.
<iframe width="560″ height="315″ src="https://www.youtube.com/embed/hhYLhFihkFo" frameborder="0″ gesture="media" allow="encrypted-media" allowfullscreen></iframe>
back to top