West Chester — Morning, Noon and Night
So many ways to enjoy yourself in the Borough this summer
To see our West Chester dining guide, map of local restaurants, local events and more, click here.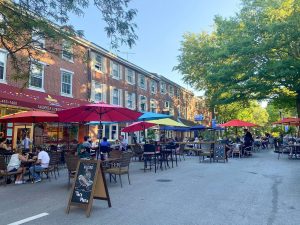 When you visit the Borough of West Chester this summer, be prepared to party like it's 2019.
Come for the new events planned to draw folks outside, including the kickoff festival — "Fête de la Musique" that has the Borough suspending its no busking ordinance for one evening — plus the new weekly West Chester TAPS Happy Hour event on Wednesdays.
Then there's the highly anticipated return of the Gay Street Open-Air Market, back this year on weekends, along with plenty of outdoor patio dining scattered along High, Walnut, Church and Market Streets.
You can hang out at the fountain at 44 West Plaza (corner of Church and Gay Streets), the place to be and be seen. The courtyard has evolved since its 2020 opening, now featuring pastel colored cafe tables perfect for sipping coffee from nearby Gryphon Cafe or munching donuts from Yori's bakery.
And come to sample West Chester restaurants, like award-winning Spence Cafe, popular Sedona Taphouse, redesigned La Baguette Magique, recently opened Blazin' J's Nashville Hot Chicken, a rule-breaking pizza place, and a new late-night destination. You'll want to broaden your idea of dining to a day-long event.
West Chester fans agree, there's excitement in the air. "Most businesses are optimistic about their future business prospects," says West Chester Business Improvement District Executive Director, John O'Brien. "I think there's a sense among the public and the businesses that strategies need to change with Covid and people want to resume their normal lives."
Here's what you should know to make the most of your visit.
New This Year
West Chester's popular Gay Street Open-Air Market, set to return Memorial Day weekend, will move to weekends-only, beginning Friday mornings and extending through Sunday evenings. For its third year, the Open-Air Market will see restaurants and retailers investing more in aesthetics. "We got all new patio furniture and some new lighting. We'll think of ways to make it look as nice as we can," said Iron Hill Regional Manager Dave Horowitz.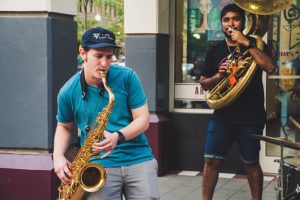 New this summer, West Chester TAPS features special Happy Hours. Every Wednesday from 5 to 7 p.m., visitors can enjoy $4 beers, $5 wines, $6 cocktails and half-price appetizers at 13 participating restaurants. Choose from a variety of West Chester favorites from Ram's Head to Pietros's Prime, Kildare's Pub to Slow Hand. Check DowntownWestChester.com for locations.
To mark the start of summer, West Chester fills with music with the introduction of the French-inspired "Fête de la Musique" busking festival. Planned for Tuesday, June 21, noon to 9 p.m., Fête, as it's known around the world, invites musicians of all stripes to set up on corners downtown and perform for passing crowds. The free event honors West Chester's rich music, arts and culture scene and highlights the summer solstice. O'Brien says the event is a "celebration of music throughout the town."
Morning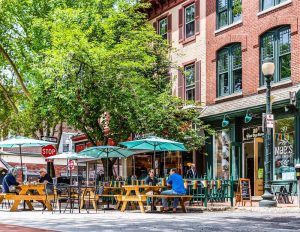 With its popular Saturday morning Church Street Grower's Market and numerous breakfast options (see "Best Bets for Breakfast" in May's County Lines Magazine), West Chester is the place to pass an enjoyable weekend morning. From always-reliable Penn's Table and the perennial favorite Market Street Grill to more recent additions, there are almost too many satisfying choices.
Mae's West Chester. This farm-to-table spot opened just ahead of the pandemic and has been gaining a following for its original brunch entrees and delicious breakfast sandwiches. Looking for something new? Order the chorizo, Swiss and green onion pancake, or play it safe with delicious brioche French toast with seasonal fruit. Whichever direction you go, you'll want to enjoy your meal outside. Their West Gay Street location is perfect for people watching.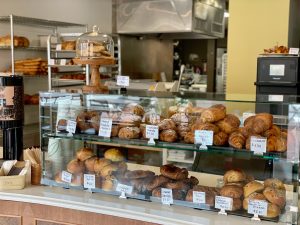 La Baguette Magique. After closing several months for renovations, the popular West Market Street bakery finally reopened. Gone are the dishes, cafe tables and children's reading nook. In their place are open space and an expansive counter showcasing their signature French pastries and original takeout entrees, courtesy of their partnership with acclaimed Andairio's. Grab a table inside or outside, or opt for the new concept — more grab-and-go food, a la the French.
Fenn's Coffee Shop. With all that's new, there's also a goodbye. Fenn's Coffee Shop, known for its locally sourced brews, anti-Starbucks vibe, and status as a concert venue and art house, closed this winter after 25 years. The good news is that local Turk's Head Roasters plans to open in the same spot on North Church Street to keep us well caffeinated.
Noon
Sandwiched (sorry!) between breakfast and dinner, lunch in this country doesn't always get its due. Well, no more. Once dominated by preferences of Chester County courthouse employees on midday break, the Borough's newest grab-and-go meals have been generating plenty of buzz.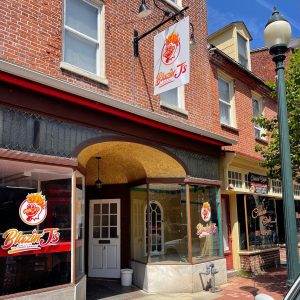 Blazin' J's. After months of "Coming Soon" signs, West Chester finally gets a taste of the Nashville Hot Chicken craze taking over the nation — the Pennsylvania version anyway. "It's different in that it's not an oil-based sauce," says Gary Danehower, owner of the West Gay Street location. "It's something lighter." Started in Lancaster in 2019, the concept was to keep it simple — just fresh, never-frozen chicken (a couple different ways), hot sauces, salads, Belgian waffles and fresh cut fries. And it's worked. Today there are four locations, a food truck and lots of happy customers. How do they do it? "You just have to try it," says Danehower.
Also scheduled to open, on the opposite end of Gay Street, is FIRE Nashville Hot Chicken, another establishment where quality chicken comes before everything else.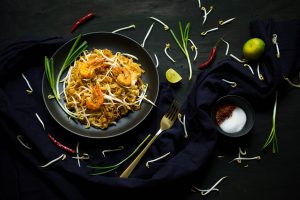 Spicy Pig Cafe. Looking for something lighter? Head to the corner of West Market and South New Streets to celebrate the return of Spicy Pig Cafe. After closing during the pandemic, the American-Thai fusion spot returned earlier this year under new head chef Manee Rapt. You'll find your old favorites plus a few new dishes, all made from scratch, of course. Try the house specialty Red Curry with meat or tofu, cooked in coconut milk with Thai basil and red bell peppers or the popular Sesame Chicken.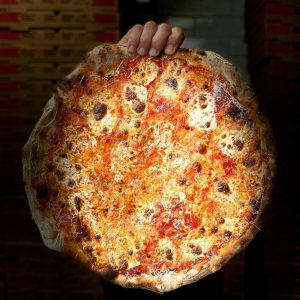 Pizza West Chester.  This tiny place opened last fall with two menu items — plain and pepperoni pizza — limited hours that varied each day, no website or phone, and cash-only. A digital-age recipe for disaster. Instead, by focusing on technique and ingredients, it's proven a win, generating tons of buzz for their thin, almost-charred pies. Today the East Market Street shop has more than 7,000 Instagram followers. Join them to get daily hours and menu updates. Or just take a chance and stop by. Hours vary, but weekday afternoons are a good bet. Be prepared to wait in line, though — there's no pre-ordering. Just kill the time watching the process of creating perfect pies.
Night
You can't go wrong with a night out in West Chester. With around 60 dining options to choose from, downtown West Chester continues to be a dining destination. Here's some of what's new.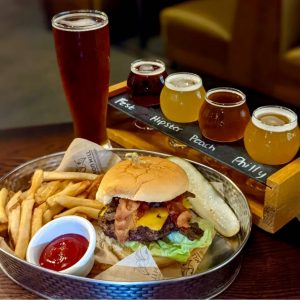 Iron Hill. Fans of Iron Hill will immediately notice the upgrade. "We got beautiful new glass doors that open up," said Horowitz. There's new furniture, new flooring and new paint — all part of an interior refresh — but the windows are the showstopper. They're floor-to-ceiling along Gay Street and open completely, giving inside diners access to fresh air with indoor comforts. "It opens up the building so you have the feeling of being outdoors without being outdoors," says Horowitz.  "At the same time, if you're dining outside, you have a visual connection to the restaurant inside."
Iron Hill is ready to celebrate summer. For the first time, they're making seasonal favorites Lemon Cerveza Mexican Style Lager and Orange Creamsicle Milkshake IPA available in cans. In honor of National IPA Day in August, look for their first East Coast/West Coast IPA competition, along with a month of seafood dishes featured from both coasts.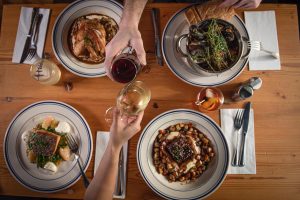 Split Rail. Come celebrate summer at Split Rail with a new selection of $8 appetizers, including the crispy artichoke hummus plate, and cocktails perfect for cooling down on a hot summer night. Try a Patterned Shirt (dark rum, blackberry liqueur, sherry, orgeat syrup, orange) or the refreshing Sage Against the Machine (sage-infused tequila, grapefruit, honey, salt). Looking for entertainment? Tuesday nights bring Drag Queen Karaoke, or chill out with a pint for Acoustic Night on Wednesdays.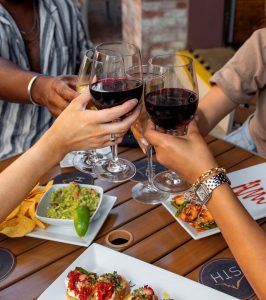 Spence Cafe. Did you hear Spence Cafe was recently named one of OpenTable's "100 Best Restaurants in the US"? The list, which includes some big names like Philadelphia's Parc, was created by the online reservation site from more than 10.5 million reviews. Chef Andrew Patten's menus are always delicious, and dining under the stars on the reopened patio is a unique seasonal treat.
Sedona Taphouse. Like to dine al fresco? Check out Sedona Taphouse on West Gay Street. "Our patio is now fully open," said manager Spencer Zinc. Also look for sidewalk tables along Gay Street. Opened last year and offering an American menu — think hand-cut steaks and wood-grilled salmon — this has been a popular addition to the dining scene. "We have 13 patio tables and just got approval to add eight more tables on the sidewalk up front," said Zinc. So, more space to enjoy summer dining.
Late Night
In West Chester the fun doesn't end when the sun goes down, even the late summer sun. There's enough to do to make you want to extend that bedtime. If you've ever been out late in West Chester you know Kildare's and Barnaby's and after a certain age, Side Bar's upstairs.
Here's a new place to check out.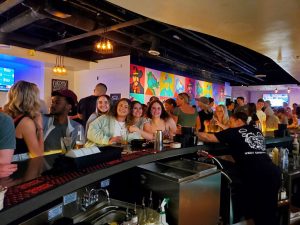 Good Bad & Ugly. If you haven't been, it's time to join the crowds at Good Bad & Ugly. GBU is a cocktail bar that opened downstairs at Stove & Tap on West Gay Street (GBU's entrance is on South Darlington Street). Unlike other Borough late-night locations, the focus here isn't on dancing — it's on games and socializing. GBU has a pool table and shuffleboard, plus themed nights during the week including Country Night on Wednesdays and Music Bingo on Thursdays. It's still a late-night bar, so expect the music to be loud and the cocktails to be flowing.
For updates and more about what to do in West Chester, visit DowntownWestChester.com.
Cara Corridoni lives in West Chester, is a huge fan and writes the weekly e-newsletter "Hello, West Chester."
back to top