Best Bets for Breakfast in the Brandywine Valley
Diners, cafés, coffee shops and more spots to start your day
Breakfast: it's the most important meal of the day. Maybe that's why there are so many different ways to enjoy it — eggs, pancakes, French toast, sandwiches, burritos … It make us hungry just thinking about it!
Here are some of our favorite local breakfast spots, starting with West Chester then noshing our way through Chester and Delaware counties, the western Main Line and Wilmington.
From diners and cafés to bakeries and coffee shops, this list has it all. No matter what you're craving, find the perfect place to start your day.
West Chester
DK Diner
This classic stainless-steel diner has been a local staple since 1952. The DK serves up all-day breakfast with a smile. Popular dishes include three-egg omelets, buttermilk "hotcakes," cinnamon bun French toast and homemade chipped beef. 609 E. Gay St. DKDiner.com.
Gramm's Kitchen
Here's a family-owned spot with all your breakfast faves — pancakes, waffles, sandwiches and a whole lot of omelets! Try almond French toast with blueberries, strawberries and whipped cream, New York strip steak and eggs, or one of their many eggs Benedict varieties, like the smoked Benedict with Nova Scotia smoked salmon. 557 E. Gay St. GrammsKitchen.com.
Market Street Grill
The Market Street Grill offers creative takes on breakfast classics, like the ever-popular Bruno burrito, Christian and Waffles (pickle-brined fried chicken on a waffle with homemade andouille gravy) and a breakfast quesadilla with scrambled eggs, pepper jack cheese, refried beans, pico de gallo and your choice of meat. 6 W. Market St. TheMarketStreetGrill.com.
Penn's Table
Family owned and operated since 1976, this is a laidback, family-friendly spot serving up traditional breakfast fare along with a variety of specials, including the Penn's Table Favorite (homemade sausage gravy over buttermilk biscuits and eggs) and the "WIZ WIT" breakfast burrito stuffed with four scrambled eggs, rib-eye steak, onions, home fries and, of course, cheese wiz. 100 W. Gay St. PennsTable.com.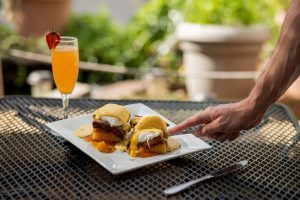 Roots Café
Eat well and do good for the planet at a place that's committed to using locally sourced ingredients. Order a breakfast favorite, like French toast or a breakfast sandwich, or try one of their specialty dishes — duck leg hash or avocado Benedict, anyone? 133 E. Gay St. RootsCafeWC.com.
Two Birds Café
This cozy spot takes scratch kitchen to a new level — even the jam for your toast is house made! Popular dishes include the hen's egg platter with country potatoes and your choice of meat, a breakfast burrito jam-packed with fresh ingredients, the brisket omelet with roasted mushrooms, onions and cheddar. 653 Downingtown Pk. TwoBirdsCafeWC.com.
Exton
Bistro 24
The folks at Bistro 24 have been making delicious food from scratch for over 20 years. Try one of their gourmet omelets, Belgian waffles or signature pancakes — with a side of Cherrywood smoked bacon and fresh-squeezed orange juice, of course! Gluten free options available. 100 Marchwood Rd. Bistro24Grill.com.
Malvern
The Classic Diner
Head to the Classic Diner for an upscale version of all the breakfast classics — smoked salmon scrambled eggs topped with capers and diced tomatoes, eggs Benedict with sautéed spinach, pear and cinnamon cream stuffed French toast with orange brandy sauce. Don't forget to try their "stickiest" buns! 827 Lincoln Ave. TheClassicDinerPA.com. 
Dixie Picnic
With a Southern-style scratch kitchen using old family recipes, Dixie Picnic has the kind of menu where every item has a story. Try Momma's eggs Benedict al fresco topped with cured pork loin and fresh Hollandaise, southern sticky bun French toast or homemade biscuits covered in Bucky's sausage gravy or topped with Smithfield country ham and cheddar. 215 Lancaster Ave. DixiePicnic.com.
Julie Anne's Place
Check out this cozy, family-owned café for a warm atmosphere and good food. Try one of the chef's specials, like their chocolate chip banana nut bread French toast, lox and bagel platter or the Mexican Mess — scrambled eggs with sausage, onion, jalapeño and all your favorite taco toppings. For an extra homey meal, eat on the cozy front porch. 22 S. Warren Ave. Facebook.com/JulieAnnesPlace.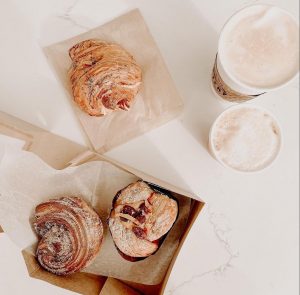 Malvern Buttery
Sit at communal tables in this sun-filled café and sip on a big cup of coffee, tea or a delicious hand-crafted drink. Try their artisanal pastries, quiche, egg soufflé sandwiches or breakfast bowls — and don't forget to grab a loaf of handmade bread to take home. 233 E. King St. MalvernButtery.com.
Devon
The Black Cat Café
Breakfast and cats — what's not to love? Meet adoptable cats while feasting on breakfast favorites — omelets, sandwiches, pancakes and French toast. Looking for a family-style meal? Try a pancake board, a breakfast-y take on the charcuterie board, including pancakes, sausage, berries and just about any pancake topping you can imagine. Plus, 100% of the café's proceeds go to PALS animal rescue. 42 Berkley Rd. TheBlackCatCafeDevon.org.
Wayne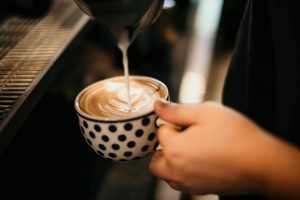 Gryphon Café
Locations in West Chester and Kensington
This independent coffee company roasts their own beans in house. Coffee is their specialty, but they also offer seasonal drinks, pastries and light breakfast fare. Vegan options available. 105 W. Lancaster Ave. GryphonCoffee.com.
Minella's Diner
Sleepy Villanova students and celebs alike (like Rupert Grint of Harry Potter fame) love that breakfast is served all day here. It's a good thing, too, because you might take all day deciding what to order from their expansive menu! Try an omelet — Western, Greek, Caprese and many, many more — or buttermilk pancakes with fresh berries, bananas, chocolate chips or even ice cream. Then stop by the bakery to pick up a treat to go. 320 Lancaster Ave. MinellasDiner.com.
Kennett Square
Talula's Table
This gourmet market is the place to get delicious baked goods — chocolate croissants, lemon-lavender scones, vanilla brown butter pound cake and much more. For those looking for a hardier meal, try their croissant breakfast sandwiches, egg frittatas or breakfast burritos. Get your breakfast to-go or sit inside at their rustic dining table. 102 W. State St. TalulasTable.com.

Downingtown
The Coffee Cup
This relaxed coffee shop has been serving up home-cooked breakfasts since 1956. The Coffee Cup has all the breakfast classics — omelets, pancakes, eggs any style. They're also "The Home of the Mess," a delicious scramble of eggs, potatoes and your choice of meat with onions and green peppers. 117 E. Lancaster Ave. TheCoffeeCupOnline.com.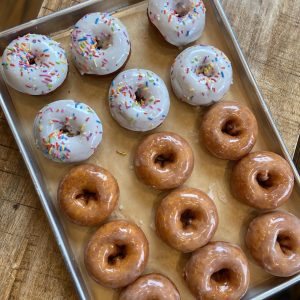 The Farmhouse Coffee & Espresso Bar
Drink coffee and snack on pastries in this cozy café with rustic vibes. The Farmhouse serve specialty coffee and handcrafted beverages along with fresh-baked donuts, muffins, croissants and more from their bakery. Check out their creamery for ice cream, hand-spun milkshakes and made-to-order waffles once the weather gets warm. 115 W. Lancaster Ave. FarmhouseCoffee.com.
Green Street Grill
At the Market Street Grill's sister restaurant, breakfast is served all day, and it's a good thing — their menu is huge! Try one of ten specialty omelets, seven kinds of eggs Benedict or just about anything else you're craving for a soul-satisfying breakfast. 150 E. Pennsylvania Ave. GreetStGrill.com.
Phoenixville
Steel City Coffeehouse & Brewery
Known for their live music at night, Steel City offers reasons to visit during the day as well. They serve breakfast all day — sandwiches, burritos, bowls, even a breakfast flatbread. There's also plenty of pastries and, of course, coffee to keep you going all day long. Vegan options, too. 203 Bridge St. SteelCityCoffeehouse.com.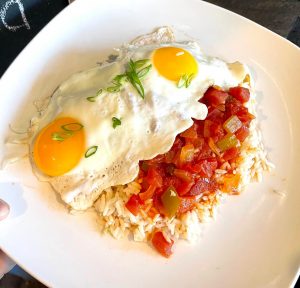 Your Mom's Place
This funky spot on Bridge Street prides itself on making breakfast "Just Like Mom Used to Make." They serve all your faves — buttermilk pancakes, breakfast sandwiches, thick-cut French toast — along with some of "Mom's Special Omelets," like spicy Italian, veggie delight and the "Heart Attack Special," three of your favorite breakfast meats in an omelet covered in cheese. 324 Bridge St. MomsPhoenixville.com.
Media
Bittersweet Kitchen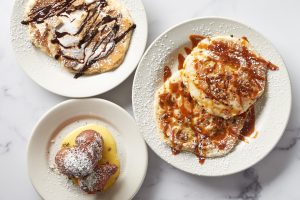 This cozy spot uses only the freshest ingredients in your breakfast — and you can taste it! Indulge in crème brûlée pancakes with a burnt sugar top or challah French toast stuffed with cream cheese and topped with bourbon-caramel sauce. Or go with the classic Bittersweet Breakfast of eggs, buttermilk biscuits and potatoes or one of their daily specials. 18 S. Orange St. EatAtBittersweet.com. 
The Court Diner
This charming, family-friendly eatery has been serving home-cooked comfort food for over 50 years. Order their homemade waffles or brioche French toast, or try one of their specialty omelets or "breakfast pillows" — two perogies sautéed in butter with onions, with an egg and home fries on the side. 104 E. Baltimore Ave. MediaCourtDiner.com.
Bichrunville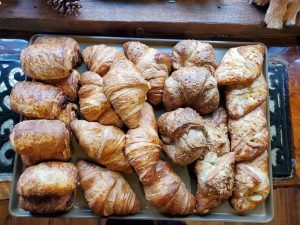 ButterScotch Pastry
Known for its fresh pastries made daily, this café also serves breakfast from Chef Francis of the beloved Bichrunville Store Café. Their rotating menu includes crispy breakfast wraps, homemade soufflés, quiche and croissant French toast with fresh berries and walnuts. 1406 Hollow Rd. ButterScotchPastry.com.
Bala Cynwyd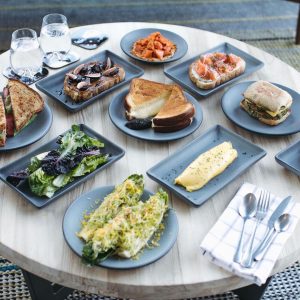 The Landing Kitchen
It's a bit of a hike, but there's delicious breakfast fare from a renowned Philly chef on the Schuylkill Riverfront. Try one of their breakfast sandwiches, French toast or smoked salmon on toast, and pair it with Modcup or La Colombe coffee and a pastry. 617 Righters Ferry Rd., Bala Cynwyd. TheLandingKitchen.com.
Wilmington
Centreville Café
Now under new ownership, this cozy café located in a converted historical home is the epitome of "homey." Grab a pastry and latte for a quick meal, or sit down and enjoy a homecooked breakfast with friends. Try a breakfast sandwich, like the classic Wart (eggs and American cheese with your choice of meat), or something unique, like the Sammy — smoked salmon, wasabi, capers, red onion, tomato and cucumber on a bagel or wrap. 5800 Kennett Pk. CentrevilleCafe.com. 
Le Cavalier
Located in the historic Hotel Du Pont, this is the place to go to treat yourself. Indulge in steak and eggs or French toast with blood oranges, or snack on avocado tartine or a bagel with lox. Make it a real event with something from the bar, like their signature bloody Mary or a seasonal mimosa. 42 W. 11th St., LeCavalierDE.com.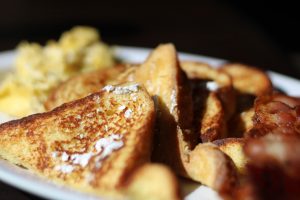 Milk and Honey Coffeehouse & Gallery
Sip coffee while you admire the art that adorns the walls of this coffeehouse/art gallery. They also serve delicious breakfast dishes — sandwiches on a croissant, avocado toast and their famous blueberry pancakes topped with lemon zest. 807 N. Union St. MilkAndHoneyCoffeehouses.com.
Around Chester County
Nudy's Café
Locations in West Chester, Phoenixville, Exton and more
With 12 locations in the area, it's clear Nudy's is a popular spot. With fresh, locally grown ingredients, you can feel good about what you're eating. Try their crab Benedict, a Tuscan omelet, gingerbread pancakes, specialty carrot cake French toast, or, if you must, build your own oatmeal. NudysCafes.com.
back to top