The Bluebird Keeper
"I have the ability to look at a piece of wood and say I can do this or that with it." Ken smiles and the wrinkles deepen as light dances in his twinkling blue eyes.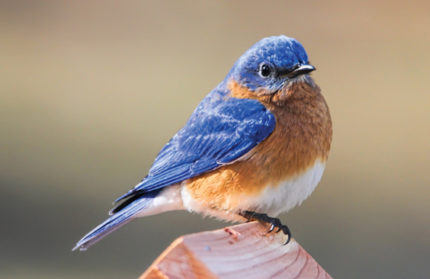 The earthy scent of cedar and pine filled the hot air inside the workshop on a July afternoon. Piles of sawdust lay here and there under antique drill presses and on top of cut wood as if an elf had been working all night. Perched on a piece of lumber was a bluebird mug, the telltale sign of the woodworker.
This workshop is where Ken Leister builds his renowned bluebird boxes with exceptional efficiency and care. At 81, he's not about to slow down. He's built close to a thousand boxes in the past ten years for homes, schools, golf courses, local businesses and nonprofits—including Willistown Conservation Trust—and has made over $14,000, all donated to the Bluebird Society of Pennsylvania.
20 Years of Passion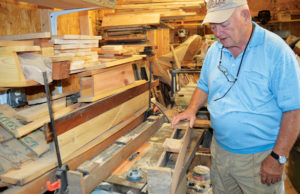 Four years ago Ken grabbed his bluebird mug and closed up his backyard shop as usual after working all afternoon. Meanwhile, a bit of sawdust had ignited in an old woodworking machine and smoldered undiscovered as Ken and his wife went to bed. Later that night the fire raged and took his shop. So Ken did the only thing he could. Rebuild.
Within a year the new shop was up and running, built solely for the purpose of pumping out bluebird boxes. "I think I was smart to take my wife along," he said, smiling from ear to elfin ear. "She picked out the shingles and all the outside aesthetics and did a beautiful job."
Just outside the charming little workshop stands the bluebird box that started it all.
Twenty years ago, Ken was gazing out his kitchen window in West Chester as two very blue birds were flitting in and out of his bird box. At the time, he didn't know what they were. After consulting some books, he learned they were Eastern Bluebirds.
Growing up on a hundred-acre farm in York County, Ken had never encountered bluebirds. "They just weren't around," he said. Now enamored with his backyard blues, he was disappointed when they didn't stay to nest that summer.
When Ken heard of a Bluebird Society of Pennsylvania (BSP) conference nearby, he decided to go. There, Ken met the group's president, who coincidentally recognized Ken as her 8th grade geography teacher.
Ken asked his former student why his bluebirds weren't nesting in his box. "It's right next to the bushes where the birds are," he said. She suggested he move the box to the middle of the lawn. And voila! That summer, Ken's bluebirds nested three times and fledged 14 young! He was hooked.
Beyond the Bluebird Society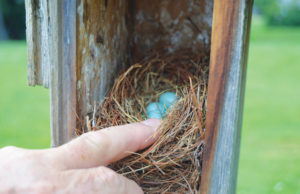 Ken soon became the BSP State County Coordinator, maintaining contact with the 67 county coordinators. He answers questions from members and the public, even making personal visits to help people monitor or maintain their bluebird boxes when necessary. For his dedication, uplifting attitude, commitment and tireless effort, Ken recently received the 2018 BSP appreciation award.
Ken's bluebird proselytizing doesn't stop there. He also offers bluebird box-building demos for the PA Farm Show, helps Eagle Scouts with the Bluebird Trail Award, establishes bluebird trails himself, and teaches people how to set up mealworm farms to feed bluebirds.
As a retired teacher, Ken has a knack for spreading his passion for bluebirds through talks. He developed the Bluebird Chat program at local hardware stores, enabling customers to learn from each other. Ken also talks about bluebirds at retirement homes and lifelong learning programs, schools, Penn State Master Gardener meetings, local birdseed stores, nature centers and universities. Last year he had over 20 speaking engagements.
Design
It's clear, though, that Ken's favorite job is building bluebird boxes—tinkering with his design and fixing a sub-par box. He's even designed a camera box equipped with an internal surveillance camera that's powered by a solar panel and uses Wi-Fi to allow real-time observation of the birds inside. Ken beams as he describes watching a female bluebird build a nest, carefully using her wings to form a perfect cup.
His bluebird boxes are unique, not only because of his knowledge of wood, but because Ken designs them exclusively for the comfort and health of the birds rather than with people and profit in mind.
For example, Ken's boxes are all about air. They have ample space for ventilation between the sides and roof to ensure the chicks don't overheat. And the wood itself breathes—unlike the plastic used in commercial boxes. Ken also accounts for the birds' respiration, which creates heat and moisture in the box. Ventilation's importance is clear if you've ever peeked inside a sealed box at chicks gasping for air on a broiling summer day.
Ken's designs include an extra-large roof that extends well past the sides and front of the box to create an umbrella-like effect. This helps keep the boxes dryer, provides shade and protects the chicks against hungry raccoons that could sit on the roof and reach in.
Another signature design element is the sides that extend vertically past the base of the box (instead of ending flush with the floor) so water drips down past the floor rather than pooling at the base, causing rot. Benefits include a longer lifespan for the box and less chance of the chicks getting wet or hypothermic.
Many commercial boxes become difficult to open when the wood expands in weather. It's key to be able to open bluebird boxes to monitor and clean them, so Ken builds his doors smaller than the frame and covers the gap with a weather strip.
Consummate Craftsman
Ken's work is never done. He's always trying to improve his design. And ever since he was a young boy, he's given his all and stuck to his word.
As a kid, aside from his farm chores, his childhood was spent playing baseball and dreaming of playing Major League ball. Yet at the end of his senior year in high school, when presented with a contract from two Major League baseball scouts with the Philadelphia Athletics, he kept his word. He had already committed to West Chester University. "In those days, when you made a commitment you honored it, so I turned down the Major League offer," Ken stated.
When I asked him what inspires him to keep going so strong at his age, he said his inspiration is keeping busy in itself. "I had a grandfather who was busy all the time, and he lived to be 98. I guess I take after him," he mused. His other secret is topping his cereal with a spoonful of honey every day, which he believes wards off arthritis.
"So I can keep making these boxes!" he grins. "You've got to keep active. When I retire is when you'll put me in the grave."
As Ken and I walked back to the house from the shop, I looked over my shoulder to the brilliant male bluebird that landed on the box and peered at the two intruders leaving his territory. I smiled to myself as I thought of the hundreds of baby bluebirds that have entered the world over the past two decades of this Bluebird Keeper's legacy.
The Willistown Conservation Trust, a nonprofit land trust, has protected over 7,200 acres of wildlife habitat, scenic views and agricultural lands in the Willistown area. Its mission is to protect land and inspire a lifelong love of the land through education. The Rushton Farm bird banding station in Newtown Square is open to the public from the end of August through November. Ken Leister's bird boxes are for sale as part of our Homeowner Bird Box Program. More at WCTrust.org.
Saving Songbirds
The housing market is through the clouds for area bluebirds, with a bumper crop of homes available—bluebird boxes in move-in condition! These small wooden havens built by bluebird lovers like Ken Leister supplement the natural cavities in trees and meadows where bluebirds seek to build their nests.
After being at risk of extinction during the past century, bluebirds are slowly rising again in number. The decline began in the early 1900s due to loss of open space and increased pesticide use, which limited their habitat.
But around 1996 bluebirds were finally taken off the rare species list thanks to the availability of man-made bluebird boxes. In fact, bluebird boxes are a main reason we have so many bluebirds inhabiting our backyards and waking us up to a tune that sounds like "chur-lee, chur-lee."
These pretty songbirds, whose beaks aren't strong enough to create holes themselves, use small spaces that already exist to build their bowl-shaped nests. They lay 4–5 eggs per brood and live together as a family for 15–20 days feasting on fruits, seeds and insects before the baby birds can go out on their own.
With a rapid loss of trees and open meadows over the past century, bluebird boxes have become a necessary means to keep this species alive. The restoration of the bluebird population is a prime demonstration that humans can reverse damage done to species headed for extinction.
Today, the majority of eastern bluebirds build nests in these man-made shelters in suburban and rural areas. Thanks to Ken and others who care, these colorful creatures will be filling the air with their distinctive color and song as they brighten our region for years to come!
Learn more about bluebirds at BluebirdNut.com
back to top