Tailgate Drinks
Our favorite equestrian season cocktails and wine
To view as a PDF, click here.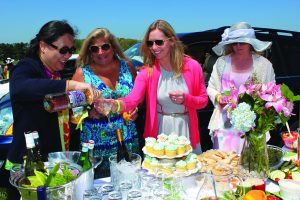 For some, tailgating is their favorite part of equestrian events. Food, drink and friends gathered together to celebrate a special occasion. While your tailgate food may be catered, carefully chosen from gourmet shops, or homemade from recipes in this month's Brandywine Table column, the drinks require additional consideration.
To help with your next tailgate, here are three classic drinks that are (mostly) easy to prepare. Or, if you're pressed for time, just grab a few bottles of wine or bubbly with horses on the label to complete your table!
Mint Julep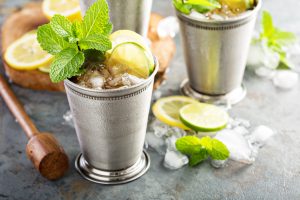 The signature drink of the Kentucky Derby, mint juleps are too tasty and refreshing to be limited to once a year. We recommend them for tailgating and sipping well into summer.
Notes: Though best served in a silver julep cup, a rocks glass also works. Choose a high-proof bourbon — 80 to 90 proof — since the crushed ice dilutes it (Woodsford Reserve is the official bourbon of the Derby).
8 mint leaves, spearmint is fine
¼ oz. simple syrup
2 oz. bourbon
Crushed ice
Mint sprig for garnish
Angostura bitters (optional garnish)
In your cup or glass, muddle mint leaves in the simple syrup.
Add the bourbon.
Pack the glass tightly with crushed ice. Stir until the outside of the cup becomes frosted. Top with more crushed ice — enough to form a rounded dome.
Garnish with a sprig of mint. (Optional garnish: a few drops of bitters.)
Serve immediately.
Kir Royale

Elegant and easy, this drink serves up a surprisingly complex taste, with the sweetness of the berry liqueur paired with the dry Champagne. Here's the classic version, but note there are several variations under different names.
½–1 oz. crème de cassis (black currant liqueur)
4 oz. Champagne (brut or extra brut)
Lemon peel string or raspberries for garnish
Into a chilled champagne flute, first add the preferred amount of crème de cassis.
Top with 4 ounces of dry Champange.
Garnish with a lemon peel or raspberries.
Serve and enjoy!
Variations: Use other sparkling wine (prosecco, cava) to create a Kir Impériale. Or use white wine for a classic Kir cocktail. And you can use other berry liqueurs, such as Chambord (black raspberry).
Pimm's Cup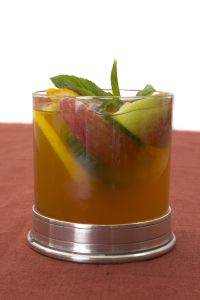 A fan favorite at the Royal Ascot and Wimbledon, Pimm's Cup began as a health tonic in 1840s London.
Now it's a steeplechase classic, best made in quantity and in a punch bowl. But beware: this drink goes down very easily! This recipe was tested several times when County Lines served it at Radnor Hunt Races.
12 lemon slices
12 lime slices
12 orange slices
12 sliced strawberries
4 cups Pimm's No. 1 Cup, available at liquor stores
6 cups lemonade, lemon soda (San Pellegrino limonata) or ginger ale
12 fresh mint sprigs for garnish
12 cucumber slices/spears for garnish
Ice cubes
Place all fruit (but not the cucumber) in the punch bowl.
Add the Pimm's and soda. (Note: proportions can be adjusted to taste and preference.)
Stir and allow the fruit flavors to mingle.
Serve over ice, traditionally in a tall glass, making sure to include pieces of fruit in each glass.
Garnish with cucumber spears and mint.
*Since you're adding fruit with peels into the drink, it's best to use organic fruit.
Equestrian-Inspired Wines
More of a wine drinker? Try one of these equestrian-themed wines, complete with horses on the label and fitting names. Find them at your local wine shop. Recommendations from Fine Wine & Good Spirits.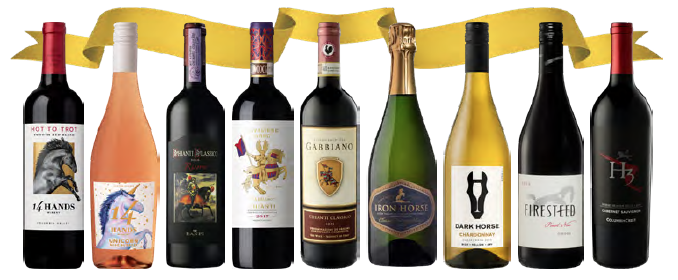 14 Hands Hot to Trot Smooth Red Blend
14 Hands Unicorn Rosé Bubbles
Castello Banfi Chianti Classico Riserva
Cavaliere d'Oro Gabbiano Chianti
Cavaliere d'Oro Gabbiano Chianti Classico
Dark Horse Double Down Red Blend
Dark Horse Chardonnay
Dark Horse Rosé
Firesteed Pinot Noir
H3 Horse Heaven Hills Cabernet Sauvignon
H3 Horse Heaven Hills Merlot
Iron Horse Classic Vintage Brut
Iron Horse Wedding Cuvée
back to top