Steeplechase Season
Opening Photo by Jim Graham
Celebrate this year's steeplechase season with these local events, filled with adrenaline pumping races and family fun. With something for everyone to enjoy, steeplechase races are must-do calendar events.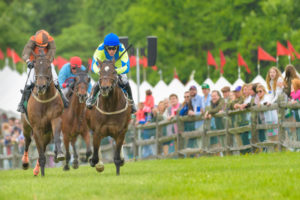 Spring in the Brandywine Valley is more than May flowers and Easter candy. It's also the season for some of our favorite equestrian events. Steeplechase season is rounding the corner, and we've got the scoop for planning May fun. From carriage parades and upscale boutiques to delicious food and competitive races, there's plenty of excitement to be had.
Round up the whole family, including well-behaved dogs, and spring into steeplechase season for a firsthand experience of this brand of distinctive local fun.
Study Up on Steeplechase
Dating back to the 18th century, steeplechase racing is a tradition connecting fans from across the Atlantic. This style of equestrian racing found its first starting line in Ireland as a cross-country horse race. Horses galloped across the lush Irish landscape from church steeple to church steeple, creating the name we celebrate every May.
Today's races evolved from riders who relied on the strength, speed and athleticism of their horses to carry them across rolling hills and over fences and jumps, turning the races from a necessary skill to a well-respected sport.
41st Winterthur Point-to-Point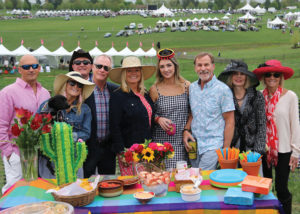 Enjoy the spectacle of the thundering hooves of beautiful thoroughbreds guided by expert jockeys as they race across a 3.2-mile course, including eight fences and 17 thrilling jumps.
With much more than just racing, Winterthur offers plenty to do for the whole family. Marvel at one of the largest horse-drawn carriage parades—started in 1979 by George A. "Frolic" Weymouth—or admire the display of historic Rolls Royce and Bentley automobiles. Shop 'till you drop at upscale boutiques, perfect for finding fabulous race day fashions.
Or grab the kiddos and head to Winterthur Hunt to enjoy stick horse races, pony rides and pup-friendly activities, from the folks at Canine Capers—all sure to get even the littlest participants in the spirit.
The beautiful grounds of the Winterthur Estate are filled with excitement, whether it's watching horses jump at 30 m.p.h. or running into friends. Benefitting the Winterthur Museum, Garden & Library, this event combines fun with philanthropy. Pack a tailgate lunch, don your finest hat and prepare for a day guaranteed to create memories to last a lifetime.
If you go: May 5. 5105 Kennett Pk., Winterthur, DE. Admission: $15–$250. 800-448-3883. Winterthur.org.
Tips: Purchase your entry wristbands at the Visitor Center or at a satellite location for access to all the race day festivities!
27th Willowdale Steeplechase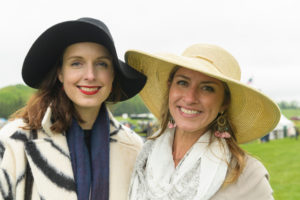 Gather up the family and head to the Willowdale Steeplechase Races this Mother's Day. Celebrate mom on a day filled with high fashion and world-class racing. Treat her to upscale boutique shopping and delicious food from an assortment of local vendors at this community gathering raising funds for Stroud Water Research Center, UPenn's New Bolton Veterinary Center and Quest Therapeutic Services.
Entertain the little ones with kids' activities and events like the Jack Russell Terrier races, sure to keep a smile on their faces.
New this year, all races will be live streamed, attracting a world-wide audience and introducing the sport to new fans.
In the spirit of new challenges, Willowdale is introducing an amateur race over hurdles, standing at a whopping 52 inches, giving more opportunities to amateur racers. Plus the sidesaddle race over fences is back for another year. More races, more fun!
Enjoy the views in the natural amphitheater of Willowdale's grounds, as it transports guests from Chester County into the beautiful British Isles' countryside that inspired the design. This unique venue gives everyone an incredible view of the races.
Join all the fun Willowdale's tailgating has to offer. With panoramic views of the course, you won't be missing any action from your tailgate spot. Dress for this year's theme of "Game of Thrones," as you rep your favorite house or character and a chance to claim the grand prize.
Check out crowd favorites like the U.S. Pony Racing and the Antique car display for the full Willowdale experience!
If you go: May 12. 101 E. Street Rd., Kennett Square. Admission: $40. 610-444-1582; WillowdaleSteeplechase.org.
Tip: Check out pre-race events like the May 9th course walk and May 10th Willowdale in White dinner for even more fun! Can't make the races? Watch the livestream.
89th Radnor Hunt Races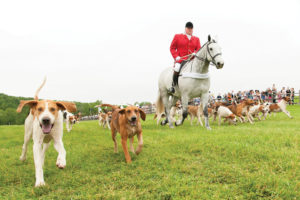 The Radnor Hunt Races are a celebrated Main Line tradition dating back to the 1930s. Rooted in the spirit of philanthropy, the races benefit the Brandywine Conservancy and protect the open space that makes our region such a beautiful place to call home. So, dress up in your race-day best at this year's Race for Open Space and enjoy a day in the countryside.
For the first time, the Radnor Hunt races will also be live streamed, allowing racing fans from around the world to share the action, plus there's racecourse-wide WiFi encouraging guests to live post all the fun. Gather alongside 25,000 spectators—and one wedding being celebrated on the grounds—and experience the excitement firsthand as the day's events include six races with prizes totaling $170,000, an antique carriage parade and the much-loved foxhound parade.
Join in the competition as the Picnic Patron tailgates offer not only bragging rights but also top prizes for the best tailgates for costumes and cuisine. Or wear your most fashionable hat or snappiest ties to receive an award as well. Celebrity judges will be strolling the grounds.
If tailgating isn't your style, grab tickets to the all-inclusive rail-side Fox's Den. Cheer alongside the finish line as you enjoy gourmet food and a full beverage service. Fox's Den guests can mingle with owners, trainers and riders, plus have access to the post-race Preakness Stakes party making these the best seats in the house!
If you go: May 18. Radnor Hunt Grounds, 826 Providence Rd., Malvern. Admission: $100 and up. 610-388-8383. Brandywine.org.
Tips: Kick-off the races the night before with a festive cocktail reception and live music at the Radnor Hunt Wildflower Bash!
85th annual Fair Hill Steeplechase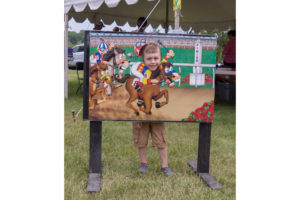 Rounding the finish line for the season is the historic Fair Hill Steeplechase on May 25, giving fans one last hurrah. Add extra excitement to the races by placing a bet on your lucky horse (pari-mutuel betting is allowed here) or use your betting money at the vendor village where shops offer something for every style.
Visitors can enjoy the course from many spots on the grounds, with options like the grandstands, reserved seating, tailgating, lawn boxes and tents. Everyone has a place at the Fair Hill Steeplechase and plenty of dining options from food vendors will satisfy your taste buds.
Take a short trip to Maryland for the last celebration of our region's 2019 steeplechase season!
If you go: May 25. 402 Fair Hill Dr., Elkton, MD. 410-398-2578. FairHillRaces.com.
Tips: No pet allowed. Discounted tickets available before race day!
Your Schedule for Steeplechase Fun!
41st Winterthur Point-to-Point – Sunday, May 5
11:30 am – Gates Open; Gates Close at 4 pm
11:45 am – Delaware State Police Pipe Band
Noon – Alison Hershbell Pony Races & Parade of  River Hills Foxhounds
1:00 pm – George A. "Frolic" Weymouth Antique Carriage Parade
1:30 pm – Tailgate Picnic Competition Award; Stick Horse Races begin
1:50 pm – National Anthem
2:00 pm – Races begin. 1st Race: Isabella du Pont Sharp Memorial
2:30 pm – 2nd Race – Winterthur Bowl
3:00 pm – 3rd Race – Vicmead Plate
3:30 pm – 4th Race – Middletown Cup
3:45 pm – Greta Brown Layton Trophy awarded to best trainer
27th Willowdale Steeplechase – Sunday, May 12th
10:00 am – Gates Open; Gates Close at 6 pm
10:30 am – Jack Russell Terrier Races
11:30 am – The Whip Tavern Tailgate Competition;  Pony Races
12:30 pm – National Anthem
1:00 pm – Miss Nancy Nicholas Memorial Side Saddle; Field Master's Chase
1:30 pm – 1st Race – The Liam Magee SOTA Apprentice Rider Race
2:00 pm – 2nd Race – The Folly
2:30 pm – 3rd Race – The Rose Tree Cup
2:45 pm – Tailgate Competition Winner; Side Saddle Winner Announced
3:00 pm – 4th Race – The Willowdale Steeplechase Stakes
3:30 pm – 5th Race – The Landhope Cup
4:00 pm – 6th Race – The Marshall W. Jenney Foxhunter's Chase
89th Annual Radnor Hunt Races – Saturday, May 18th
9 am – Gates Open; Gates close after Preakness Stakes
Noon to 2 – Tailgate Competition begins
1:00 pm – National Anthem with Mounted Color Guard
1:30 pm – 1st Race – The Milfern Cup
2:05 pm – 2nd Race – The Thompson Memorial Steeplechase
2:20 pm – Carriage Parade
3:05 pm – 3rd Race – Radnor Hunt Cup
3:15 pm – Parade of the Radnor Foxhounds
3:55 pm – 4th Race – National Hunt Cup
4:30 pm – 5th Race – James M. Moran Jr. Steeplechase
5:05 pm – 6th Race – Henry Collins Steeplechase
5:30 pm – Preakness Stakes Coverage begins
85th Annual Fair Hill Races – Saturday, May 25th
10:00 am – Gates Open; Gates close at 5 pm
11:00 am – VIP Tent Open; Pony Rides
11:30 am – Stick Pony Races
11:45 am – Welcome
Noon – National Anthem and Tailgate Competition Judging begins
1:00 pm – 1st Race – Training flat 7 furlong turf
1:30 pm – 2nd Race – Training flat 1.25 miles on the turf
2:00 pm – 3rd Race – 2.25 miles over National Fences; Hat Judging Contest
2:30 pm – 4th Race – 2.25 miles over National Fences
3:00 pm – 5th Race – Filly and Mare 2.25 miles over National Fences
3:30 pm – 6th Race – The Valentine Memorial; Tailgate and Hat Contest Winners announced
4:00 pm – 7th Race – Timber Race three miles and one furlong over Timber
4:30 pm – 8th Race – The SOTA Apprentice Rider Race 2.25 miles
back to top