Steeplechase is Back
The season of traditions, high-intensity horse races and family fun is here again. Jump into the fun at the best steeplechase races anywhere.
Spring flowers are blooming, cotton-ball clouds dot blue skies and warm breezes roll along green hills. Spring is finally here. And May brings the best way to celebrate: the 2018 steeplechase season.
Every weekend this month boasts a unique opportunity to cheer on majestic thoroughbreds and their epic dashes and jumps, including at a ruby anniversary event at Winterthur. Even better—the races are coupled with boutique shopping, race betting, tons of tailgating and raising money for good causes.
Get up and get out to join family-friendly festivities that make steeplechase a quintessential spring experience in the Brandywine Valley.
Like The Good Old Days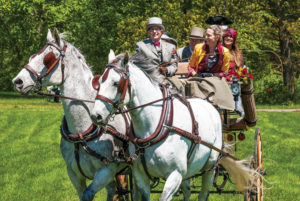 For newbies: a steeplechase is a distance horse race across the countryside in which competitors and their mounts must jump over fence-and-ditch obstacles. The name refers to the church steeples that designated the original race course start and finish.
Tracing its history back to Ireland over 250 years ago, steeplechase racing came to America in the late 19th century. Thomas Hitchcock began a training center for the sport at his estate in South Carolina and earned himself the title of Father of American Steeplechasing.
By the 1930s, the races spread to Pennsylvania as well as nine other states, and the hooves haven't stopped since. Races are now sanctioned by the National Steeplechase Association to ensure an authentic equestrian experience.
Today's local races are bigger and better than ever with more competitions, more high-stakes purses (that's prize money) and more fun for all.
Whether you're just steeplechase-curious or a longtime fan, check out what the area's equestrian community has to offer.
40th Winterthur Point-to-Point
What better time to honor tradition than a 40th anniversary? Nestled in Henry Francis du Pont's Winterthur estate, this signature Brandywine Valley event is sure to kick off the season right on 60 acres of rolling fields and gardens at the Winterthur property.
The main race starts at 2 p.m., but while you wait, stop by the Marketplace to shop for authentic steeplechase accessories and apparel. Other must-see attractions: the Antique Carriage Parade, Pony Races, Delaware State Police Pipe Band, Parade of River Hills Foxhounds and a Rolls-Royce and Bentley car display.
If your little ones have big racetrack dreams, they can enter the hobby horse races—or just have fun with pony rides and scavenger hunts.
From shopping, to games, to upscale tailgating and thrilling horse races, Winterthur Point-to-Point is a family memory waiting to be made.
If You Go: May 6. 5105 Kennett Pk., Wilmington, DE. Admission: $15–$60. 800-448-3883. Winterthur.org.
Tips: Buy wristbands before race day; none are available at the gate. Bring your well-behaved canine buddies!
26th Willowdale Steeplechase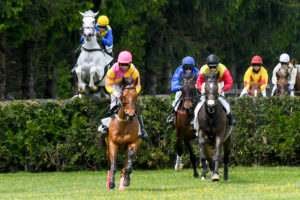 Surprise Mom this Mother's Day with her new favorite event on her special day, the Willowdale Steeplechase. At 26, Willowdale is the youngest of the steeplechase events, but it's got plenty going for it. The lush location and rolling farmlands invite you to relax, grab a bite at the vendors or a tailgate, and enjoy the company of family and friends.
Boutique shopping is available all day—a perfect opportunity to get Mom a festive hat. Prefer steel horses to warm-blooded ones? You're in luck—an antique car display is open all day. Plus there's the kid's alley for family fun.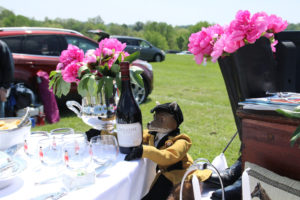 As for the races—starting at 1:30 p.m.—all six take place on a course the includes a unique feature—the Willowdale Water Jump—the only one of its kind in North America, featuring a 12-foot span and 18-inch drop in elevation. Horses can gallop at speeds of over 30 miles per hour, so the 4-foot fences they're clearing demand intense skill and steely nerves.
Witness these equestrian athletes and so much more to make this Mother's Day one to remember.
If You Go: May 13. 101 E. Street Rd., Kennett Square. Admission: $30. 610-444-1582; WillowdaleSteeplechase.org.
Tip: Family fun extends to four-legged members as well! Dogs with leashes are welcome.
88th Annual Radnor Hunt Races
Founded in 1930, the Radnor Hunt Races are bursting with history and tradition. Drawing crowds of over 25,000, these races are some of the most prestigious in the area, with race purses totaling up to $190,000!
Cheer from the rail at the new Fox's Den, positioned right at the finish line, as you enjoy a gourmet buffet and open bar, as well as adjacent parking, and access to the post-race Preakness Party.
If tailgating is more your speed, reserve your space at the Picnic Patron area and compete for prizes. Get creative with this year's theme, Hill-Billy Wedding. Surprised by the title? Let's explain. May marks the month of the 300th wedding anniversary of Throckmorton Hill and Phineous Billy, members of two local distillery families dating back to the 1700s.
Even better, proceeds benefit the Brandywine Conservancy through the Race for Open Space. This initiative helps protect land and water quality for over 63,000 acres and keeps the Brandywine Valley beautiful.
Come enjoy the thrilling races and contribute to this important cause!
If You Go: May 19. Radnor Hunt Grounds, 826 Providence Rd., Malvern. Admission: $100/carload, plus other parking options. 610-388-8383; RadnorHuntRaces.org.
Tips: No pets. Buy passes by May 11.
84th Annual Fair Hill Races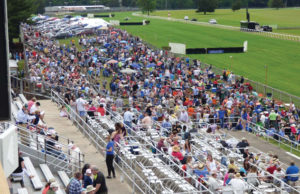 Wrap up the season with a bang at the Fair Hill Races in Maryland. Not only are the races held on yet another magnificent former du Pont property, but it's the only steeplechase race in the nation that allows pari-mutuel betting.
Strike it rich with eight heart-pounding races, or spend the day perusing the Vendors Village, tailgating and joining the Hat Judging Competition.
The perfect end to a perfect season.
If You Go: May 26. 402 Fair Hill Dr., Elkton, MD. Admission: $5–$15. 410-398-2578; FairHillRaces.com.
Tips: No pets or drones. Buy tickets before race day for an extra discount!
40th Winterthur Point-to-Point – Sunday, May 6
11:30 am – Gates Open – Gates Close at 4 pm
11:45 am – Delaware State Police Pipe Band
Noon – Pony Races & Parade of River Hills Foxhounds
1:00 pm – George A. "Frolic" Weymouth Antique Carriage Parade
1:30 pm – Tailgate Picnic Competition Award & Stick Horse Races begin
2:00 pm – 1st Race: Isabella du Pont Sharp Memorial
2:30 pm – 2nd Race – Winterthur Bowl
3:00 pm – 3rd Race – Vicmead Plate
3:30 pm – 4th Race – Middletown Cup
3:45 pm – Greta Brown Layton Trophy awarded to best trainer
26th Willowdale Steeplechase – Sunday, May 13th
10:00 am – Gates Open – Gates Close at 6 pm
11:00 am – Jack Russell Terrier Races
11:30 am – The Whip Tavern Tailgate Competition & Pony Races
12:30 pm – National Anthem
1:00 pm – Miss Nancy Nicholas Memorial Side Saddle Race
1:30 pm – 1st Race – The Liam Magee
2:00 pm – 2nd Race – The Folly
2:30 pm – 3rd Race – The Rose Tree Cup
2:45 pm – Tailgate Competition Winner & Side Saddle Winner Announced
3:00 pm – 4th Race – The Willowdale Steeplechase
3:30 pm – 5th Race – The Landhope Cup
4:00 pm – 6th Race – The Marshall W. Jenney Foxhunter's Chase
88th Annual Radnor Hunt Races – Saturday, May 19th
Noon – Gates Open, Tailgate Competition begins – Gates close after Preakness
1:00 pm – National Anthem with Mounted Color Guard
1:30 pm – 1st Race – The Milfern Cup
2:05 pm – 2nd Race – The Thompson Memorial Steeplechase
2:20 pm – Carriage Parade
3:05 pm – 3rd Race – Radnor Hunt Cup
3:15 pm – Parade of the Radnor Foxhounds
3:55 pm – 4th Race – National Hunt Cup
4:30 pm – 5th Race – James M. Moran Jr. Steeplechase
5:05 pm – 6th Race – Henry Collins Steeplechase
5:30 pm – Preakness Coverage begins
84th Annual Fair Hill Races – Saturday, May 26th
10:00 am – Gates Open – Gates close at 5 pm
11:00 am – Kid's Corner Opens
11:30 am – Stick Pony Races
Noon – Tailgate Competition Judging begins
1:00 pm – 1st Race – Training flat 7 furlong turf
1:30 pm – 2nd Race – Training flat 1.25 miles on the turf
2:00 pm – 3rd Race – 2.25 miles over National Fences. Hat Judging Contest
2:30 pm – 4th Race – 2.25 miles over National Fences
3:00 pm – 5th Race – Filly and Mare 2.25 miles over National Fences
3:30 pm – 6th Race – The Valentine Memorial. Tailgate and Hat Winners announced
4:00 pm – 7th Race – Timber Race three miles and one furlong over Timber
4:30 pm – 8th Race – The SOTA Apprentice Rider Race
back to top