Stay-at-Home—and Support Local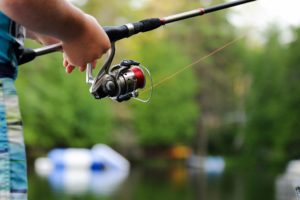 There are so many ways to continue to explore and support our community during these difficult times. We've gathered some of our favorites—for the kids, for arts sake, in the outdoors, going virtual, going to farmers markets and more.
We hope you enjoy these ideas. Feel free to share yours with us.
For the Kids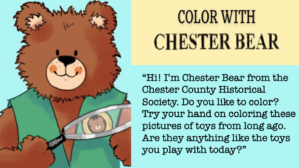 Color with Chester. Chester County Historical Society has a new little friend, Chester Bear, and an interactive coloring book. Help Chester as he tries to color old-fashioned toys and teaches kids how they were used. Download your Color with Chester Bear! coloring book here.
Toad abodes, anyone? Join in outdoor activities with Willistown Conservation Trust. Blake Goll rolls out some fun from the Trust's Rushton Nature Keepers program. Head to their blog to get started!
Make art. Join Jeff Schaller of County Art Tours or Jay McClellan, the artist for the White Dog Café's dog portraits (also featured in County Lines). Schaller turns paintings into downloadable coloring pages, so print them out and get creative! Share your images on social media—tag #jeff_schaller—and Schaller will post them on social media for your 5 seconds of fame. McClellan created the Come. Sit. Color line of coloring products. Sign up online for a free coloring page, or shop for more at ComeSitColor.com.
Enjoy storytime with the Chester Springs Library. Times are posted on their YouTube page, along with crafts on their website. Great for when your kids need some quieter time.
Enjoy Local Arts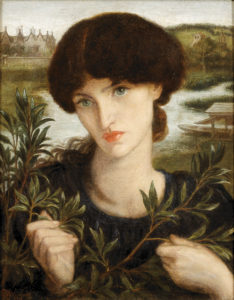 Enjoy art from home with the Delaware Art Museum. Explore virtual exhibits, take a closer look at a piece of art, watch museum storytimes and more at their Connect with Art from Home website page. The Museum also launched "The View from DelArt," an email highlights tour with staff and friends sharing their favorite works. The tour kicked off with "Water Willow" by Dante Gabriel Rossetti, a popular painting from their Pre-Raphaelite collection.
Stream music from Vox Amadeus for Good Friday. Though their Good Friday concert is postponed until June 26, you can still enjoy their period music. Find their CDs online, and for $10, support this nonprofit and listen to great Classical, Baroque and High Renaissance music.
Support local theater. Though People's Light had to cancel the remainder of their 2019/2020 season, you can still enjoy the theater. Buy the filmed version of their spring production, Hold These Truths, sign up the kids for their digital Spring Theatre School, and keep checking for more updates and content.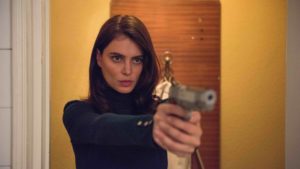 See films before they go on demand. Rent independent films from Uptown! Knauer Performing Arts Center as a part of their "Oscar Shorts" series. Rentals are $12, with half going back to support Uptown.
Be entertained at the Cooped Up Cabaret with SALT Performing Arts. Phoenixville Mayor, Peter Urscheler, joined the SALT family on April 2. The show goes on at 7 p.m. every Thursday. Follow SALT's Facebook page for the viewing link posted Thursday afternoons.
Get Outside
Squash spotted lantern fly eggs. Now that you've got the time, inspect your property and look for these egg masses on virtually any outdoor surface. Find them, squash them, or burn them in a fire pit. More at Willistown Conservation Trust's website.
Get a virtual garden consultation with Greener Partners. Schedule a personalized video consultation with staff to walk you through starting seeds, site selection, planting calendars, soil testing, composting and more. Cost is $100/hour, which goes towards Greener Partners mission of combating food insecurity.
Go fish! The Pennsylvania trout season is still underway, as long as folks abide by the social distancing guidelines. Fish close to home, cover your face with a mask, and keep a distance of six feet away from others. Maybe you'll catch dinner!
Go Virtual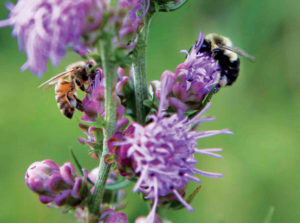 Take a video tour of Chanticleer Garden. Each week Chanticleer shares a glimpse of their gardens as spring unfolds. Learn more about Chanticleer's advice on gardening for wildlife in the article in our April issue, written and photographed by Chanticleer.
Join a virtual race, like the Family Lives On Virtual Race for Traditions. Walk, run, bike, jump, do yoga and more—with prizes for the overall male and overall female. For other virtual races, use the app RunSignUp. And remember: 4,000 is the new 10,000 daily steps goal, so get out and get active!
Take an online course. Try Penn State's 50+ free offerings. Some courses will earn you certificates and education credits. Others, like Beekeeping 101 and Food for Profit, are just fun. Browse these courses online.
Join local virtual groups and follow blogs. The Nightgown Gardener blog and Facebook group is a local community for people to swap seeds, look for plants, re-home plants, share advice and tips, share garden photos and more. Be in community but with social distancing!
Farmers Markets
Shop fresh, shop local and maintain social distancing. Most local farmers markets require pre-ordering, so check individual websites, Facebook pages and emails.
Growing Roots Farmers Markets in Eagleview, Downingtown, Malvern and West Reading are all open for pre-orders. Place your order with the farmers and food makers online, and the evening before market day get a confirming email with your assigned pick-up time. Then just pick it up, take it home and enjoy!

Many vendors at Westtown Amish Market now offer curbside pick-up. Call ahead, place your order and pay, then pick a time for pick up. Find vendors contact information on Westtown's website.
Pre-order and pre-pay for the Kennett Farmers Market. Check their weekly newsletter for the vendors, then contact each vendor individually to place and pay for your orders. Pick-up at the Kennett Library, with times by the first initial of your last name.
Vendors at the West Chester Growers Market now accept pre-orders. Check the Growers Market's Facebook page for contact info. Reach out to each vendor you want to order from. Pick up during the market hours, 10 am–noon.
Even More To Do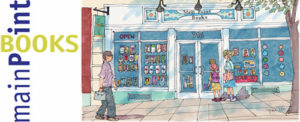 Buy a book. Local bookstores like Main Point Books, Reads & Company, and the Kennett Bookhouse appreciate you orders. If you usually buy books for holiday gifts, buy them now to help support independent bookstores. Gift cards are also very easy to ship! The perfect way to celebrate Independent Bookstore Day, April 25.
Make Easter and Passover recipes. Heritage Flour Baking has tasty recipes for you to make this week from the comfort of your home. Find Heritage Flour items at local farmers markets.
Need wine for Easter dinner? Try Galer Estate's gate-side pick up. Check their Facebook page for wine menu and how to order. Maybe a sparkling chardonnay?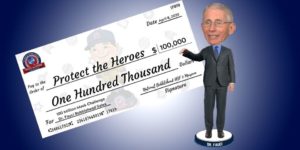 And a little less local, but a special case. Order a Dr. Fauci bobblehead! Dr. Anthony Fauci, the country's leading infectious disease expert and voice of reason, and is now available in bobblehead form at the National Bobblehead Hall of Fame. Shipment is expected in July, with $5 of every purchase donated to the American Hospital Association's Protect the Heroes Campaign to support the 100 Million Mask Challenge.
back to top