Spring Getaways in Lancaster County
Lazy days in the countryside or spring fun by the Susquehanna River—there's plenty to discover!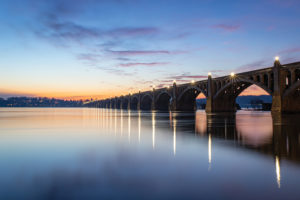 Although I grew up just a five-minute drive from the heart of downtown Lancaster City, much of my time was spent in more iconic parts of the County—in small towns and on winding back roads.
Spring and summer were for touring Amish villages and farmers markets while passing horse-drawn carts and for taking lazy kayak trips down the Susquehanna. I enjoyed visiting one-room schoolhouses, shopping in boutiques and antiques shops, and hiking trails in parks along the river.
Lancaster County is more diverse than most people expect, with something new to see with every visit. This spring, try one—or both—of these Lancaster getaways in the heart of the towns I love.
Option 1: Iconic Amish Countryside
Did you know …
Heading west from Chester County, you'll pass through small towns with eccentric names like Blue Ball, Bird-in-Hand and Intercourse, to name a few. They're all prime destinations for traditional farm town getaways.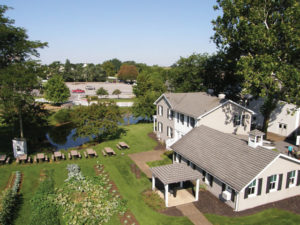 In fact, these towns have attracted visitors for as long as they've been around. Bird-in-Hand, established in the early 1700s, was a bustling town of travelers passing through as well as residents doing business there. Because many travelers and residents spoke different languages, early inns painted images on their signs to make them recognizable. The town "Bird-in-Hand" likely got its name from some such 18th-century sign depicting that exact, vivid image.
Intercourse—formerly known as "Cross Keys" and considered the heart of the Amish Country—was founded in 1754, then renamed in 1814. Former Old King's Highway (now Route 340) running from Wilmington to Erie, intersected here, making Intercourse a hub where locals, Amish, visitors, farmers and craftsmen came together for business and conversation.
Great stays for farm getaways
From small inns to themed hotels, the Lancaster countryside has plenty of comfortable places to rest your head. Along Route 340 in the middle of Amish farmlands, you'll find Plain & Fancy Farm, an inn, restaurant, one-room schoolhouse, stables for buggy rides, country store and more spread across 10 acres. Spend a few days trying out all they have to offer in this quintessential farmstead.
In Bird-in-Hand, an obvious choice is the Bird-in-Hand Family Inn, a resort-style hotel with multiple pools, tennis and basketball courts, an on-site restaurant and more—a bit less traditional. And in Intercourse, book a stay at The Inn at Kitchen Kettle Village and enjoy complimentary breakfasts from Kling House Restaurant and easy access to all the shops at Kitchen Kettle Village.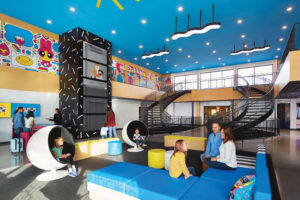 If you're looking for something the kids will love, try out the new Cartoon Network Hotel off Route 30. Stay in the character-themed rooms—like Blossom, Bubble and Buttercup from The Powerpuff Girls or Ben from Ben 10. Then enjoy outdoor screenings of your favorite shows—Adventure Time, The Amazing World of Gumball, We Bare Bears. You can grab a bite to eat at one of the on-site dining options. During your stay, get tickets to Lancaster's amusement park, Dutch Wonderland, right next door.
Shopping, tours & food to try
Unwind with some shopping—or window shopping—during your visit. Browse home goods like lighting, candles, décor and more at one of the country's largest floral and décor retailers, Flower & Home Marketplace, in Blue Ball, find beautiful hand-sewn gifts at Fisher's Handmade Quilts in Bird-in-Hand, and admire simple, Amish-made furniture at Peaceful Valley Furniture in Intercourse.
For more shopping options, visit Intercourse's Kitchen Kettle Village, with over 40 local shops in one outdoor shopping village. Highlights include garden gifts and specialty plants from Perfect Pots, artwork by nationally and internationally acclaimed artists from the region at Dutchland Galleries and sweet treats from Pepper Lane Fudge and Sweets.
While in Intercourse, rent a bike from Intercourse Bikeworks for a private or guided bike tour of the back roads. Try the Amish Dinner Tour, an eight-mile ride through rolling hills ending with dinner with a welcoming Amish family.
In Ronks, The Amish Village offers authentic Amish experiences with its guided tours of an authentic Amish farmhouse, shopping in the Amish-operated shops and self-guided tours of the schoolhouse and outbuildings.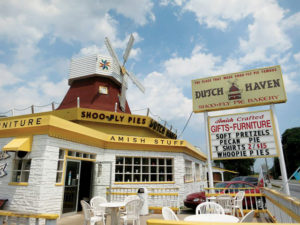 And a trip to Lancaster County is not complete without sampling Pennsylvania Dutch cooking. Try The Daily Meal's one restaurant you have to try in PA, Shady Maple Smorgasbord in East Earl, for a 200-foot buffet of delicious PA Dutch Fare, from eggs, pancakes and French toast, to fried chicken, meatballs, corn and mashed potatoes. For a tasty souvenir of your visit pick up TIME Magazine's best ShooFly Pie at Dutch Haven, along with homemade pretzels, whoopee pies, local jams and jellies.
Option 2: River Towns along the Susquehanna
Rich History of the River Towns
Already visited Amish Country and want something different? The river towns along the Susquehanna may just be your new favorite destination, with plenty of history and fun for visitors to enjoy.
Did you know these towns have Chester County ties? In 1726 Quakers from Chester County, led by evangelist John Wright, settled Columbia to preach to the indigenous Native Americans. Soon the town became a major transportation hub for those coming by land, rail and river. The river towns—Columbia, Marietta, Wrightsville and Bainbridge—were also known as hubs for key businesses involving lumber, coal and grain.
A little-known historical fact: the river towns had an important role to play during the Civil War. In June 1863, Robert E. Lee planned to lead his Confederate soldiers into Philadelphia through Lancaster, using the Columbia-Wrightsville bridge. But instead, locals burned down the bridge blocking Lee, causing him to turn and march towards Gettysburg instead.
Every year on the last Sunday of June—June 28 this year—this historic event is commemorated with Riverfest—an evening of live music, food, festivities and reenactments with the lighting of three braziers on the rebuilt Columbia-Wrightsville bridge.
Bed & Breakfasts worth the trip
Plan a relaxing river-town stay at one of the quaint B&Bs along the Susquehanna. For a quiet spot minutes from Route 30 and a five-minute drive from Columbia, choose Airy View Bed & Breakfast, a four-and-a-half acre home complete with a koi pond, waterfall, outdoor patio and fire pit.
Or book a room in town in Marietta, just a few blocks from the Susquehanna, river trails and parks. Ascot House Bed & Breakfast has six spacious rooms great for a romantic weekend or family gatherings, while the Railroad House Inn has eight rooms plus a speakeasy-inspired bar and restaurant.
Tours, Trails & Top places to go
The river towns will keep you busy! Head to Columbia for tours of local museums. Tour the National Watch & Clock Museum, with the most comprehensive collection in North America of clocks, watches and tools. Then check out displays of ceramics, glass, metals, textiles and PA furniture from 1700–1750 at Wright's Ferry Mansion.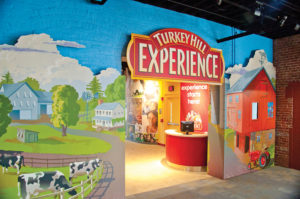 The kiddos will love a trip to the Turkey Hill Experience. Take a self-guided tour through interactive exhibits to learn how the products are made, sample teas from around the world at Tea Discovery, and, perhaps the highlight of any tour, make your own ice cream in the Taste Lab.
Schedule some time by the river, too! The Susquehanna National Heritage Area is open to visitors and offers guided tours of the trails, information about nearby historic sites and exhibits featuring local history, art and culture. Hop on a River Discovery Boat Tour for a trip down the Susquehanna as you enjoy the beautiful wildlife around you.
Chiques Rock Outfitters has canoes, kayaks and bicycles for rent, so you can also  explore the Susquehanna your way.
Finish your getaway with a drink … or two. Tastings and winery tours are available at Wrightsville's Moon Dancer Winery and Nissley Vineyards, just north of Marietta. Grab a glass and stay for a while.
Beer-lovers can sample specialty brews or buy other locally bottled beers at Marietta's Pig Iron Brewing Company. Columbia Kettle Works Brewpub is another great option for brews, wines and cocktails, all with locally-made alcohol.
Whether you prefer traditional farm stays and shopping in the middle of the Amish Country or outdoor river adventures in small towns with history, you'll find a memorable destination the whole family will love.
back to top