Something Different for the Summer
Add three new whites to your summer wine list.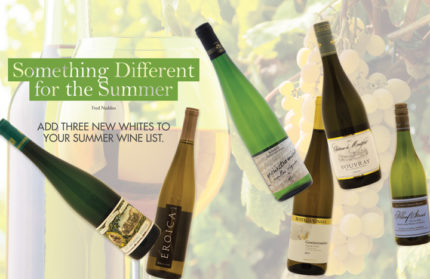 Summer is approaching and many wine-lovers are yearning for lighter choices to sip with fresh, seasonal summer foods. Beyond the well-known options of chardonnay, pinot grigio and sauvignon blanc, what other white wines are there to discover and enjoy?
An answer is found in the same place as the origin of many fine wines: France. There we find a lesser-known light white variety that's native to the Loire Valley—chenin blanc—and two varieties originating nearby from Germany—riesling and gewürztraminer—that deserve a wider audience.
Double your standard summer white wine list with these three strong additions. You'll delight your friends and your palate.
Riesling
Let's start with riesling, the lightest of these three whites. When sipping this summer wine, look for notes of lime, green apple and jasmine with spicy hints of white pepper. This flavor profile makes the wine a perfect match for Indian and Asian cuisines, especially the off-dry version.
Many wine fans have bad memories of riesling. That may be because Germany exports a large amount of bulk sweet wines that are not 100 percent riesling, causing the reputation of riesling to suffer. But, given the acid levels and ability to ripen to a high level of sugar, rieslings can be very elegant and long lasting.
A nice one to try is Maximin Grünhaus Riesling Spätlese Abtsberg 2017 ($37.99). With lots of peach and lemon flavors, this sweeter wine can be enjoyed now but will age beautifully for 10 years or so.
Despite all the history that riesling has in Germany, many believe its spiritual home is Alsace, France, just across the Rhine river from southern Germany. Here the wines have their own unique, richer style than their German counterparts due to the sunny and dry conditions in the Vosges Mountains.
For an excellent example from this region, try Melody by G. Metz Riesling Alsace 2017 ($21.99). This wine combines aromas of lemon and tangerine with notes of honeysuckle. Flavors of peach and lemon also shine through in this crisp white wine.
Riesling has found a home all around the world. Here in the U.S., many different styles are produced, but the wines labeled as dry are usually not completely dry. These sweeter dry wines present a rich feel on the palate that's balanced by crispness and spicy notes from the grapes.
For an American riesling to compare with the European versions, sip Eroica Riesling Columbia Valley ($22.99). This wine is a collaboration between the Dr. Loosen estate of Germany and Chateau Ste. Michelle of Washington state. This highly rated wine has aromas of lime and peaches followed by peach and apple flavors. A bit of summer in your mouth.
These three different takes on riesling practically demand a tasting party under the summer stars.
Gewürztraminer
Another fun white wine to try this summer is gewürztraminer. This style of wine is typically very aromatic and has low acidity. The wines show aromas of lychee and rose petals with flavors of tropical fruits and spices like ginger—wonderful flavors for warm weather.
Many people describe gewürztraminer as having stone fruit characteristics—mango and peach—and this profile makes it a perfect match for spicy foods, like Indian dishes.
Although originally from Germany, the most highly regarded versions of this wine come from Alsace, France, across the border from southwest Germany.  Domaine Gérard Metz Gewürztraminer Alsace 2015 ($26.99) is an excellent example to try. Enjoy aromas of rose petals, peach and lemon with those same fresh and fruity flavors carrying over onto your palate.
You may like to contrast that with a version from northern Italy, Bottega Vinaia Gewürztraminer Trentino 2015 ($16.99). This wine leads off with aromas of tea, rose and lychee with creamy flavors of apricot and pineapple.
Chenin Blanc
Our last wine to try from our exploration is the slightly more popular chenin blanc. Native to France and commonly associated with the Loire Valley, this wine has a documented history dating back to the year 845.
The flavors of the dry whites range from green apple from the Savennières region to tropical notes from Vouvray. The grapes are late ripening and tend to have high acidity, making them a perfect match for seafood dishes.
An excellent example to try is Château de Montfort Vouvray ($14.99). This demi-sec (or semi-dry) white has aromas and flavors of Granny Smith apples. The sweetness is balanced by a bright acidity making it an ideal match to seafood and chicken dishes.
This French native, like so many other grape varieties, has found a welcome home in other parts of the world. For example, so much chenin blanc is grown in South Africa—where it's called steen—that plantings now exceed that of France.
The grape arrived in South Africa about 250 years ago and its vigorous growth and high acidity also made it a natural fit as the base for locally made brandies.
Bulk chenin blanc wine production continued for many years; however, attitudes have now changed, and many producers are making higher quality wines instead of high quantity.
These better wines exhibit more tropical characteristics, like pineapple and guava. To contrast with the French version, try a South African standout, Kloof Street Chenin Blanc Swartland 2017 ($18.99). This wine has scents of ripe pear and flint. Its crisp acidity makes it a perfect companion for a clam bake at the beach.
I hope this gives you some ideas about how to branch out from your usual go-to wines this summer and add some depth and breadth to your sipping. For more ideas and suggestions, ask the wine specialist at your local Fine Wine & Good Spirits store or favorite wine or bottle shop.
Cheers!
---
What started as a hobby is now a career. Fred Naddeo began his wine journey more than 20 years ago when his wife bought a bottle of Black Tower Riesling to try something different. It marked the beginning of an exploration of the amazing world of wine that continues to this day. Fred is a wine specialist at the Springfield Fine Wine & Good Spirits store on Baltimore Pike in Springfield. Learn more at FineWineAndGoodSpirits.com.
back to top