Preserving West Chester's Historic Treasures
Founding Preservation Awards Committee Chair
Recent Bricks & Mortar and Legacy Award Winners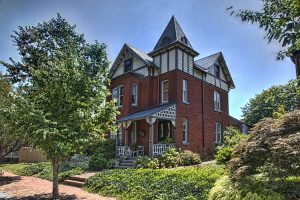 There was time this past October to come together to celebrate community. And that's what the West Chester Downtown Foundation did when it marked the 10th anniversary of the West Chester Historic Preservation Awards with a ceremony at the Chester County History Center.
The awards ceremony honored the preservation of West Chester's essential historic character—part of what creates the special charm of the Borough. In the midst of unpredictable times, people gathered together to honor an essential link to the past.
The decision to recognize local historic preservation efforts started when Malcolm Johnstone, then the Executive Director of West Chester's Business Improvement District, took a seedling idea of Tom Walsh, local preservationist, and presented it to the Downtown Foundation Board. That small step grew into ten years of recognizing the value of preservation to our community.
Here are the seven honorees recognized for their contributions. We hope this gives you a new reason to enjoy a tour of the town.
And the Winners…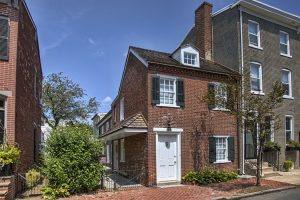 For 2021, awards recognized two categories of achievement—six Bricks and Mortar Projects and one Legacy Award.
Bricks and Mortar Awards recognize a wide variety of construction projects of sterling quality that demonstrate the creative ways buildings and their settings can be preserved, restored or rehabilitated. Winners may mark the award with a plaque installed on the building.
Benjamin Freeman House, 127 W. Barnard Street, was recognized for the owners' efforts to thoughtfully restore this house. Although the house had suffered years of neglect, through meticulous attention to detail and careful removal and repair of original elements, it has been restored to its original state. This project demonstrates how attention to detail can lead to the restoration of not only a resource significant to the history of West Chester, but also an important component of the character of the Borough.
Lokhorst-Rittenhouse House, 314 W. Barnard Street, won for the efforts of its owners to meticulously maintain this house and its grounds. The owners purchased the house on its 100th Anniversary (1995) and have carried out a long-term maintenance plan with the help of local craftsman, using historic materials and methods where appropriate. This project is a good example of how good stewardship of a historic resource helps preserve the historic character of the Borough.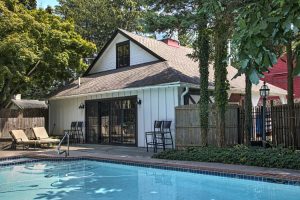 Varney-Wallace Carriage House Rehabilitation, 315 W. Matlack Street, earned an award for the careful adaptive reuse of an otherwise obsolete building. The owners' needs for additional space for a pool house, workshop, in-law suite and home office were incorporated into the carriage house yet did not sacrifice its original massing, footprint or fabric. This project is an outstanding example of how rehabilitating a historic resource can be accomplished without sacrificing its character.
Sharples Homestead Residential Development, 25-29 Dean Street, won its award in recognition of its ground-breaking development of this property. A 27-unit apartment building was slated for this site. Instead, ten townhouses (with designs based on rowhouses along South Darlington Street) and two carriage house residences (with designs based on the Sharples Carriage House) were sensitively inserted so the view from the Homestead would not be compromised. This project is a very good example of how modern infill can be designed to enhance rather than detract from the historic character of the surrounding community.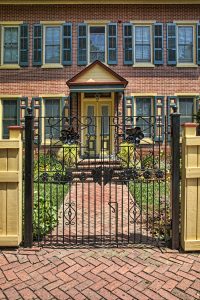 Nebel Residence, 327 S. Walnut Street, was recognized for the thoughtful way the owners completed the restoration of this house. This project completed the conversion from a three-apartment residential building back to its original use as a single-family residence. In addition, the structurally unsound kitchen addition was replaced and the dilapidated carriage house was rehabilitated into a modern garage. This project is a good example of how important it is for the continued stewardship, across time and ownership, of West Chester's historic resources.
West Chester Friends Meeting "Open Doors Project," 425 N. High Street, earned its award for its sensitive addition of a special entrance for those with mobility impairments. The Meeting wanted to ensure it was accessible to all, but also wanted to respect the historic character of the Meeting House. The solution was a restrained, unobtrusive ramp incorporated into the porch of the 1813 portion of the Meeting House. This project is a very good example of how historic resources can be sensitively retrofitted to accommodate modern accessibility needs.
And finally, the 2021 Legacy Award was presented to Malcolm Johnstone, an early participant in the National Trust's Professional Downtown Management Program, for his enthusiastic support of historic preservation in West Chester. In addition to being a champion of the West Chester Historic Preservation Awards Program, Malcolm has been a regular town tour guide and has been involved with West Chester's Old-Fashioned Christmas events.
For 2022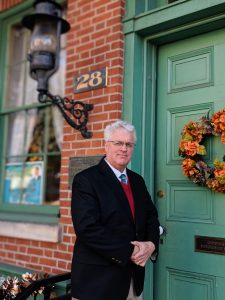 The 12th Annual Preservation Awards will kick off in April 2022 by opening nominations for another set of awards. Nomination forms and rules will be available at the West Chester BID office or on-line at DowntownWestChester.com. Nominations close in June. Winners will be announced in July, and the Awards Ceremony is scheduled for Thursday, October 20, 2022.
Please help recognize the projects that continue to enhanced West Chester's historic character and fabric by submitting a nomination.
Jane E. Dorchester has worked in the preservation field since 1983, having earned a Masters in Historic Preservation from the University of Pennsylvania. She specializes in historic property research, historic resource inventories and surveys and National Register nominations through her consulting firm in East Goshen Township. Contact her at JEditorSVP.gmail.com.
Photos by Timlyn Vaughan Photography
back to top