Preparing Your Garden for Winter
Ecological, low-maintenance gardening to save time and resources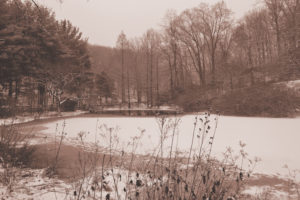 As temperatures begin to drop in autumn, many of us have the impulse to tidy and cut back our gardens, leaving a clean slate for spring. We spend our weekends raking leaves, cutting down dead perennial stalks and removing spent annuals.
But what if we could save time and resources while boosting the ecological health of our gardens at the same time? A big fall cleanup may not be necessary. Try these ecologically friendly gardening practices instead.
Leave the Leaves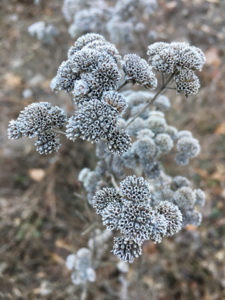 It's fascinating to see the leaves of summer change to the colors of fall. But as soon as they litter our lawns, we want them gone. We hire neighborhood kids to rake them into large piles, stuff them into bags, and put them on the curb so we never have to see them again.
While it's true that leaves left on the lawn can suffocate the grass and cause unsightly brown patches, leaves do play an important role in the garden. Allowing leaves to stay in your yard, unraked, provides benefits for hibernating insects, like the mourning cloak butterfly that seeks refuge from the cold winters by hunkering down under the fall debris.
Rather than raking and removing your fallen leaves, try using them as mulch. As soon as the leaves litter the lawn, gather them together and spread them evenly on your garden beds. If you prefer not to use whole leaves for this, gather them into a shallow pile, use a lawn mower with a bagger to shred the leaves into small pieces, and spread the shredded leaves evenly on the flower beds.
In addition, lawns can benefit from a thin layer of shredded leaf mulch. Not only will this use of leaves offer protection for hibernating insects, but decomposing leaves add organic matter to the soil and act as fertilizer during the growing season.
Simply put, shredding and spreading leaves mimics our natural ecosystem, supports pollinators and other invertebrates, and can still keep the neighborhood kids employed! This concept can be applied to vegetable beds, too. After the growing season, home gardeners can remove expired plant material, prune it into small pieces, and scatter it evenly on garden beds to add organic matter.
Save the Birds and the Bees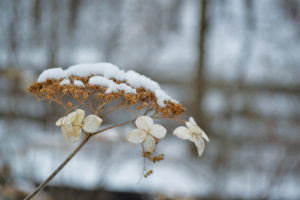 When autumn colors start to fade and our perennial beds turn hues of gold and brown, it may be tempting to cut everything down to the ground. But leaving the perennial stems offers beauty—especially when accompanied by a blanket of snow.
Herbaceous vegetation provides value to wildlife, too. Insects—like mason bees—use these old stems to overwinter the next generation. Some birds—like warblers—need the seeds and berries when migrating south. Non-migrating birds—like gold finches and cardinals—use seed heads and berries to survive the winter months. Our feathered friends will also appreciate feasting on hibernating insects.
If cutting down the remains of your perennial beds is necessary, leave the lower 18 inches of the stalks until early spring and repurpose the cuttings as mulch. However, if the plants show signs of disease, remove those stalks and dispose of them in the trash. Otherwise, perennial stems should be cut back in late winter or early spring in preparation for new growth.
Plant Some Trees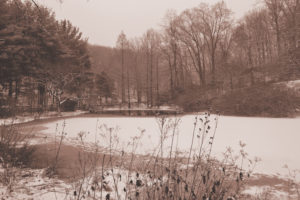 Fall is an optimal time to plant perennials, and not just because you can shop end-of-season sales. The air is cooler and the ground is still warm, providing ideal gardening conditions for both gardeners and plants. The threat of pests and diseases lessens, heat and water stress become less of a concern, and fertilizer is no longer needed because the plant is sending its energy to the roots in preparation for dormancy.
The best time to plant perennials is no later than six weeks before the first hard frost because that provides adequate time for plants to establish and receive the right amount of water. But don't worry if that window has already passed—there are still planting preparations that can be done.
Homeowners can also use this quiet time to measure their garden beds before temperatures drop and the garden boundaries surrender to winter. To create a map for your future garden planning, measure all hardscapes, flower beds and any other structural features in your garden—sheds, arbors, pergolas and the like. Precise measurements of the length, width and depth will create a more useful map for designing during the winter months. Gardeners may find that graph paper and a long measuring tape can help with this process.
This season, choose to do more for your backyard ecosystem. What we do now is important for wildlife during the winter and spring. Whether you're working with acres of property or have a small backyard spot, you can take pride in and enjoy your eco-friendly garden.
Images courtesy of Jenkins Arboretum & Gardens, by Stephanie Kuniholm and Maddison Paule.
Jenkins Arboretum & Gardens is a 48-acre public garden showcasing native flora of the eastern U.S. and a world-class collection of rhododendrons and azaleas. The gardens are open every day of the year from 8 a.m. to sunset and admission is always free. 631 Berwyn Baptist Rd., Devon. 610-647-8870; JenkinsArboretum.org.
Things you can do with the time you saved:
Sharpen tools and prepare them for late winter/early spring pruning.
Watch for winter birds.
Use the internet, books and magazine and attend garden expos for design inspiration.
Brighten up a dreary winter day by look­ing at cheerful, colorful seed catalogs.
Take classes and attend lectures at your local arboretum or garden. Learn new skills and put them to use during the next growing season.
back to top