PA Wines
Sip Local Award Winners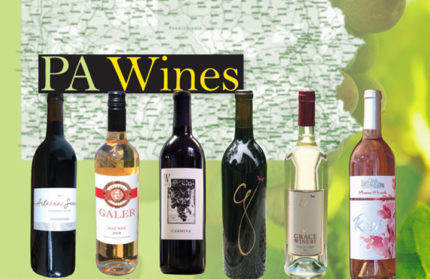 PA Wines
Your support for local businesses should, of course, extend to local wineries. It makes perfect sense to explore wines from our region's vineyards. So take some time between National Wine Day on May 25th and International Rosé Day on August 14 to devote to that goal.
To help you sample some of the best, we've rounded up award winners you should put on your summer sipping list.
Selections in the Top Wines category from the 2019 PA Sommelier Judgment—when sommeliers, beverage directors and wine experts met for a blind tasting, to highlight notable PA wines—include (in alphabetical order):
Chaddsford Winery's 2017 Cabernet Franc (Chadds Ford)
Galer Estate Vineyard & Winery's 2018 Rosé (Kennett Square)
Wayvine Wintery's 2016 Carmine (Nottingham)
And from the same competition, Honorable Mention wines were (in alpha order):
Grace Winery's 2017 Dragonfly (red blend) and 2017 Pinot Gris (Glen Mills)
Penns Woods Winery's 2018 Rosé (Chadds Ford)
There are, of course, countless other wine ratings and competitions, so we thought we'd include a few more options as you sip locally.
Harvest Ridge Winery (Toughkenamon, PA & Marydel, DE) took gold for wines at a recent Indy International Wine Competition. Try the Blue Hen Blue for a red wine with blueberries.
J Maki Winery (Elverson) is known for its bubbly and ice wines, which won the Vinalies Internationales awards in 2001 and 2003, aka the Olympics of wine competitions.
Stargazer Vineyard (Coatesville) is known for its sustainability practices and wines featuring the special micro climate, aka terroir. Solar Celebration Chardonnay tastes like Chester County.
Stone Barn Cellars Winery (Spring City) is a PA Preferred winery, meaning all the grape wines are made from Pennsylvania fruit. Using solar panels and recycling right down to the water, they have a near-zero carbon footprint. Sample thier sangria.
Va La Vineyards (Avondale) is always recognized as a star and a favorite of food critic Craig LaBan. Try La Prima Donna.
And a bit farther afield, Crow Vineyard (Kennedyville, MD) has three wines scored by James Suckling, including their 2015 Chardonnay (90 pts).
back to top