Making Your Kitchen the True Heart of the Home
How to make your kitchen a warm and welcoming room.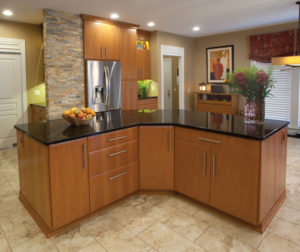 It must have been shortly after the discovery of fire that the earliest cave-dweller party hosts discovered it was difficult to stop their guests from congregating in the cooking area. A lot has changed since then, but the kitchen has been the heart of the home ever since.
Today's professional kitchen designers can make that room stylish and modern yet still embodying that elemental sense of welcome and comfort.
First Steps and Flow
Paints and fabrics are the simplest, least expensive way to soften a kitchen, says Katy Wolfington, president of Waterbury Kitchen and Bath in Kennett Square. In her showroom there's an alcove painted in a color called "Cocoon," a matte finish greenish-gray, soft and natural, evocative of moss and slate. Old World accessories of wicker or wood can add a touch of softness, too.
Other qualities to make the kitchen your central gathering place have to be built in. Flow is important everywhere in a house, but arguably nowhere more important than in the kitchen, where people congregate and work at the same time. Wolfington says getting rid of barrier walls to promote flow in and out of the kitchen is a trend today. "You feel like you have a connection to other spaces," she says.
Then there's the design within the kitchen itself. For the last 20 years or so, islands have been a key element—attractive and functional. Trez Pomilo, lead designer and owner of Sugarbridge Kitchen & Bath in Paoli, says islands need a kind of Goldilocks-style placement—close enough to other counter space that working in both areas is convenient, but far enough away that it doesn't constrict people moving by.
And there's the relationship with the non-working areas to consider as well, for optimal flow and how you like to work and socialize in the kitchen. Both visually and in layout, the kitchen should invite you in and be comfortable to sit and move in. "The most important thing really is a good plan," Pomilo says.
Family size and children's ages also affect the flow, says Alex Hall, owner and principal designer at Creative Nook in Paoli. If you have lots of children constantly coming in the kitchen for juice boxes and such, the refrigerator should be away from the work area.
No kids around? Then a kitchen fireplace is a nice touch, says Andy Madsen of Madsen's Kitchens and Baths in Broomall. "It's easy to add a gas source, even to kitchens without an existing gas line," says Madsen. Modern gas fireplaces can be small but add a big impact. And what says heart more than a hearth?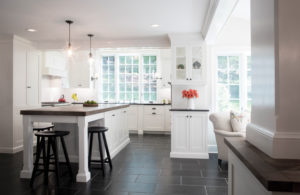 Color and Warm Light
Pomilo has a particular focus on colors and recommends a generally cool, subdued sort of color scheme for the kitchen with "pops" of brighter, more vivid hues here and there. Rich Dempsey, the senior designer and manager of Christiana Cabinetry in Atglen, agrees that more neutral shades as your basic room color lend the kitchen a classic, timeless look.
Lighting has gotten more flexible in recent years, especially with LEDs. Wolfington points out that LEDs are now available in warm colors they couldn't achieve when they first came out.
These warmer hues are especially important in all-white and stainless steel designs. For example, one end of Dempsey's showroom has a European-style kitchen design—sleek, clean, with acres of stainless steel surfaces. As he can demonstrate, soft, diffuse lighting is one way to warm up a space that could feel like a restaurant kitchen or laboratory.
More Warmth
Many features today are both functional and capable of adding warmth. Wolfington has one sample kitchen where a large oven with a dark green cast enamel finish gives the entire room a cheerful, upbeat mood. If you don't have a fireplace, Wolfington says, a hood over the stove can evoke that same hearth-like look. Dempsey also identifies the range hood as a feature that draws your attention to any wall it's on. He recommends putting most of the other eye-catching features on that same wall, to make it the visual focus of the room.
Pomilo sees the backsplash as another feature that's both functional and a key design element for today's kitchen designs. Hall says Creative Nook recently installed a stamped-tin backsplash for a client that added texture and harmonized well with the entire house, which was built in 1905.
Wood cabinets can add warm tones and evoke the feel of a cozy den. If you don't want the metal and electronics of your appliances to show, it's easy to hide them behind wood cabinetry in the same style as the rest of the kitchen. At the Christiana Cabinetry showroom you can find storage space behind one door; behind an identical panel the dishwasher waits until it's needed.
Having comfortable seating is another way to create a natural gathering place. Madson suggests building a window seat in a bumped out window, designing seating for chairs rather than less comfortable bar stools, or adding a banquette that demands lingering over meals or coffee.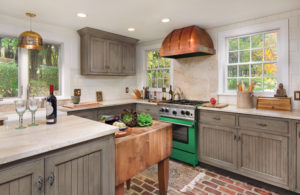 Technology and Traditional Materials
Materials are another area where age-old traditions and today's technology harmonize. A kitchen has "got to look modern and updated, but it's got to be warm at the same time," Wolfington says, and materials are a favored way to do that. Natural materials like handmade tiles can help, and so can technology.
Stone countertops have been popular for years—think of all the granite and marble out there. Now quartz countertops—a mixture of ground quartz, polyester resins and pigments—are on many wish lists. These "engineered" countertops can look pretty much any way the manufacturers want, and it can have any surface finish—from glossy to honed (smooth but more satiny) or textured. Maintenance? None needed. But you still have the elemental look of stone. "Technology gives us the ability to make things look older," Wolfington says.
If a modern style you like has a cooler, less welcoming quality, materials can help soften it. Hall says the trend toward white cabinets tended to cool the overall feel, but using natural wood in the floor or recycled wood beams in the ceiling help "to give it a little more of that homey, comfortable feeling."
Natalie Moyer, project coordinator at Dilworth's Custom Design in Phoenixville, agrees with Hall that wood floors and cabinetry can warm a kitchen. She says many of their clients want a "transitional" approach, with clean lines and not too much detail work, but balanced with warming elements like wood and other natural materials.
Dempsey remembers one couple who had opposing views—the woman wanted the sleek metallic European style, and the man hated it. Dempsey suggested a similarly clean, geometric approach but with wood instead of metal, and everyone was happy.
That's just one more example of kitchen design today, with professionals helping clients navigate a thicket of choices and options to get, as Wolfington says, a modern, updated stylish kitchen that still embodies the age-old warmth and welcoming feeling that's glowed since the cave days from the family hearth.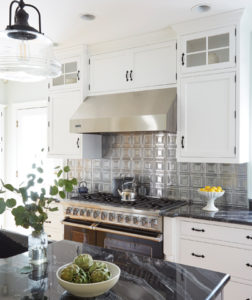 Resources
To find out more contact:
Rich Dempsey, Christiana Cabinetry
Atglen, 610-593-7500
Alex Hall, Creative Nook
Paoli, 610-644-6665
Dave Dilworth, Diworth's Custom Design
Phoenixville, 610-917-9119
Andy Madsen, Madsen Kitchens & Baths
Broomall, 610-356-4800
Trez Pomilo, Sugarbridge Kitchen & Bath
Paoli, 484-318-8367
Katy Wolfington, Waterbury Kitchen & Bath
Kennett Square, 610-444-9190
back to top