Just Your Taste
Photos by Wil Moore
Exton and Downingtown: Two destinations for good food, drink, and fun.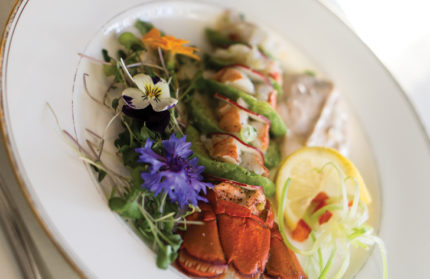 Blue cheese crumbles. Fresh micro-greens. A fine layer of tangy mango chutney. All harmonizing with melt-in-your mouth salmon ceviche. One bite into my appetizer, I realized Bluefin Eagleview isn't any ordinary Japanese restaurant and sushi bar. By the time I finished an innovative, indescribably good oyster mushroom roll with hints of shrimp tempura, avocado, cucumber, Kennett Square mushrooms and truffle oil, I knew I'd tasted sunshine in winter.
Bluefin, the newest addition to Eagleview's Restaurant Row—with wonderful classics, inventive dishes for cuisine-explorers and unforgettable house-made soy sauce with a delicious deep smoky flavor—sends a message: Exton, the crossroads where hungry travelers stopped more than a century ago, is again on the map for great food and fun.
Two Dining Towns
Whether you want burgers with a side of amusement, upscale dining or one-of-a-kind cups and plates, Exton and Downingtown have something new to suit your taste. Discover sustainable, local foods and craft beers, spirits and coffees.
For an evening with a "denim-to-diamonds" dress code and tableside service for Steak Diane Flambé in a charming historic farmhouse, follow the brick floor past the stone inscribed "A Faithful Friend" at Vickers. The longtime Chester County restaurant stays true to the past while celebrating the present and evolving for the future. Under the bar's rustic chandelier or on the outdoor patio in spring, get nostalgic over a Sidecar vintage cocktail invented in 1922 or refresh with a Corpse Reviver #2 invented in 1954. Linger over Filet Mignon Béarnaise by a cozy fireplace.
History lovers, ask Vickers' staff to point out an Underground Railroad hiding place and share secrets of the building's owner and abolitionist during the late 1800s.
Kick Back, Drink Up, Chow Down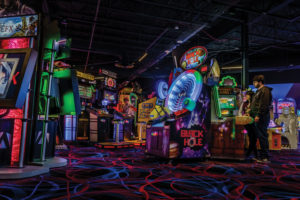 If you light up at midnight, Round1 Entertainment at Exton Square Mall is for you. The game center—far beyond a bowling alley with billiards and arcade—is a daily carnival from 10 a.m. to 2 a.m. Whether you're 8 or 80, use motion sensors, joysticks and your own adrenalin to activate superpowers or become a singing diva.
Haven't had enough snow yet? Hop on an Alpine snowboard or Sno-Cross game snowmobile; feel the breeze as you maneuver down the extreme-video-games' challenging virtual slopes.
If you light up at sunrise, the Famous Toastery at Main Street in Exton is a cheery place where you're greeted by attentive servers and almost any breakfast food you can think of. You'll never have to flag down another server to find your own because—as the Toastery promises—"every server is your server." Menu items include The Blah-Blah-Blah Omelette—a build-your-own-feast that can include practically anything you'd put on pizza—gluten-free flapjacks, breakfast burritos with homemade salsa, and lunchtime salads, burgers, melts and more. Of course, there's toast, too—five kinds, plus French toast varieties.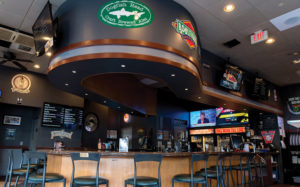 If you light up later, head for Appetites on Main, a long-time favorite for a snack or a meal with your furry friend—its patio is very pet-friendly when the weather warms. Sports fans find 11 high-def TVs, many beers on tap and in bottles, plus game day menus featuring Philly faves add to the friendly "Cheers"-like neighborhood bar vibe. Plus they're a pub affiliate of our soccer team, the Philadelphia Union (see article in this issue).
Dinner Options Abound
For fun, food and the feeling you're an esteemed family member, enter Eagleview's Suburban Restaurant & Beer Garden. Tasty dishes and murals, sourced from Pennsylvania whenever possible, are the order of the day. Past the teal blue barn door with orange handles, sit at the bar or tables of reclaimed Pennsylvania barn wood in the Farmer's Room. Ask for Cooper's Spicy Buttermilk Fried Chicken Sandwich—Suburban's twist on buffalo chicken named for the customer who liked it so much that when it first ran as a special he insisted it live on the menu. Pair it with PA beer Levante Tickle Parts or order a Zamboni as a nod to winter.
At Suburban, celebrating its first birthday March 1, you'll find local Revivalist Gins—adventurous DragonDance or sought-after Solstice Expressions—from Elverson's award-winning Brandywine Branch Distillers.
For tasty dried beef, pork, fruits and vegetables with a side of humor, stop at Thom's Jerky—"not a commentary, food!" says Thom—in Marchwood. Made from scratch with house recipes, dried meats enhance salads and mac and cheese; fruits make school lunches special.
If real food for the health of it is what you crave, Exton landmark Ron's Original Bar & Grille has from-scratch cooking with all natural ingredients that you love. For nearly 30 years, vegetarians, the gluten-free and low-carbers, and garden variety omnivores of all ages have found a menu that's long on choices and satisfaction. The ovals (pizzas) are legendary.
Bottoms Up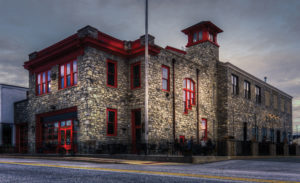 Raise a glass of IPA Alluvium or Czech pilsner Morava at the East Branch Brewing Company in Downingtown. Last September former high-school-friends-turned-business-partners opened the brewery with onsite pub. They're already expanding—renovating the building's second floor for a taproom and opening a kitchen.
Also in Downingtown, the Bottle Room, established in 2016 right next door to Station Taproom, is gaining a solid reputation for its curated brews. "Hundreds of bottles can be confusing, so we help guide people through a selection of beer, wine and cider, from classics to current trends," says Carey, a manager. Enjoy tasty bites, local cheeses, and events like a beer and cookie pairing.
On the horizon, another bright spot is Stolen Sun Craft Brewing and Roasting Company. Across from Target in Exton, a band saw buzzes and co-owner Jonathan Zangwill prepares for a trip to Colombia to meet with coffee growers. A former garage is transforming into a brewery and a Spongebob mural, once part of the gym's kids' area, awaits its new role as kitchen art. This spring, doors open to beer, food—a bold fusion of spicy, smoky flavors of Mexico, South America and the Caribbean—and a great cup of coffee with a profile you won't find elsewhere.
Go Organic, Two Ways
Still can't make up your mind? Exton's Whole Foods, newly opened in January, has aisles of tantalizing choices. Watch as pasta is freshly cut to your specification. Choose cheese—a wine-infused slice from nearby Yellow Springs or a buttery wedge from Provence. Dip into buckets of ethically sourced tulips and a bin of edible cactus leaves (called pads), rounding out the produce section. Quench your thirst with selections from the craft beer and wine shop or the coffee and juice bar. To relax, create a home spa day with milled soap and aromatic scrubs found conveniently near the specialty chocolate aisle.
On a smaller scale and family-owned, Lionville Natural Pharmacy stocks select organic foods along with its extensive selection of supplements and other health aids. It's not too late in the year to resolve to up your nutritional game with a personalized consultation or customized medication.
Whether a sip, a bite or a smorgasboard, Exton and Downingtown are on the menu.
---
Upcoming Events in Dowingtown and Exton
April 14 – Kids Free Trout Rodeo. Sponsored by Brandywine Trout & Conservation Club. Pavilion at Kerr Park. 9 to 2. Free for kids 15 & under. BrandywineTrout.net.
April 21 – Healthy Kids Day. Hosted by YMCA of Greater Brandywine to improve health and well-being for kids and families. Kerr Park. 11 to 1. YMCAGBW.org.
April 21 – 4th Annual Readers on the Run. Benefits Downingtown Library. Struble Trail & Kardon Park entrance, Penn Ave. at Green St. 8 am. $10–$25. RunTheDay.com.
May 19 – Bike Sale and National Bicycle Safety Event. Downingtown Borough Parks & Rec Commission holds this event. Benefits park improvements. Kerr Park. Downingtown.org.
May 19–20 – Theater in the Park at Eagleview Town Center. Visit EagleviewTownCenter.com for details.
May 26 & 27 – Downingtown Fine Arts Festival. A two-day fine arts festival weekend and community tradition. Sat, 10 to 6; Sun, 10 to 5. Free. DowningtownFineArts.com
May 28 – Memorial Day Parade & Services. Downingtown Veterans' Memorial in Kerr Park. 10 am.  Downingtown.org.
June 9, July 14, August 11 – Movies in the Park.  Kerr Park. DowningtownMainStreet.com.
June 10 – Crafted—A Curated Arts & Crafts Festival. Demos, craftspeople, food, local wine and craft beer tastings. Eagleview Town Center, Wellington Square, Exton. Crafted-Eagleview.com.
June 10 – Chester County Mac & Cheese Cook-off.  Local restaurants, businesses and hometown cooks compete. Check website for times and admission.  Kerr Park. MacNCheeseCookoff.com.
June 16 – 7th Annual 5K for Aidan J. Run/Walk for Heart-Safe Communities. Benefits SCA (Sudden Cardiac Arrest) in kids. Kerr Park, Struble Trail. 8 am reg., 5K at 9 am. AidansHeart.org.
June 19–23 – St. Joseph Community Festival. Check website for times and fireworks info. StJoesFestival.com.
June 29, July 27, Aug. 31 – Downingtown Main St. Assn. Summer Jam Series. Kerr Park. DowningtownMainStreet.com.
July 4 – Good Neighbor Day. Enter the  Run for Life (5K, 10K & 15K) or 5K Freedom Walk. Enjoy fabulous food, crafts and other activities. Benefits area emergency providers. GoodNeighborDay.com.
September 30 – Downingtown FallFest. Street festival on Green St. & E. Pennsylvania Ave. 11 to 4. DowningtownFallFest.com.
back to top