Surprising Downingtown and Exton
These towns are thriving, with so much to do.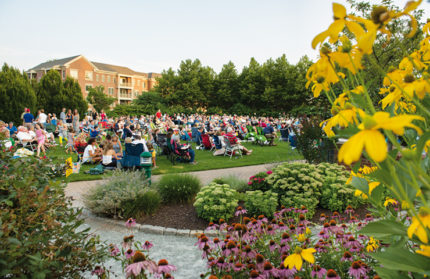 It's green. It grows. It's hungry. It made a movie theater—Phoenixville's Colonial—famous.
Who can forget the scene of hundreds of moviegoers screaming for the exit to escape The Blob?
But it's the scene at the Downingtown Diner that's most memorable to many fans of the cult film. The menacing, oozing slime envelops the "Home of the Blob," as the diner is now known. Yikes!
More than 50 years later Downingtown was in the national spotlight again. A presidential candidate rode through Downingtown. He looked out the window and impulsively tweeted, "So sad."
Boy was he wrong. So wrong!
Downingtown and its sister town Exton are thriving. Home values are up over the past two years: from about $135 to $145 per square foot in Downingtown, about $160 to $180 in Exton. The public schools are excellent: GreatSchools.org rates them among the top in the state. Parks, events, dining, shopping …
Overall, we find Downingtown and Exton … delightful!
Trails and Parks
The Downingtown-Exton area is rich with parks and trails. The two-and-a-half mile Struble Trail extends from Downingtown to Marsh Creek State Park with over 70 species of nesting birds and many more during migrations. The park itself is a wooded 1727 acres with a lake and offers sailing, boating, fishing, horseback riding and mountain biking, as well as many winter sports.
Springton Manor Farm, northwest of Downingtown, is laced with hiking trails. Its manor house is a lovely setting for weddings, parties and receptions, while the farm offers educational demonstrations. Horses, sheep, chickens, peacocks … This Easter, your kids can learn how to dye eggs naturally there.
Exton Park has 727 acres, is dog-friendly and includes trails, picnic areas and fields. Exton's Boot Road Park's 26 acres include a pavilion, playground, ball fields, butterfly garden, bird nesting boxes and a half-mile walking path around the park. Miller Park in downtown Exton supports a pavilion—the site of live music in the summer—plus a playground and ball fields.
For bicycling, use the Chester Valley Trail, extending 14 miles from Exton to King of Prussia. The paved trail currently stops west of Exton, but the plan is eventually to reach Downingtown. Check with the Downingtown Bicycle Shop for your biking needs.
And then, if you really want a challenge, there's the Horse-Shoe Trail—140 miles long—from Valley Forge to the Appalachian Trail, passing to the north of Downingtown. Better stop at Downingtown Running Shoes, Orvis or Eastern Mountain Sports first for proper attire and equipment.
Something More Urban
Kerr Park, in downtown Downingtown, has sports fields, too, plus a playground and a stream stocked with trout. Races begin and end here and the Farmers Market can be found at the park. Shade, fireworks, a pavilion … plus music emanates from here on summer evenings.
Independence Day—known in Downingtown as Good Neighbors Day—is especially exciting, a whole day of events, starting with morning races and ending with evening fireworks. In between, there's a craft fair, canoe races, bicycle decorating, duck racing, flag distribution, a wife-carrying competition and a lot of music.
The Downingtown Summer Jam is also in Kerr Park. This music festival—musicians, crafts, food, beer, harder stuff—brings residents and visitors downtown. A perfect start to a summer weekend.
Run or Watch
Depending on your condition, running may be your recreation. Downingtown hosts the Muzzy Run, Readers on the Run, Healthy Kids Day, the Trial Run, and the 5K for Aidan J, all races held in the spring.
Some may prefer to watch and eat. For them, there are the Memorial Day Parade—get your flags at Brandywine Flags in Exton—and the Thornton-Downingtown Rotary Mac and Cheese Cook-Off—ingredients available at nearby Kimberton Whole Foods in Downingtown for an organic version.
Arts and Crafts
For those who like their beauty made—on canvas, of cloth, in clay, of metal and other materials—there are a host of festivals in Downingtown and Exton.
Downingtown's Spring Craft Show is 100% local crafts and entirely for the benefit of local schools. Scheduled for the first of April, the show has more than tripled in size since it started six years ago.
Then there's the two-day Fine Arts Festival at the end of May, featuring 40 professional local, regional and national artists displaying a full array of fine art, including paintings, drawings, sculpture, jewelry, photography, mixed media art and fabric art. The festival is presented in partnership with the Downingtown Main Street Association.
In June, shift to Eagleview Town Center in Exton for the Crafted Festival. Eagleview, developed by Hankin Group, hosts a curated craft show, workshops, crafts for kids and more in its park.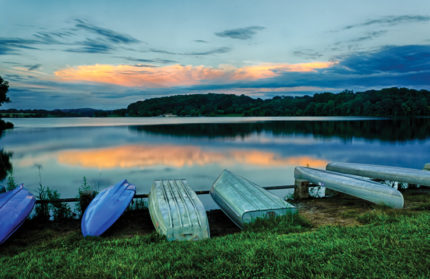 Eagleview in the Summer
Eagleview has a full calendar of summer activities. "The events here at Eagleview Town Center are simply magical; a true sense of community is present at every event," raves Beverly Abbonizio of Hankin. "We're excited to see many new and old faces here in Town Center this coming year!"
Movie nights—family-friendly and outdoors—are free, as are weekly concerts. There's live theater too! Bring donations—canned goods for the Chester County Food Bank—instead of a ticket. Alex's Lemonade Stand is at every concert selling goodies to support the battle against childhood cancer. Take blankets, chairs and a picnic to enjoy.
The weekly Farmers Market, run by Growing Roots Partners, will keep your stomachs full with local nourishment, while Nudy's, Brickside Grill, Al Pastor, Bella Vista and new Suburban Beer Garden are favorite places for a meal here.
If you're heading out of Eagleview with an appetite, we also suggest Ron's Original Bar & Grill, near the intersection of Routes 100 and 113, for a family sit-down meal at one of our picks for Best of the Best restaurants.
Fall Fun Continues…
Fun doesn't end with summer. Downingtown presents a September Fall Fest, organized by Downingtown-Thorndale Regional Chamber of Commerce in partnership with Downingtown Main Street Association and the Borough of Downingtown. Celebrate with a mug or two of Victory Beer, another organizer.
Falling Leaf Festival at Eagleview features "Got Talent?", showcasing performers from regional schools who show their stuff. Enjoy craft vendors, a food court, games and more.
All Year – Dining…
It's impossible to name all the places we like to eat in Downingtown-Exton. Victory's beers, of course, are exceptional as is its brewpub, offering everything from ribs to salmon to sliders. That's in addition to 25 or so beers on draft, hand pump or bottles.
Across from the train station in Downingtown, is one of our favorites—Station Taproom, a choice spot for an after-work nosh. More choices: Amani's BYOB, specializing in local and seasonal fare, and Milito's Ristorante, located in a converted paper mill and boasting a spectacular outdoor deck along the Brandywine Creek.
More options include the Pour House for a great selection of beer, Duling Kurtz House and Country Inn for a special occasion, Green Street Grill for a great breakfast or lunch, plus long-time favorites, Ship Inn and Vickers Restaurant.
And Shopping…
The shopping in Exton and Downingtown is exceptional. Just take a ride down Route 30 and be prepared to stop. Exton Square Mall has about 85 stores; Main Street in Exton—where you can catch a bite at Appetites on Main—about 40 stores; Brandywine Square in Downingtown, about 30; plus plenty of other shopping options.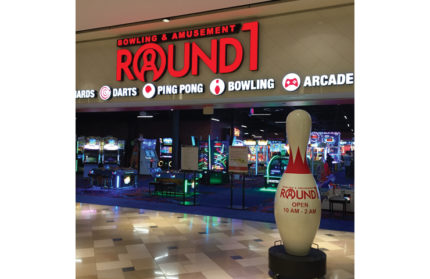 And Pure Fun
Sometimes it rains. It's too cold or hot. But we still want entertainment. Round 1 Entertainment in the Exton Square Mall has it all—bowling, billiards, ping pong, darts, arcade games, even karaoke! Drop off the kids! Or go yourself! It's a great new use of the mall.
In Short
The Downingtown-Exton area has much to offer. Families, as well as visitors, enjoy outdoor events, festivals, recreational activities, dining and shopping.
It's growing. And the Blob would have a hard time recognizing it. And we hoped we've shown this area is anything but sad!
To find out more, contact the Dowingtown-Thorndate Chamber of Commerce at DRTCC.com or Downingtown Main Street Association at DowningtownMainStreet.com. For more on Exton, try the Exton Regional Chamber of Commerce at ERCC.net and the Eagleview Town Center at EagleviewTownCenter.com.
back to top