Is Wine Healthy?
You may want to do some research of your own.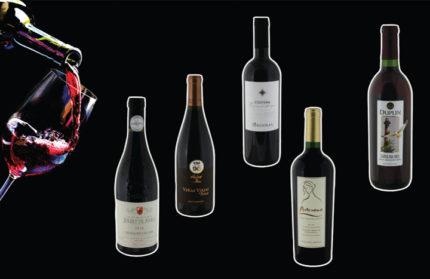 You may have heard that drinking red wine can be good for your health. Yet while it's true that some compounds found in wine have health benefits, drinking lots of red wine is not the answer.
One key to good health is, of course, moderation. So the best rule is not to consume more than one standard drink—for red wine, that's four ounces—per hour, regardless of your size, gender or amount of food you've eaten.
And although red wine contains many polyphenols and antioxidants that have been linked to a lower risk of heart disease and cancer, the amount of these beneficial compounds varies from wine to wine. Plus, the actual amount of wine needed to fight or prevent disease is still not well known. Add to that the fact that the effects of alcohol on the body could counteract any health benefit.
In short, the research is still inconclusive.
Until there's definitive proof of the health benefits of drinking wine, what can you do? Maybe search for the healthiest options?
Some believe pinot noir, with the highest concentration of the antioxidant resveratrol, is the healthiest choice. Studies have shown resveratrol lowers bad cholesterol and lowers blood pressure. And since pinot noir has a lower sugar content and fewer calories, it's a healthier choice. Generally speaking, dry reds are better choices than sweet moscatos or rieslings.
Since all red wine carries some healthy compounds, we'll consider two varieties—grenache and tannat—that have thicker skins than most grapes and, therefore, have higher amounts of those beneficial compounds. Both are native to Europe, although there are plenty of examples grown all over the world. And some recommend malbec, which also has thick skin.
While we're at it, we'll also look at muscadine and its connection to weight loss.
Go for Grenache
In France, grenache is most notably used in making Châteauneuf-du-Pape and other red blends of the Southern Rhône. These can be rich and sometimes rustic red wines with notes of cooked fruits as well as leather and spice. Look for Domaine Juliette Avril Châteauneuf-du-Pape Rouge, for $29.99, for a relatively inexpensive option that's ready to drink now.
In Spain, the grape is called garnacha. These wines are usually riper and richer than the French version. Try Viñas Viejas de Paniza Garnacha 2012 for $14.99. This wine received a 90-point rating from Wine Advocate, making it a good value.
While France and Spain have made their own marks with this wine, it's believed that the grape is actually native to the island of Sardinia, off the coast of Italy, where it's known as cannonau. The local Italian diet, which generally includes wine, is believed to contribute to the extraordinary life spans of the people on the island.
So, if we're going to drink wine for health reasons, why not follow the example set by those who have demonstrated its impact? A good example from Sardinia is Argiolas Costera Cannonau di Sardegna 2015 for $13.99. It has flavors of ripe strawberries, black cherries and herbs.
Tannats to Try
Tannat is originally from the Basque country, along the border of Spain and France. Not surprisingly, this rugged area produces a wine that's powerful and rustic in nature.
The most prominent European version of tannat is from the French village of Madiran. These wines are traditionally deep, dark, dry and rustic. Depending on your taste, you may prefer styles that are more modern and more approachable.
Tannat has migrated to South America where it found a home in Uruguay. This style of wine can be very tannic and astringent on its own, but it doesn't have to be unpleasant. A good example to sample is Artesana Tannat Canelones 2015 for $15.99. It shows aromas of spicy berries with plum and berry notes on the palate.
Tannat is also a good candidate for blending with other grapes to make wine delicious. If you'd like to try a tannat blend, look for Artesana Tannat Merlot Zinfandel Canelones 2016 also for $15.99. As a blend, it shows dark berry aromas and flavors of spicy black fruit.
Mice Love Muscadine
A 2015 study from the University of Oregon linked a compound found in some wines to weight loss. Called ellagic acid, the compound is found in only one grape variety that's native to the southeastern United States—muscadine. While this seems like good news, this preliminary study has only been conducted with mice, and this grape variety is generally made into sweet wines that may negate any other health benefits.
But, if this preliminary research has piqued your interest, you may want to begin your experimenting with Duplin Winery wines from North Carolina. In particular, try Duplin Hatteras Red or Duplin Carolina Red—both just $7.99 per bottle. These wines show purple grape juice notes and are a fantastic summer wine to chill for those looking for something sweet.
Ellagic acid—a natural phenol antioxidant found in numerous fruits and vegetables—is also found in dry red wines that are aged in oak. The weight-loss benefits of this substance haven't been fully determined yet, and it's not known how much of the compound is beneficial or if wine can provide that benefit.
Here's hoping there's more research on the topic!
Think of this as beginning to explore your options for improving your health with red wine. Sadly the jury is still out on just how much imbibing will help.
And so I continue to recommend drinking wine more for the enjoyment it brings than merely hoping for health benefits. Talk to your local wine specialist for other recommendations like these. And keep enjoying!
What started as a hobby is now a career. Fred Naddeo began his wine journey more than 20 years ago when his wife bought a bottle of Black Tower Riesling to try something different. It marked the beginning of an exploration of the amazing world of wine that continues to this day. Fred is a wine specialist at the Springfield Fine Wine & Good Spirits store on Baltimore Pike in Springfield. Learn more at FineWineAndGoodSpirits.com.
Pennsylvania Wine Month
October is Pennsylvania Wine Month. Celebrate the occasion and support your local wineries by visiting them and shopping for local wines. Complimentary wine guides from the Pennsylvania Winery Association are available at PA Fine Wine and Good Spirits stores.
Drink local!
back to top