Inner Harbor for July Fourth
Visit Baltimore, MD this Independence Day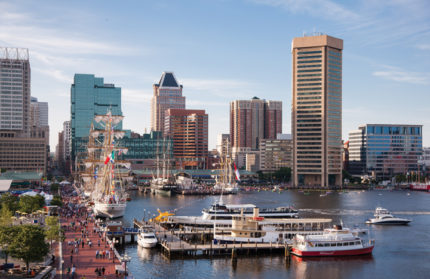 July 3, about 5 o'clock. The wind is brisk from the southwest: a thunderhead is on the horizon. The main waterway into Baltimore Harbor—the Patapsco River—is wide, slightly choppy and very busy. Boats of all sizes, from ships—a freighter slows down in the traffic—to sailing yachts on day cruises on the Chesapeake Bay, to small sailing dinghies, bouncing adventurously through the spray.
Baltimore! It's Day 3, of a week-long vacation cruise on the Bay. Tacking toward the Francis Scott Key Bridge, the crew and I—six of us—are alert to the changing waters, crisscrossing wakes and unpredictable seamanship of weekend captains.
In the near distance are the old steel yards, the colorful aquarium, the cityscape of Inner Harbor and downtown Baltimore.
We dock at Inner Harbor Marina, clean the boat, change and eagerly seek a local brew and local crabs. We're famished!
We've got choices within walking distance—the Rusty Scupper, McCormick & Schmick's, Phillips Seafood, Riptide by the Bay, Captain James Crabhouse—but we're not interested in walking far. Nick's is only 15 minutes away.
We order rounds of beer and plates of crabs—lots of them—big, hard-shelled, steamed red, Maryland blue crabs. Picking, picking…. It's a sailor's feast.
On board again, we watch the moonrise, then, one by one, fall asleep in our bunks.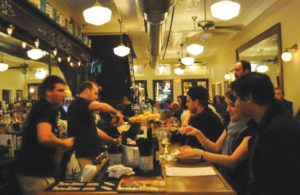 Next morning, July 4, we split into two groups—some headed to the National Aquarium and others to the American Visionary Art Museum. Both are close.
The National Aquarium is supposed to be—it's got my vote—the best in the U.S. It's huge, housing a rain forest, live coral reef, shark tank, sea birds, crocodiles, alligators, jellyfish and much more. It's only 9 a.m., so we beat the crowd. Almost.
The American Visionary Art Museum is America's official museum of unofficial art. Intuitive, individual, inventive and inspired, visionary art is produced by the self-taught. But they're not using crayons. Oils, watercolors, metal sculpture, newsprint, scraps of paper or string … With 4000 works continuously rotated, the exhibits are always fresh.
At noon, we head for Inner Harbor's food court to discuss our next stop. A brewery is on our list, but which one? Heavy Seas, Union Craft, Monument … There are several.
We settle on DuClaw Brewing. In addition to Sweet Baby Jesus, a chocolate peanut butter porter (so good you'll say its name) there are over 70 beers produced here—about 10 stouts, several porters, a host of IPAs, amber and brown ales, and more. We can easily pass the afternoon.
After the brewery, we're ready for a nap back on the boat. At about seven, we rouse and take a long walk to the Thames Street Oyster House in Fells Point, a hip and historic neighborhood. Crowds are already gathering for fireworks.
Thames Street is, again, a seafood feast. We share fresh oysters for appetizers and entrees that come from well beyond the Chesapeake: scallops from Block Island; fish and chips from the Georges Banks. Three of us share baked Maine lobster—fresh and sweet.
After dinner, we head for the Domino Sugars sign, large enough to contain a major league infield; a waterfront view of Fort McHenry, home of the Star-Spangled Banner—oh, say, can you see—and fireworks. The fireworks are brilliant, amazing! For nearly half an hour, they streak over the Baltimore skyline.
At ten, we walk back, past boats, cobblestone streets, and neat, brick Federalist buildings. The mood on the street is celebratory, almost raucous, but we're tired after a long day. We catch the last water taxi back to the marina, admiring the view. We'll sleep in tomorrow.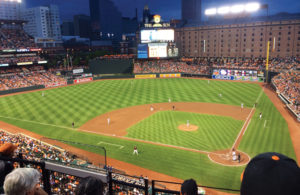 After a late brunch, we divide up again: two to Camden Yards—there's no game but it's ranked #2 among ballparks by Forbes—and four to the Baltimore Museum of Industry. Both of our "teams" enjoy their picks. The Camden Yards pair were impressed with the architecture. Those at BMI especially enjoyed the Cannery and the Pharmacy. Given more time, we'd visit the world-class Walters Museum and the Science Center or Ripley's at Inner Harbor. Alas, we're on a schedule.
By five, we're back at the boat. And quickly, we're off. The Baltimore skyline disappears behind us. By midnight we've dropped our sails in a river north of the Bay Bridge, anchored and settled with rum in the cockpit.
Another long day but we agree: whether by boat, rail or by car, Baltimore is a great port-of-call.
Guinness America
The new Guinness factory, reminiscent of the one at St. James Gate in Dublin, partially opened in late 2017. But alas, it's still under construction. Currently Guinness America makes only Blonde Lager, aimed at the U.S. market. Its signature Draught Stout and Extra Stout are brewed in Ireland.
back to top