I'll Drink to That Good Cause
Celebrate Good Times While Choosing These Wines and Spirits
Giving back to the community feels good—we get a warm glow as others benefit from our good works. You've likely read about more and more companies run by people determined to do more than just make a profit—they want to help others. The causes these businesses support are as varied as the companies that contribute to them.
We'd like to shine a light on several companies in the beverage industry that have become known for their charitable contributions. After reading this, we hope you'll take the easy step of considering choosing these brands the next time you choose your wine and spirits.
Helping Animals
If you want to support animal rescue groups, then Chateau La Paws is a wine for you. This brand from Rosenblum Cellars is a tribute to their founder's obvious love of dogs.
Located in the heart of California wine country, the company's goal is to make an affordable, everyday wine and to support an important cause—no-kill shelters. The idea is simple—keep our four-legged friends happy and healthy while they wait for their forever homes.
To date, Rosenblum Cellars has donated over $100,000 to North Shore Animal League America, a leader in the no-kill movement as well as the world's largest no-kill animal rescue and adoption organization, supporting like-minded groups around the country.
Chateau La Paws has both red and white wines found in California wine sections. Look for the photos of adorable shelter dogs on their bottles.
Environmental Causes
Musician Dave Mathews owns Dreaming Tree Wines, a collaboration between Dave and winemaker Sean McKenzie. You may have seen the wines, but did you know they come from a Certified California Sustainable Winegrowing winery?
As you might imagine, the environment is important to people who make their living off the land, and following sustainability guidelines helps ensure the future health of vineyards. But Dreaming Tree goes a step further. As part of a solar energy project, they installed 17,000 solar panels across four wineries—the largest solar footprint in the U.S. wine industry—along with using recycled paper for labels and lighter wine bottles (for greener shipping).
To date Dreaming Tree  has donated over $1 million to environmental charities, such as The Wilderness Society, which, since 1935 has worked to protect millions of acres of wild lands in California and across the country.
Ask for Dreaming Tree cabernet sauvignon, pinot noir, sauvignon blanc or chardonnay.
Supporting First Responders
Launched in September 2018, Proper No. Twelve is an Irish whiskey created by Ultimate Fighting Championship fighter Conor McGregor. It's named after the postal district in Dublin where Conor grew up.
Not just a celebrity endorsement, Conor learned the whiskey business from his grandfather, Christopher "Jakes" Moore, and spent three years developing the blend for this first product from his company. The company donates $5 from each case sold to local first responder organizations around the world—up to $1 million annually. The whiskey sold very quickly in the U.S. and is continuing to be replenished.
Look for this smooth balanced whiskey with hints of vanilla, honey-like sweetness and toasted wood in the Irish whiskey section.
Helping Others
One company helped launch its brand by donating to nonprofit groups around the country. The popular spirits brand Tito's Handmade Vodka is heavily involved in charity work under the title "Love, Tito's"—turning spirits into love and goodness.
Founder Tito Beveridge started out donating products to charity events to get the word out about his new vodka being made in Texas. As the company grew, they began supporting more charities that were important to the staff.
Today, the charitable causes cover just about anything imaginable—from supporting U.S. service members, their families and veterans through Soldiers' Angels, to providing medical support for neglected communities worldwide through One Good Turn. Tito's also helps with disaster relief by supporting groups helping victims of California wildfires and recent hurricanes.
But they don't stop there. Over the years, the staff of Tito's has been taking care of and rescuing dogs that wandered into their lives at the distillery. This evolved into "Vodka for Dog People" to help improve the lives of pets and their families. Tito's also provides funding for animal charities around the country.
To support this cause, purchase Tito's Vodka for Dog People merchandise on their website. You choose which organization receives your financial support at checkout from among five different charities.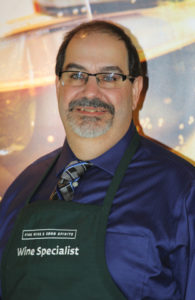 Learn more online about Tito's charitable contributions, where you'll find a donation request form for 501(c)3 organizations requesting help for a fundraising event. Titosvodka.com/love.
If you have a desire to give back, look for these brands the next time you need to replenish your bar.
What started as a hobby is now a career. Fred Naddeo began his wine journey more than 20 years ago when his wife bought a bottle of Black Tower Riesling to try something different. It marked the beginning of an exploration of the amazing world of wine that continues to this day. Fred is a wine specialist at the Springfield Fine Wine & Good Spirits store on Baltimore Pike. Learn more at FineWineAndGoodSpirits.com.
back to top