Home of the Month: Wyebrook Farm
Ready for its next chapter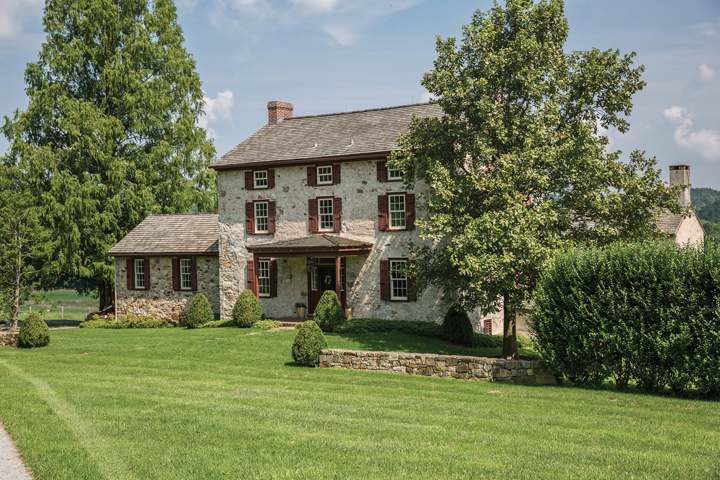 When Dean Carlson left his Wall Street job of 15 years and bought Wyebrook Farm at a foreclosure sale a decade ago, he had a vision. And that vision let him see past the ramshackle property he purchased. "Dilapidated is almost too positive a description," he says, remembering the property's early condition.
The 360-acre farm in Honey Brook included several structures. "There's an 18th-century manor house, a smaller home, a massive stone bank barn, along with a classic red barn, plus other outbuildings, including a spring house near the pond," says Carlson. The rolling northern Chester County hills frame enviable protected views of the east branch of the Brandywine Creek, which Carlson proudly points out.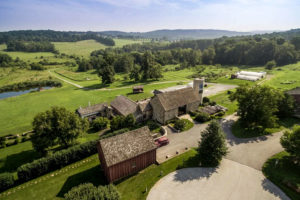 You may have read about Carlson's initial plan—to create a small sustainable farm that would be a model for a new kind of farming. Beginning by raising grass-fed cattle, heritage pigs, chickens and goats, he sold meat from his special breeds, butchered on-site, at the farm's market, then later at Reading Terminal Market in Philadelphia.
But Carlson believed the idyllic setting of the farm should be shared. To supplement income from the meat sales, he opened a destination farm-to-table restaurant in 2012, to showcase dishes created from his animals and to bring more people out to enjoy the property.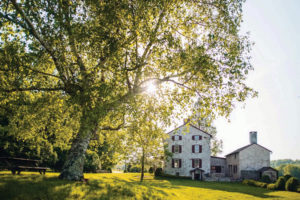 As the restaurant's reputation grew, it became the primary source of income. "The restaurant produced 70% of our revenue," says Carlson. And use of the property evolved—even Martha Stewart visited for a 2015 article. Activities included private dinners, special events, classes (including a butchering class attended by County Lines former food editor, Laura Brennan). Wyebrook Summer Fest, an annual music festival, attracted more fans to enjoy the farm.
After a few years of expanding the uses of the farm's property, Carslon decided it was time for a change for himself and his family. "I went back to working in finance. … For now my trading desk is in the restaurant space with the beautiful views," he says.
Next Chapter
Realizing the farm had a better use than a remote office, Carlson and wife Emelie decided to sell the larger part of the property, almost 200 acres, while remaining on a parcel across Brandywine Creek on Brookdale Farm.
So the question is: what does the future hold for Wyebrook Farm? So many possibilities!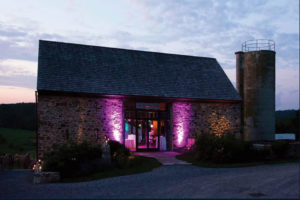 Will new owners revive the beloved restaurant and farm market? Create a B&B in the manor house? Open a destination event space for weddings, concerts and other gatherings? The former restaurant space has been thoughtfully converted with the help of local artisans—down to the exposed beam interior, reclaimed wood tables, full-length windows capturing the views.
Or will owners create a multi-generation family compound in the two houses (with the option to build one more house on the property). The stone barn is the best possible party barn with its own commercial-grade kitchen on the ground floor, plus a courtyard flanked by open-air pavilions that could as easily surround a grand swimming pool.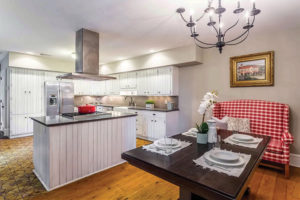 And more interestingly, this is a property that allows new owners to live a self-sustained life—raising livestock, chickens and eggs, growing vegetables and herbs, even harvesting their own honey. A private enclave where you can grow your own food.
Endless possibilities.
Farm Life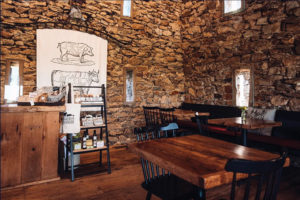 Or the next owner could simply enjoy farm life on this secluded sanctuary, away from the fray but with easy access to city life.
The original 1785 stone manor home—with seven bedrooms and four baths—has been updated for modern life while retaining its period charm. Renovated in 2011 with a new cedar roof, updated kitchen, radiant floor heating, new widows and HVAC, the center-hall Colonial home enjoys high ceilings and warm original wood floors.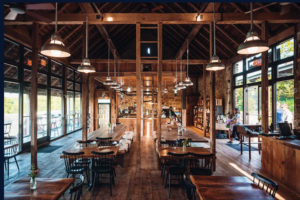 A formal dining room, paneled den, large eat-in kitchen and spacious family room with French doors opening to the terrace with countryside views make for a comfortable county life. Bedrooms and updated bathrooms are on the two upper floors. An additional bedroom and bath are in the adjacent brick-floor summer kitchen.
A smaller farmhouse, renovated in 2010, offers more living space in its four bedrooms, two baths, with living room and office.
Equestrians will find plenty of open and fenced pastures. Repurposing the large red barn (95' x 70') into an indoor arena is another option.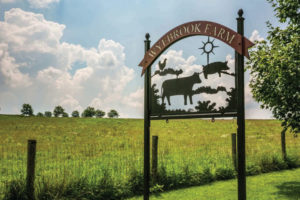 For the farmer, there's a full cattle handling system, scale and head chute. The pastures have a solar powered well and gravity system.
Other structures on the property, in addition to the home, stone barn/former restaurant and open-sided red barn, include two large open post-and-beam pavilions, one smaller pavilion, a mechanical barn, two high-tunnel greenhouse. And, of course there are also the almost 200 acres of bucolic Chester County farmland.
Yes, Wyebrook Farm is the kind of property that dreams were made for.
To learn more about Wyebrook Farm's 197 acres (all but 7 acres under agricultural easement) and its potential uses, contact Karen Nader, 484-888-5597, at Brandywine Fine Properties Sotheby's International Realty; KNader@bfpsir.com, KarenNaderProperties.com. Offered at $4,985,000.
back to top