Hillsover Farm
A historic equestrian estate in the heart of Chester County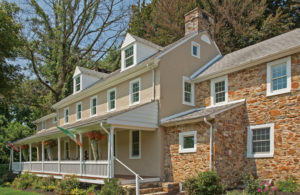 Over 90 acres of undeveloped land in Malvern … This prime location is but one of many surprises you'll find at Hillsover Farm, former home of legendary equestrian Richard McDevitt, past president of the Devon Horse Show. With his handlebar mustache and engaging stories, McDevitt was a prominent figure at Devon and other equestrian circles and is just part of the history of the farm.
That the property was in disrepair when Vicki and Lance McCue bought it from the McDevitt family less than two years ago was actually a plus. "We could see it for what it once was. The history, location, number of acres—the great potential of the property drew us to it," says Vicki.
Owners of Restoration Solutions, the McCues had completely restored another home, Clocktower Farm, a seven-acre property in West Chester with a 123-year-old Georgina manor house and five-story stone campanile. Vicki explains, "We were ready for more land for an equestrian business and a new passion project."
The Property
Under conservation easement with French and Pickering Conservation Trust, this equestrian estate boasts acres and acres of woodlands, open fields, streams and reseeded pastures with fenced paddocks, yet is within minutes of the heart of the Main Line and offers easy access to Routes 202, 100 and the Pennsylvania Turnpike.
A centuries old farmhouse, completely updated in 2016, sits alongside an 11-stall courtyard barn—a unique yet practical design enclosed by a rustic stone wall and evoking a scene from the British Isles. The expansive property includes a variety of structures—17-stall working barn with a two-bedroom apartment and office, six-stall foaling barn, two shed-rows, two-bedroom caretaker's cottage, storage buildings, spring house, ice house, smoke house and quarry.
Other surprises include the dressage ring with new footing and a cross country course, complete with jumps and a water hazard, all off a sunny 10-plus acre grassy pasture. For trail riders, there are miles of paths to explore, while still staying on the property.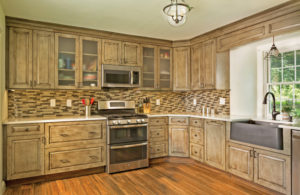 The Main House
A 50-foot-wide, south-facing porch on the main residence is the perfect vantage point to view lush pastures and grazing horses—preferably from a rocking chair and accompanied by a glass of wine or something stronger.
This historic stone farmhouse, dating back to 1720, was completely renovated by the McCues, whose construction firm is known for grander but less personal projects, such as the Kimmel Center and Chester County Hospital. Vicki says she and husband Lance have just about completed phase one of the project that began by clearing brush, mending fences (literally) and paving the almost-mile-long driveway.
Balancing the need to modernize the main house while preserving historic details and ambiance was a key goal of the McCues. And so the center-hall layout feels familiar, with deep-sill windows, wide-plank original wood floors, walk-in fireplaces and built-in cabinets and shelves throughout. Formal living and dining rooms are period appropriate. A den/cigar room with beamed ceiling and wood paneling, though newer, feels warm and inviting even before you spot the walk-in fireplace.
But it's the big projects at the opposite end of the home that shine. A stunning new gourmet kitchen with distressed cabinets, wood-look porcelain floors and state of the art appliances will delight any cook. Pass through a charming butler's pantry to the new great room, where large windows offer more prime views. Stone walls here preserve the feel of the original structure, while modern proportions provide ample space for a large family and entertaining.
Upstairs are four bedrooms and two baths, including a large private master suite above the great room.
Business Opportunities
Years ago Hillsover Farm was where McDevitt—who was also president of the PA Horse Breeders Association—kept several stallions and a dozen brood mares in a separate foaling barn. The farm was a center of activity for hunt weekends with Pickering Hunt and where local trainers worked and boarded their horses—from Leigh Berman now of nearby Two Bit Farm to Olympic gold-medalist, Mark Todd.
More recently the farm has an attractive equestrian business—a professional riding facility supporting 20 horses, which leases the 17-stall working barn with its riding ring and fenced pastures. With a total of 40 stalls on the property, more commercial opportunities exist.
The property can support 20 to 30 more horses, plus an indoor riding ring (on the current owners' wish list), as well as horse shows. And on 92-acres, there's room for activities such as an animal rescue center, dog or animal boarding center, wedding venue or many other dreams and schemes.
Although under conservation easement, the property allows additional construction and development—including building a 20,000-square-foot indoor equestrian arena and subdividing two large parcels for building two single-family homes.
Though they'll miss the peacefulness and charm of Hillsover Farm, the McCues hope another family will see the same great potential of this unique property.
This classic 92-acre equestrian estate, with two barns (one with apartment and office), main residence, caretaker's cottage, outbuildings, pastures and paddocks, located in Charlestown Township (Great Valley Schools), is offered for $2.75 million. For further information, contact Sue McElroy, Berkshire Hathaway, Fox & Roach, 484-678-7306; SueMcElroy.com.
back to top