Greystone Barn
Photos by Austin Eterno
A historic Chester County barn becomes a modern family home filled with bold colors and open space while still preserving the bank barn's essential nature.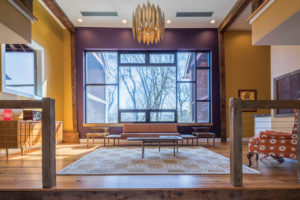 Adam Travetti had no checklist that morning, and the idea of converting a historic barn had never crossed his mind. But when he turned off South Concord Road in West Chester and rolled to a stop, he knew at first sight he was looking at his family's future home.
Travetti and his wife, Laura, had decided it was time for them and their young son, Keating, to move from their relatively small home in Philadelphia's Rittenhouse Square to something outside the city. Travetti is an avid art collector, but if you ask him what the vision was for their new home, he talks less about design trends and more about mood. He wanted it to be comfortable for family and friends, he says. He wanted it to be fun.
But first there was some work involved, and for that Travetti assembled a team that included architect Peter Archer and Peter's own team at the West Chester-based firm Archer & Buchanan. The builder was Michael R. Rhile Carpentry. Laura Travetti was very involved as well, and in particular made a whirlwind research effort to find lighting that complemented the finished work.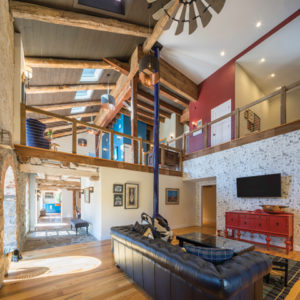 Ordinarily, converting a barn from a shelter for animals to a home for people involves dividing and shaping the empty space inside. But the Travetti barn had been converted to a home in the 1970s, and it had four floors that were fairly isolated from one another. The task here was to open up those floors to each other.
Today, you can stand on the bottom floor and look up into the second-floor loft and surrounding rooms, or stand on the second floor and look down or around. There are vantage points where you can look into five or six different spaces. And from every vantage point, there's an outpouring of visual interest.
Copper lamps that recall the historic stamped-metal lanterns from centuries ago cast a warm glow through the upper regions, and a ceiling fan that's styled on farm windmills turns slowly above as well. From a fireplace in the ground-level den, an intensely blue metal chimney extends up 30 feet, helping to tie the floors together.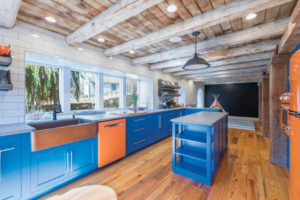 One of the first things you learn about the Travettis is they have little fear of bold colors, as demonstrated by the vividly orange and blue retro kitchen appliances from Big Chill in Colorado.
If you enter the home via a hardscaped land bridge on the high side, you find a large living room that Travetti intends as a homage to the midcentury modern flavor the former residents had favored. The furniture is long, low and austerely elegant, and the large window is divided into Mondrianesque rectangles.
Other windows in the home look into other parts of the barn. In fact the entire structure has been opened up not only from floor to floor but to the outside as well.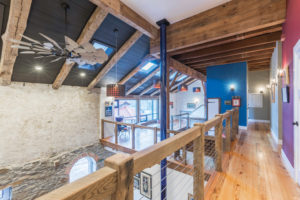 The idea, Peter Archer says, was to let in as much natural light as possible, a thing your average working barn tends to lack. "To me, natural light is crucial to just about any space," Archer says.
In the kitchen particularly windows were added that let Keating and the rest of the family enjoy looking at the wildlife—deer, foxes, even a family of woodchucks that can be seen roaming about the grounds.
The barn, built in 1830, is technically a "bank barn," built into the side of a hill. This design functions to help regulate the temperature in winter and summer.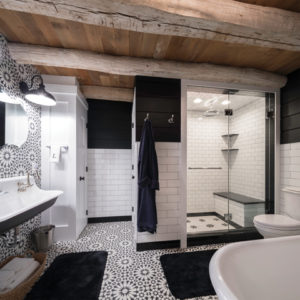 The team updated the electrical systems to modern standards. Geothermal heating and air conditioning systems, often seen in historic homes where feasible, weren't practical here. But as a bank barn, the structure was taking advantage of geothermal averaging for a couple of centuries already.
The builders did seal the structure to keep the heat and coolness in, and Travetti is delighted with its energy efficiency. "It's a big cocoon," he says.
Reclamation of historic materials was certainly a theme of the project. The kitchen shelving is from a 1930s warehouse in Erie, PA. The floors are heart pine reclaimed from rivers in Florida, where centuries underwater changed the logs' chemistry to make them denser than normal. They have the grain patterns of pine but a different texture. "They feel like granite," Travetti says.
Where possible, the barn's historic nature shines through, whether in the stone of an expansive wall or the heavy timbers preserved and exposed where possible. (See the cover of this issue for an example.)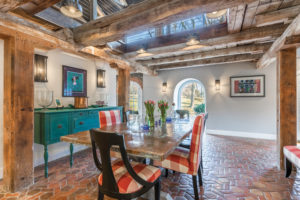 In fact, there was a part over the dining room (pictured here) where the past removal of some support logs had caused the second floor to bow nine inches into the first. The builder put in a steel support—and then hollowed out a timber to put around it and keep the look authentic.
Travetti readily credits the team he put together with helping to realize his original vision. Archer adds that having everyone be "simpatico" is his own favorite way to work. And Travetti also freely admits that a sympathetic team can help keep each other from going wrong.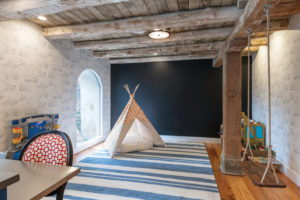 Travetti originally wanted more posts in the upstairs loft railing, but the architectural team said it would block the view. On reflection, Travetti saw the sense of that.
When Travetti suggested getting modern doors from Home Depot, he laughs remembering how firmly Archer dismissed that idea. Without missing a beat, Archer replied that solid wood doors were obviously the option that fit the context of this project with its solid structure, stone walls and massive beams.
The architects wanted a staircase on the east wall, but Travetti wasn't sure about that either at first. He admits how he now appreciates that it improves the flow through the house. Like many owners of historic homes, Travetti talks about the duty to preserve and pass on this piece of the community's heritage. But like the others, he's made it his own, with the help of the team.
Travetti has created a place of abundant visual and historic appeal, a place that friends like to visit, and a place where he and his wife and young son can look together at the deer and foxes roaming the grounds—the fun and comfortable home he imagined that first day. 
Resources
Architect: Archer & Buchanan Architects
Builder: Michael R. Rhile Carpentry
Floors: Goodwin Company
Landscaper: KJM Landscaping
back to top