Go Native with Azaleas in Your Garden
Images by Chris Swisher, courtesy of Jenkins Arboretum & Gardens
From fiery florals to blushing blooms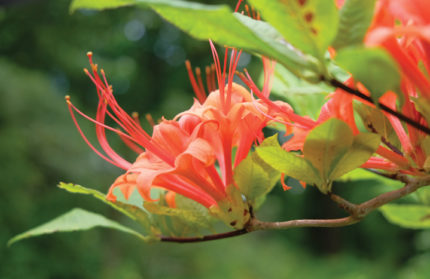 When we think of azaleas, we often picture the ubiquitous, meatball-shaped shrubs with their bright pink blooms boldly proclaiming the arrival of spring.
But did you know we have our own native azaleas that are the cousins to the Asian evergreen azalea hybrids we see in every yard? Unlike their overseas counterparts, azaleas from the eastern United States are tall, airily deciduous, flaunt the most exquisite yellow, red-orange, pink or white flowers, and many are fragrant and bloom into summer.
There are 16 species of deciduous azaleas native to the East Coast and all but one (Rhodora–Rhododendron canadense) thrive here in our region.
Keep reading to learn more about a few of these regional beauties that can transform your garden.
Fiery Florals
Several of our native azaleas boast clusters of fiery yellow-orange or even red blooms, providing an eye-catching contrast against the green and brown backdrop of most home landscapes. Florida Flame Azalea (Rhododendron austrinum) is wonderfully fragrant, with bright yellow to red-orange flowers appearing just as the leaves are emerging in spring. In the wild, this species is native to the deep South but is an easy-to-grow addition in home gardens much farther north.
The latest blooming of all the native azaleas, Plumleaf Azalea (Rhododendron prunifolium) has orangey-red flowers displayed in mid to late summer, well after other azaleas have thrown in the towel. This species is quite rare in the wild and may soon be considered an endangered species. Plumleaf azaleas generally grow in wooded ravines, along streams and in mixed forests in the wild, so a site with afternoon shade will help prolong the bloom period.
Flame Azalea (Rhododendron calendulaceum) and Oconee Azalea (Rhododendron flammeum) also flaunt yellow-to-red flowers, making up for their lack of fragrance with eye-popping color.
All four of these fiery azaleas grow eight to ten feet tall and are deciduous, losing their leaves in colder months—something to keep in mind in your home garden design.
Blushing Blooms
Not all native azaleas are orange or yellow, though. Some set forth pink, blush or white blooms and often display a wide range of natural variation in their flower color. Piedmont Azalea (Rhododendron canescens) is a large, showy, multi-stemmed shrub with pink, lightly fragrant flowers appearing before the leaves have expanded in spring.
This species is the most common of the native azaleas and tends to form large colonies in moist woods in the wild. Part of its name—canescens—is Latin for "covered in white," referring to the fuzzy hairs that cover the leaves, twigs and buds. This shrub would be a lovely accent in any landscape and is cold hardy to USDA Hardiness Zone 5.
The first of the native azaleas to bloom in the spring, Pinkshell Azalea (Rhododendron vaseyi) is known for its delicately spotted pink flowers. It's incredibly rare in the wild, growing in bogs, thickets and forests in only four counties in North Carolina. Despite its rarity in the wild, this azalea is quite easy to grow in garden settings and provides a welcome dapple of color in early spring for local home gardeners.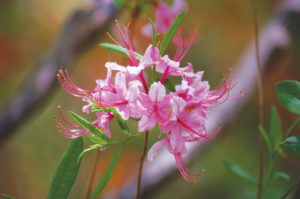 Pinxterbloom Azalea (Rhododendron periclymenoides) was once prolific in this region and can still be easily found while hiking here in Pennsylvania. The lightly fragrant flowers are typically soft pink, but can be nearly white or even lavender, blooming slightly before the emergence of new leaves in spring.
The common name of this species is not a reference to its color. Instead, the name pinxter translates to Pentecost (the seventh Sunday after Easter) in Dutch and refers to this species' bloom time in the northernmost reaches of its range. Pinxterbloom opens much earlier than Pentecost here in Pennsylvania and is an easy-to-grow showstopper.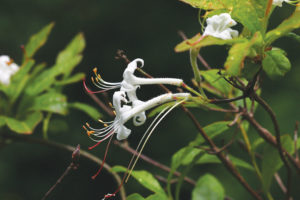 If you're looking for a smaller azalea, Swamp Azalea (Rhododendron viscosum) grows to about five feet. It has relatively small, clove-scented, white flowers tinged with pink, blooming in late spring after the leaves have expanded.
The name "viscosum" is derived from viscous meaning sticky—a reference to its sticky, hairy, tube-like flowers. It's a fairly common species and can be seen growing in the wild from Maine to Florida and westward to Texas. As its common name suggests, this species grows best in swamps and bogs but can tolerate less wet sites with a generous layer of mulch or shredded leaves.
More Variations
This is just a sampling of the incredible—and breathtaking—diversity seen in our native deciduous azaleas. For each of the species mentioned here, as well as for eight additional species, there are many cultivars offering variation in bloom color, height, fragrance, foliage color and more.
To see these magnificent native azaleas in person, visit Jenkins Arboretum & Gardens, where more than a thousand native azaleas are happily thriving. You'll also find them at other area gardens, arboretums and specialty nurseries.
If you decide to add one of these amazing plants to your landscape, remember that they're all happiest when planted in moist, well-drained, acidic soil with part-sun to dappled shade. Full morning sun is tolerated, but most of these azaleas would suffer in the intensity of midday sun.
Drainage is important too, so loose, highly organic soil is recommended, along with a covering of woodchip or shredded leaf mulch. As with most shrubs, water, water, water until they're established!
Many of these azaleas can be purchased at local nurseries specializing in native plants, including the Plant Shop at Jenkins Arboretum & Gardens.
Jenkins Arboretum & Gardens is a 48-acre public garden showcasing native flora of the eastern U.S. and a world-class collection of rhododendrons and azaleas. The gardens are open every day of the year from 8 a.m. to sunset. Admission is always free. 631 Berwyn Baptist Rd., Devon. 610-647-8870; JenkinsArboretum.org.
back to top