Found Mansions on the Main Line
Taking a Driving Tour of Historic Estates Lost and Found
A favorite pastime of many locals is to ogle grand old estates, especially those situated in leafy neighborhoods. I was able to enjoy just such a driving tour after Winterthur Museum's estate historian, Jeff Groff, was kind enough to share his very particular expertise with me about Main Line mansions. Jeff grew up on the Main Line and, for 40 years, he's been studying the history and significant architecture of the area.
To get a more complete look at area mansions, join Jeff's virtual tour on May 12, titled "Lost Mansions of the Main Line," featuring 20 or so fabulous old estates. (Register for this Chester County History Center-sponsored illustrated talk at Eventbrite.com.) For even more, there's a second lecture on July 22nd, called "Back of the House and Beyond: The Millionaire's Household, 1900–1942."
I hope you'll join a more circumscribed driving tour focusing on what we're calling "found" mansions: mansions that still exist and can be seen. Our tour begins near Devon. From there, we head east, visiting Wayne, Villanova, Bryn Mawr and Haverford.
Grey Craig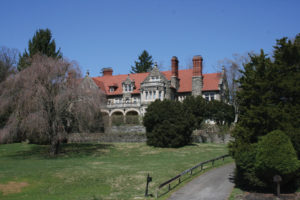 First stop is Grey Craig (680 Wetherby Drive, Devon)—with Romanesque, Gothic and Tudor elements and set on the crest of a hill on 76 acres. Designed in 1902 by noted architect William Price, it was a hunting lodge for James Patterson, whose family founded the Patterson Whiting Paper Company. James' son William and his wife were known to entertain there in a grand fashion befitting the mansion.
After William died, the mansion was to be sold to a junior college in 1968, but the sale fell through. Although the land was taken over by a developer, the main house still stands and is a private residence. No longer commanding 76 acres, Grey Craig is now surrounded by modern homes, like too many of the mansions in the area.
Hilltop House
Hilltop House (570 Beaumont Road, Devon) is located on 23 sunny south-sloping acres. Initially called Idlewild Farm, the mansion was built for chocolatier William Nelson Wilbur, son of the developer of those tasty Wilbur Buds. Sold in 1919, the estate later went into foreclosure during the Depression.
During its next chapter, Hilltop House was owned by a Drexel University professor, whose wife was an heir to the Heublein Distillery fortune. The mansion was left to Easttown Township and since 2005, it's been restored and is currently used as an event space. The southern view, with walkways, benches, lawn and trees, remains spectacular.
Chanticleer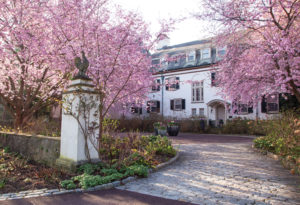 It's a short hop to Chanticleer (786 Church Road, Wayne), a gem known primarily for its spectacular gardens. When COVID restrictions end, you can arrange a tour of the house. For now, view the interior online at the website.
The gardens are a must-see and are open. In all, there are seven gardens, each with its own theme and horticulturist. In May irises, salvia, rhododendrons, peonies and clematis are just some of the flowers in bloom. If you don't tour on this visit, make plans to return.
Chanticleer's European-style mansion was built in 1913 and expanded in 1924 by owner Adolph Rosengarten, Sr., who made his fortune in pharmaceuticals and eventually became part of Merck & Company. Several estate buildings were given as gifts to his children, who, in 1990, bequeathed the entire estate for public use.
The Willows
This 47.5-acre estate, now known as The Willows (490 Darby-Paoli Road, Villanova), was built in 1910 by renowned architect Charles Barton Keen, a contemporary of Horace Trumbauer, William Price and Brognard Okie.
Originally called Rose Garland, the mansion—with Spanish Revival, Georgian Palladian and Arts and Crafts motifs—was built for John Sinnott, a wealthy distillery owner who grew up at Rathalla, now part of Rosemont College.
It was later purchased by Clarence Geist for his daughter Mary and her husband, Alfred Zantzinger, Vice-President of his father-in-law's Suburban Water Company, who named it Maral Brook and lived there for over 30 years. Geist's large mansion, Launfal, was nearby on Sproul Road and is now the Academy of Notre Dame.
After their deaths, the Zantzingers gave the property to Radnor Township in 1973 to use as a park and event space. Sadly the main house fell into disrepair. In 2019, restoration was begun by Archer & Buchanan Architects, and is still under way. It's scheduled to become a community center with a large terrace for outdoor events.
Ardrossan
Perhaps the best-known Main Line mansion is Ardrossan (807 Newtown Road, Villanova), because of its connection to Helen Hope Scott, née Montgomery, who lived there and inspired the 1940 film "The Philadelphia Story." A captivating socialite and equestrian, Hope Scott entertained notables of society, government and the arts, and was a principle organizer of the Devon Horse Show as well as director of the U.S. Equestrian Team. She was considered the epitome of the Main Line high society.
The 50-room Georgian Revival mansion was designed by famed architect Horace Trumbauer in 1911, and its 750 acres were assembled by Col. Robert Montgomery, founder of the investment firm Janney Montgomery Scott. Hope's husband, Edgar Scott, was heir to a Pennsylvania Railroad fortune. Currently, the land is being subdivided by Edgar Scott III, but the house has been preserved.
Stoneleigh
Across from Villanova University's law school is Stoneleigh (1829 East County Line Road, Villanova), a name dating back at least to 1878. The former estate of Samuel Bodine and then John Haas, of the chemical company Rohm & Haas, the 42-acre property was in the Haas family for more than 80 years. In 2016, the heirs donated it to Natural Lands, which added "A Natural Garden" to its name.
At the heart of the property is a Tudor Revival mansion, probably the work of Everett & Mead, a Boston-based firm. Today it serves as an event space and headquarters for the Organ Historical Society, an organization that celebrates the pipe organ (there's one at the mansion).
Outside, the gardens were designed by the Olmsted brothers, sons of Fredrick Law Olmsted, the celebrated landscape architect of New York's Central Park. Many of the over 10,000 plants and 350 trees are native to the area. The grounds have been open to the public since 2018 and are worth a visit.
In Bryn Mawr and Haverford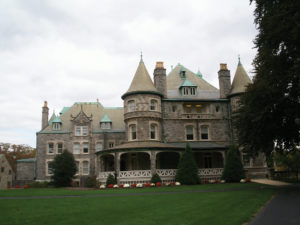 As you go east on Montgomery Avenue towards Bryn Mawr and Haverford, you'll pass several notable mansions. There's the Renaissance-styled Rathalla, built in 1891, now part of Rosemont College (1400 Montgomery Ave., Bryn Mawr). Farther east you'll see The Baldwin School (701 Montgomery Ave.), originally the grand Bryn Mawr Hotel, built in 1890 also in a Renaissance, French Chateau style, and designed by Frank Furness.
A few miles east at Grays Lane, another Furness design, the Merion Cricket Club (325 Montgomery Ave., Haverford), is located on land adjacent to Cheswold, the estate of Alexander Cassatt, President of the Pennsylvania Railroad and brother of Impressionist artist Mary Cassatt.
Heading north on Grays Lane, find Laurel Lane. It's worth a detour to look at Dolobran (231 Laurel Lane), yet another Furness-designed mansion, built in 1880. Currently a private residence, the Shingle-style mansion is easily viewed and set close to the street. The property and all that surrounds the house, once 150 acres in all, belonged to shipping magnate Clement Griscom, President of the American Steamship Company and later the International Mercantile Marine Company that owned the Titanic.
Camelot
Back on Grays Lane, heading down the hill, on the left you'll pass the high gates of Knollbrook, now renamed Camelot. Still a private residence, the mansion is set atop a hill overlooking Mill Creek at the intersection of Grays Lane and Mill Creek Road, on 13 acres in Haverford.
Knollbrook was an earlier house remodeled by architect William Woodburn Potter for J. Howard Pew, President of Sun Oil and son of founder Joseph N. Pew. It was enlarged gradually to include neighboring estates—once reaching 65 acres. Pew also developed the grounds with a pool, putting green, rock garden, fountain, bridges and greenhouse. Note the Greek statues, almost lost in a storm several years ago, lining Mill Creek.
Pew died in 1971, but the Main Line is still dotted with former mansions of his family, including Rocky Crest and Skylands in Gladwyne, and Glenmede in Bryn Mawr. But we'll end with Camelot, a most congenial spot.
That finishes the tour. Before heading home, we suggest you stop for a drink. Review the day. And be glad that you won't have 50 rooms to care for.
Final Stop on the Main Line
Make a point to visit Di Bruno Bros. in the Strafford Shopping Center in Wayne. Started in 1939 in the heart of Philadelphia's Italian Market, DiBruno's added shops in the city and suburbs before opening its long-awaited newest spot in March.
Di Bruno's built its reputation on cheeses, largely imported. From Italy, France, Switzerland, California, almost everywhere—about 150 in all. An attendant offers samples and will slice and wrap your choices.
Around the corner are the smoked and cured meats, again shaved to order. The perimeter walls are lined with packages: nuts, cheeses, salamis, prosciuttos, sodas … At the back of the store, soups, sandwiches, pastas and pizzas are prepared. Wander and find dried pastas, breads and desserts, plus fresh fruit at the front.
The store is not huge, but feels remarkably complete.
Next door is Di Bruno's Alimentari, "a casual dining experience of small plates, cheese & charcuterie, and Pizza alla Roma." You'll find they're serving spirits, creative cocktails, local beers and exclusive wines. More reasons to visit.
back to top