Fire & Water
Bring these two elements together to create your dream escape.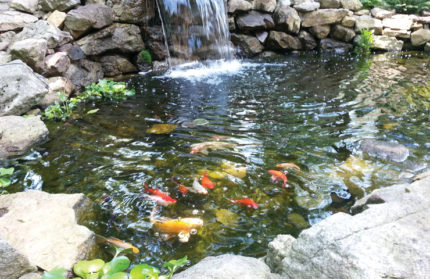 A soft summer breeze. A crackling open fire. A trickling fountain alongside an inviting pool. Your family, friends and maybe some cool drinks. Sound perfect?
Though fire and water might not appear to be the perfect pair at first blush, they make for a complementary combo in our backyards. Whether you want to warm up or cool off, fire and water features are popular for a reason.
Not sure which is right for you? Read on …
Fire Pits
Gathering together around an open fire is undeniably magical. That age-old comfort might even be part of human DNA. One thing is for sure—most people want to recreate that effect over and over again, no matter the season. Enter: the fire pit.
"Firepits are our most popular fire feature," notes Randell Spackman of Thornbury Services. "They're small scale, low cost compared to fireplaces and ovens, and they have all the perks most people want."
Some of the perks? Warmth, glowing light and a moving focal point. "Anytime you add motion, it keeps the viewer engaged," says Spackman. Added bonus: you can even make 'smores!
Many prefer fire pits of the permanent variety, built into the ground in an ideal location. You can go elaborate with beautiful stone finishes and protective screens overtop or opt for a simpler, campfire-style pit. It all comes down to personal preference and budget.
As Spackman cautions, different types have different requirements for fuel—wood, propane, natural gas, gel fuel—and maintenance, more factors for your decision-making process. See sidebar.
And don't discount portable fire pits as a first step. You'll have the freedom of taking your gathering wherever you want—backyard, beach, shore house. Plus you can choose from a wide variety of finishes—cooper, stainless steel and cast iron—to add interesting color and texture.
Fireplaces
As the fire pit's bigger, more substantial cousin, a fireplace is an impressive backdrop for a backyard gathering space. Much like your indoor fireplace, the outdoor version becomes a key communal point of warmth and interest, attracting everyone to the glow of the fire. And it makes the outdoors feel that much cozier and homey.
One of the great things about a bigger, more contained open fire is its versatility. Not only can you gather round in both warmer and cooler months—but fireplaces can also be designed for cooking! Dutchies Stone Works specializes in building outdoor ovens, perfect for brick oven style pizza or fresh baked bread.
Convinced? Now it's time to customize the project to fit your needs. With fireplaces, the scope of the project is larger and harder to redo than a fire pit if your needs change, so you'll want to think carefully about size, placement and style. Local builders like Dutchies will work with you, offering their experience to help you determine what works best for materials, location and fuel options.
PHOTO COURTESY BLUE HAVEN POOLSPools Plus
Sometimes the summer weather is just too steamy to make hanging out around a fire seem enticing. On those days it makes more sense to dive into a cool body of water while soaking in the sun. Consider a pool as the center of your backyard oasis.
And there are so many design options. Dominic DiCesare of Blue Haven Pools specializes in custom pool creations—from small pools he calls "spools" to larger projects that incorporate extras like hot tubs, grottos, waterfalls and more. "Your vision combined with your budget will determine the best fit for you," says DiCesare.
He advises clients to think about the many features available and choose ones they know they will actually use—and then do it right.
"Many times we renovate an existing design that didn't get made properly or wasn't being used to the fullest," he says. "Your best bet is to spend your money wisely, go to a reputable business that specializes in what you're looking for, and be honest with yourself." That includes knowing what's important and how much effort you're willing to put into maintenance.
As for the style of pool, the choice is yours—from free-from to geometric and everything in between. According to DiCesare, most yards are a blank canvas and can accommodate whichever design you prefer, so long as the design is compatible with your neighborhood's codes and regulations.
Anything else you may want to add—fire features, fountains, lighting, mosaics and more—are just finishing touches!
Ponds, Streams, Water Gardens
In contrast to a structured pool, more nature-inspired options like ponds, streams, water gardens and waterfalls add a touch of serenity to an outdoor living space. If you want to feel like you're stepping into an enchanted escape without having to leave home, water features are one way to do that.
But not everything about having a water garden or stream is pure enchantment. Balancing the ecosystems in these natural features can be tricky. If you do it wrong, you can end up with an over supply of mosquitos and a shortage of tranquility.
The key is to avoid algae buildup. Rooted plants will help absorb nutrients that algae would otherwise feed on, while fish will help with bug control. Floating leaf plants are also great for keeping the sun's rays out, the temperature down, and the algae at bay.
Local water feature experts like Flowing Spring Landscape Design take these factors into consideration in their design process, assessing the size of the project, specific species of plants and fish introduced, location on the property and more.
Luckily a well-designed and balanced ecosystem tends to sustain itself with minimal help from you. Then you can spend that extra time meditating or practicing yoga poses instead!
Whether you choose fire, water or both for your escape, the addition of these elements will give you even more reason to enjoy the outdoors—this summer and many more to come.
What Fuel to Feed Your Fire?
Wood or gas? Propane or gel? There's no universal right answer. But there may be an answer that's right for you.
Wood. You'll get that traditional feel of authenticity and rustic style, complete with crackling sounds and the unmistakable aroma we associate with an open fire—something other types can't provide. And the cost of wood is generally inexpensive. Where you will pay is in maintenance—cleaning ashes and removing buildup regularly. Worth it?
Gas. These types burn much cleaner, give off little to no smoke, are much easier to light, and require nearly no maintenance. And you get all the beauty and warmth of wood without the hassle. But natural gas can be expensive, including installing the pipeline, which may not be possible in all backyards.
Propane. Convenient and easy to use, propane can be aesthetically designed with faux wood, rock pebbles or glass. However, you'll have to purchase the propane regularly, and it can run out quickly when entertaining.
Gel. This type might not be as well known—mainly due to the gel logs and fuel being difficult to find in stores—but it burns nice and clean without scent or smoke and is very versatile. Just be prepared to buy your fuel online.
back to top