Finding that Right Real Estate Agent
The best agent for you may depend on … you … and your home.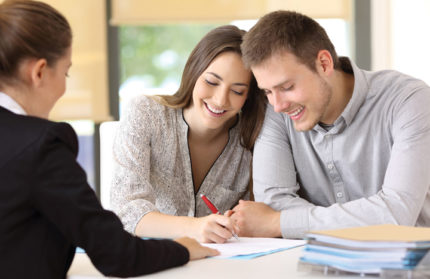 Agent, realtor or broker*? Experienced guide, consultant, collaborator, therapist? So many choices!
The person you choose to work with when buying or selling your home may serve a range of roles. Finding someone with the best background, who is both professionally qualified and easy to work with, takes time and effort. But that's a worthwhile investment since a home purchase or sale is a major financial decision.
We've talked with local experts who shared what they've learned in their years of working with hundreds of home buyers and sellers in our area. Here's what they recommend.
*Although both must be licensed to sell real estate, the main difference between a real estate agent and a realtor is that a realtor is a member of the National Association of Realtors and must follow a prescribed Code of Ethics. To use the term broker, an agent must have certain extra education and hours of experience, prescribed by the state.
Do Your Research
As with many projects, a first step is to begin with some research—online and old-fashioned methods. Find out about realtors who are active and successful in your area. Look for agents' signs posted in the neighborhood and ask those who live in the area. You'll want someone with local expertise, who specializes in your type of home and your price range.
But which one?
Online sources—Zillow, Trulia, Realtor.com, Google, Yelp—have reviews to help you identify and assess potential agents. And the agents' own website also provides insight into style, professionalism, numbers and types of properties, and more.
Finding out about the realty company the agent is a part of is a good place to start. Karen Nader of Sotheby's International Realty says, "By researching the company, you'll learn about the reputation, services and expanded marketing available when you work with an affiliated agent."
Amy McKenna of Country Properties suggests another level of research—reviewing the agents' online bios. "You can learn about an agent's professional background, including their areas of expertise, association memberships, board credentials, community connections, and more." Does the agent have the connections to know the area well—like news about proposed housing developments?
Check the agent's professional credentials through the state real estate commission and local associations. Look for certifications and awards, too.
Evaluate Expertise
Next it's time to hone in on experience and expertise. Look for years of experience in the business, experience in your target area, and with your type of property. Agents who aren't successful tend to move on or have fewer listings in their inventory.
Check for sales history—number of sales over the past few years. Too many sales may not be good, if there's no time left for you. Look at the ratio of listing price to selling price.
Holly Gross of the Holly Gross Group says, "A record of success shows there is a system in place that is working to effectively market the properties." And an excellent track record takes a long time to build; it's valuable because it attracts quality inventory and business. It's a good sign that a realtor is busy … just not too busy for you.
Most agents develop a sweet spot—areas where they know the market and local conditions down to the hyper-local level of schools, pre-schools, trains, local shopping, dining and area attractions. Margot Teetor of Remax Preferred works hand-in-hand with clients, especially those from out of the area. "I grew up in this area and know the countryside. I'll recommend buyers take a driving tour, and I'll suggest highlights to visit. Maybe stopping for a meal at The Whip Tavern to get the feel for Southern Chester County life," she says.
Look for experience in your price range and property type. Is there experience with investment properties? Condos? Luxury homes?
Expertise is especially important for unique properties—which can take longer or more effort to sell—such as small farms and conserved land.
Amy McKenna has years of experience working with properties under conservation easements. "These properties can be more complicated. But my experience helps when explaining the intricacies of easements and how they relate to a client's needs. I've been through the process many times before with many area land trusts—such as the Brandywine Conservancy and Natural Lands—and I know their process and requirements," she says.
Set Up Interviews
After your background research, plan to interview two or three potential agents. You'll want to get as much information as you can to make an informed decision. And get that information sooner rather than later.
You can verify information you've gathered and ask about things you didn't learn. And you can gauge the excitement the agent has for your property. Chris Stoner with Keller Williams says, "There's a big positive impact if the agent truly appreciates your property. Do they understand it, and can get behind it?" An interview helps you assess the enthusiasm level.
This is also your chance to see if your communications styles mesh—will you be comfortable working with this person for what may be several months … or longer.
Does the agent merely try to sell you, or listen to your questions and needs? Do you feel pressure? Or trust? Is the agent relatable and real? Can you speak candidly? Is there the right chemistry to work together if things don't go as smoothly as you hope?
Meghan Chorin with the Meghan Chorin Team says she plans two interviews. "First to share information and get to know each other and the property. And the second interview is to set the best list price for the property—a fair price that will help it actually sell."
Feel free to ask to talk with references, too. A good agent should have happy former clients. You are, after all, hiring this person and want to know what to expect.
In the end, it's a business decision. But one you want to feel comfortable with.
Consider Choosing a Team
Working with a team gives you certain advantages—you get a deeper bench of expertise when there's more than one agent working for you. You'll have a broader range of experience to draw from, with more availability to meet your schedule.
For example, the Holly Gross Team is led by Holly and her two sons, Stephen and Stewart, with support from a team administrator, Holly's husband, in addition to several experienced agents.
A team may also offer you a greater range of services and marketing efforts. Real estate teams are often large enough to have their own team of experts and services such as photographers, stagers and handymen. Teams also have sophisticated marketing efforts—property brochures with floor plans and plot plans, professional photos, videos and websites, frequent open houses, and extensive marketing online and in print publications.
One caveat when considering a team is to make sure you know who you will be primarily working with. Will your main contact be the agent you interviewed or the assistants? Is it a support team behind a big name or a team with several experienced agents?
Check for Red Flags
After you've done your due diligence of researching, evaluating and interviewing, take a step back to check for common red flags. Even if you've been thoughtful about your choice—and didn't choose the first person you found, a first-time agent or a relative—there are some common warning signals.
Is the agent slow to respond? That's a bad sign for an ongoing relationship.
Is the agent working only part-time? Your property may not be a priority.
Despite claims of experience, does the agent appear to be unfamiliar with your area, type of property or price range?
Does the agent immediately offer a lower commission?
Does the agent suggest a listing price that's too high—out of line with other prices?
This last red flag may be tougher for homeowners to resist as they yearn for top dollar for the property. But Meghan Chorin says an agent proposing too high a price is a problem. "The property won't sell, and if it's on the market too long, it gets tainted."
She recommends careful review of comparable sales—similar square footage rather than number of bedrooms and baths, same school district, not just same town. The numbers don't lie if you're using arm's-length comparable sales (not involved in short sales, inheritances or divorces). And for unique properties—like farm or equestrian properties—looking back for three years is helpful.
One final piece of advice: Although you may not want to think about it, it's worth knowing under what terms you can end the relationship, if necessary.
With a bit of time and effort, here's hoping you find the right fit for you!
back to top