Elective Surgery During the COVID-19 Pandemic
Elective surgery has resumed with new safety measures.
Immediate Action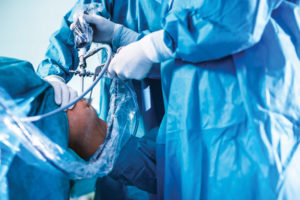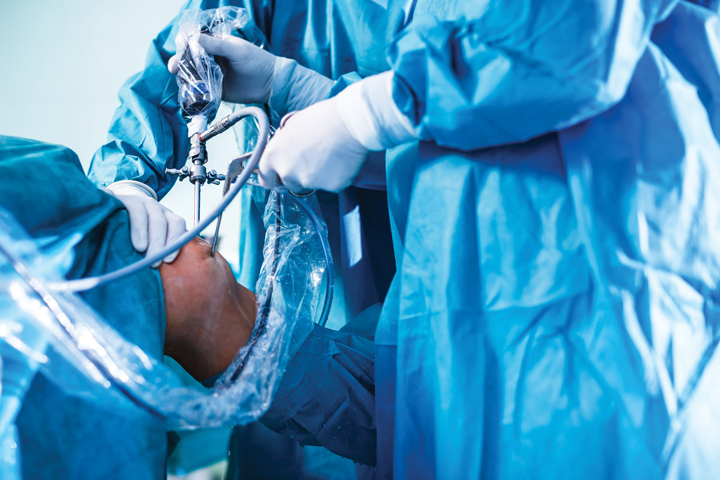 The healthcare community immediately took steps to marshal resources needed to combat the pandemic and reallocate supplies and medical personnel.
As part of that overall effort to conserve masks, gowns and other equipment needed to protect workers treating COVID-19 patients, elective surgeries were put on an indefinite hold.
During the pandemic's initial phase, operating room respirators were reserved for possible conversion to long-term ventilators for COVID-19 patients needing respiratory support. Operating room nursing staff was diverted to high priority areas to provide care for the overwhelming number of patients affected by the virus.
Health systems and Ambulatory Surgery Centers (health care facilities focused on providing same-day surgical care, including diagnostic and preventive procedures) worked in tandem to identify available PPE and patient care areas and available medical staff. The surgery centers provided a daily report of available PPE and ventilators at the state government's direction.
Using guidelines from the Center for Disease Control, the definition of elective surgery was revised to conserve vital medical resources. It's notable that in 2019, approximately 177 million surgeries were performed in the U.S. In contrast—although the numbers are not yet complete—it's anticipated there was a 75% reduction in surgeries during the initial eight weeks of the virus outbreak.
Evolving Surgical Priorities
During the first eight weeks of the pandemic, the revised surgical priorities permitted only surgeries that provided life-saving measures and managed severe disease. These priority surgeries—labeled Tier 3—include trauma, cardiac surgery, transplant surgery and limb-threatening vascular surgery. In addition, acute tendon ruptures, fracture surgery and surgical cases where delaying the procedure would lead to a poor outcome were continued on an outpatient basis at Ambulatory Surgery Centers.
Lower priority surgeries were placed on hold. This included intermediate-acuity surgeries in healthy patients—Tier 2 procedures such as orthopaedic hip and knee replacement and spine surgeries—along with low acuity in healthy patients—Tier 1 for conditions such as carpal tunnel release, colonoscopy in stable patients and cataract surgery.
The Roadmap
During the early weeks of the pandemic, the focus on Tier 3 surgeries did not eliminate the need for other elective surgeries. On April 17, a joint statement was released from the American College of Surgeons, the American Hospital Association, and other national associations creating a Roadmap for Resuming Elective Surgery. This plan provided a framework for facilities to prepare for the backlog of elective surgeries.
In addition to requiring a sustained reduction in the rate of new COVID-19 cases in the relevant geographic area of a surgical facility planning to resume elective surgery for at least 14 days, this plan provided critical elements relating to direct care of surgical patient care.
Key provisions of the policy include requirements that the surgical facility should:
Have an appropriate number of intensive care unit (ICU) and non-ICU beds, personal protective equipment (PPE), ventilators and trained staff to treat all non-elective patients without resorting to a crisis standard of care.
Use available testing to protect staff and patients whenever possible, and should implement a policy addressing requirements and frequency for patient and staff testing.
Not resume elective surgical procedures until they have adequate PPE and medical surgical supplies for the number and type of procedures to be performed.
Establish a prioritization policy committee consisting of surgery, anesthesia and nursing leadership to develop a prioritization strategy appropriate to immediate patient needs.
Have and implement a social distancing policy for staff, patients and patient visitors in non-restricted areas in the facility that meets current local and national recommendations for community isolation practices.
Elective Procedures Resume
On May 4, Tiers 1 and 2 elective surgical procedures were permitted to resume at Ambulatory Surgical Centers. All procedures had to adhere strictly to the established protocols.
These guidelines required a comprehensive system to protect patients as well as medical staff. Requirements included use of masks by all patients and staff throughout the facility, daily temperature check of all staff and patients entering the facility, proper spacing of patients in the preoperative and recovery areas, protective eyewear and gowns, use of N95 masks for personnel present during patient intubation, proper handwashing, and terminal cleaning of all patient care areas.
Patients are required to answer the CDC travel and exposure questionnaire before arriving at the surgical facility. And any patients or staff who test positive for COVID-19 or are presumed positive cases were not permitted. In addition, no family members are allowed in waiting areas or recovery areas, as further protection from the virus.
After May 4, all tiers of elective surgery were permitted to be performed on low-risk patients in Ambulatory Service Centers.
Yet even with these extensive precautions, surgeries on higher-risk patients are currently still delayed.
Hospitals with low or no active COVID patients followed the lead of Ambulatory Surgery Centers by allowing elective surgical procedures, starting May 11.
Barring an increase in COVID cases, we expect a 100% return to elective case scheduling at Pennsylvania hospitals by August 2020.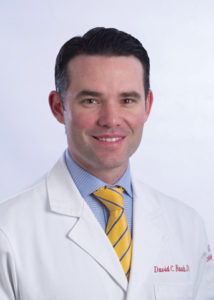 Dr. David Raab, is a board-certified orthopaedic surgeon specializing in shoulder, elbow and knee disorders. He's a board member of the PA Orthopedic Society's Bylaws Committee and CEO/Medical Director of the Premier at Exton Surgery Center. Dr. Raab has been in practice for 14 years and currently treats patients in Premier Ortho-paedics' Malvern, Exton and Collegeville offices.
back to top