Dressing for Dressage at Devon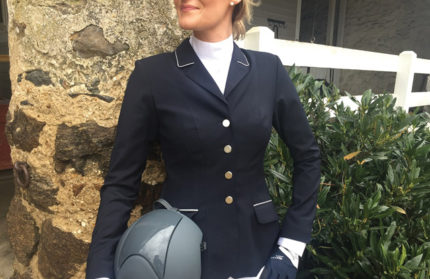 Overheard at a horse show (slightly paraphrased) "What do you think of that striped shirt?" "I don't know. I have to see if that white stripe is a plain stripe or if it's bling. If it's bling, I'll have to talk to her."
These discussions go on all the time at dressage shows among FEI (Fédération Equestre Internationale) stewards whose job it is to make sure FEI rules are strictly followed. That careful adherence to established rules includes not only general show rules for the horse show itself but extends to the tack worn by the horse (saddle, bridle and any other accouterments) as well as the apparel worn by the rider.
Of course riders and spectators may have other opinions about what's proper. And their opinions often conflict with the official rulebook. For example, a current hot topic involves … bling.
Is bling okay in a dressage ring? Will it make the sport more accessible to the general public by making it more visually interesting? Will it offend judges and negatively affect scores?
Bling is a real concern these days for competitors at Dressage at Devon and at other dressage shows.
Roots in Tradition
Dressage tradition has roots that date back hundreds of years when a military partnership between horse and rider could be the key to winning the war. It's this long history that underpins the strict rules and functional attire. Today, horses are no longer used in battle, but many traditions continue in the show ring.
In dressage, bling—if it's there at all—must be understated. Something as simple as a strip of rhinestones on a helmet or a black-on-black stripe on a jacket may be considered too much and viewed negatively by judges and some spectators.
But, as with many rules, there can be room for interpretation. For example, the rules say the rider's jacket must be a solid, dark color and the dark color can include navy, burgundy or green. There is some permissible leeway.
But what about a pink lining in a black show coat? Or white piping on a black jacket? Yep—those details will raise eyebrows among traditionalists. Yet these tiny flourishes are becoming increasingly popular among riders.
Another rule: When wearing a show jacket, a white shirt must be worn with a "stock tie" for women—a tie that looks more like a scarf. If no jacket is worn (done only in lower, beginning levels of dressage shows), the shirt must be open at the neck.
Historically riders had very few options. Riders' jackets and shadbellies (a coat cut short in the front with tails in the back) were black, while shirts, breeches and gloves were white. Helmets were not required, though most wore a simple black velvet hunt cap (rounded top, with short bill). When riders reached the higher FEI levels, they added an elegant black top hat (flat on top).
Not now, though. Today top hats are not allowed except for senior riders in FEI Concours Dressage International (CDI) classes, which include only upper level competitions. This is, of course, in response to the increased awareness of the dangers inherent in any equestrian sport when the head is not adequately protected. But tradition still rears its head, so to speak, as riders symbolically "tip their hat" to the judges at the start and end of their rides.
Modern Trends in The Ring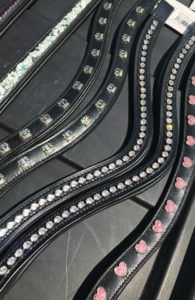 Not surprisingly, riders are increasingly pushing the envelope on their attire. "The stock tie has evolved, with a wide selection of tonal patterns and fabrics, often sporting a tasteful bit of 'sparkle' to catch the light," says Jill Apfelbaum, owner of Malvern Saddlery. This "sparkle" may come from a tasteful pin at the tie. Small, plain earrings (silver, gold, pearl) may be worn as well, but that's about it for jewelry.
Top international helmet designers are taking advantage of the trends, developing styles that are not just about safety but also using them to make a "first impression moment" with a bit of bling.
And so begins the quest for individuality in styling the rider for the show ring. Today riders can design every aspect of their helmet—including color, texture, trims and embellishments—as long as things don't go too far.
Although the riders' breeches still remain white, show jackets and shadbellies are now often customized with "points" that look like the bottom of a vest (often in yellow) but are bought separately and attached to the coat with buttons.
Other touches may include contrasting stitching, piping or jacket collars along with exquisite buttons. "Fabric has also changed over time and is now lightweight, breathable, stretchy and usually washable," said Amy Clough, Manager of Rick's Saddlery.
"The beauty of all this," added Apfelbaum, "is you can now make selections for yourself and your horse that bring out the best and most flattering runway look to set the tone for your presentation."
Judges' and Experts' Views
Lauren Arnett, Head Trainer of Bally Vae Farm in Cochranville and a dressage judge, is a traditionalist in terms of proper attire, but she tries to be flexible. "As a judge, I don't notice bling. But as a trainer who wants to be sensitive to my clients' style, I'm open to how they choose to wear it," she says.
As a rider Arnett generally prefers not to wear bling herself. "I'm not a fan of bling because I don't want to stand out any more than I already do—I'm 5'10" with hot red hair. I think the focus should be on the horse and the quality of training and riding," she continues.
That said, two of the primary horses Arnett rides wear brow bands that are quite noticeable—one was a gift and the other, chosen by her mother, is a crystal color to match the mare's coat.
The traditional view of bling may be best expressed in an exchange from a piece by Nancy Jaffer for Dressage Today. Although the incident is from two decades ago, the sentiment remains for many.
"At the 1996 Atlanta Olympics, where dressage freestyle (a dance-like event with dressage movements accompanied by music) made its ground-breaking Olympic debut, it was suggested that the competition dress code could be more relaxed, with a wider variety of styles and colors. Then, perhaps innovations could become more daring as time went on," Jaffer wrote.
It sounded interesting to some dressage supporters. Jaffer decided to put the issue to Reiner Klimke, perhaps the most eminent dressage figure at that time. The German, who wowed America with his brilliant 1984 Los Angeles Olympics gold-medal performances, listened tight-lipped. Then he fixed Jaffer with a piercing look and said, emphasizing each word, "This … is … NOT … circus!"
Yes, that was over 20 years ago but for some, the sentiments have not changed much. For others, however, bling is not such a bad thing—within limits, of course. So the trend continues—though perhaps at a trot rather than a gallop—towards more acceptance of non-traditional attire in the dressage ring.
In the end, though, all agree that the focus in the ring should remain on the horse, the beauty of its movements, and the culmination of years of work by both the rider and their mount.
Limits of Tradition
None of these rules, of course, apply to spectators at any horse show from racing to hunters to dressage. For them, the challenge is to stand out, with fanciful hats, bright dresses and unusually colored slacks and jackets for men. Thus the long-standing tradition of Ladies Hat Day at Dressage at Devon brings out many ladies—and occasionally a gentleman or two—with hats, fancy, creative but always unique, hats.
But those are the spectators.
If You Go
When: September 25–30
Where: Devon Fairgrounds, Lancaster & Dorset Aves., Devon
Tickets: Ticket office is open during the event. $10/day gen. adm. $5, for 3 to 12 years; free under 3.
Information: For reserved seating, group sales and information, visit DressageAtDevon.com.
back to top