Devon Horse Show
Photos by Brenda Carpenter
Despite their long history, the Devon Horse Show & Country Fair continue to offer fresh fun every year.
Download the PDF Feature and Devon Horse Show Schedule
Despite their long history, the Devon Horse Show & Country Fair continue to offer fresh fun every year.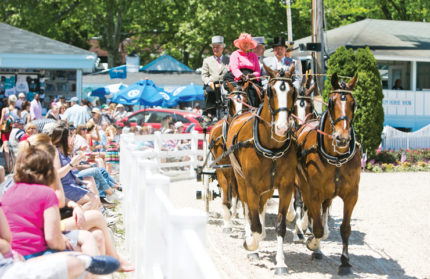 We've been visiting the Devon Horse Show & Country Fair for years and are enticed back to visit favorites and discover what's new. With special Family Days, Ladies Day, ponies, costumes and clowns, what's not to love? Add in Devon fudge, lemon sticks, tea sandwiches and shopping. So we'll share what we've learned from folks who've been going for generations.
Here are some highlights to consider as you plan your Devon visit.
First Night and First Weekend
The Devon grounds open early on First Night as it's called for a peek at the year's festivities and a grand launch of the Show, on Wednesday, May 24. Join the glittering party and fundraiser at the Art Gallery at Devon that toasts the arts with signature cocktails. Read more in "Gallery Round-Up" in this issue and get a look at the 2017 Devon poster, suitable for collecting.
Action in the ring begins bright and early at 8 a.m. on Thursday—Family Day—and lasts until 10 p.m., with specials on Midway rides (including the antique carousel), souvenirs and food. Each year there are new souvenirs—toys, jewelry, athlesiure wear—and old favorites—stuffed animals, silver charms, horse-bedecked ties. Check out the other shops, too.
Dog owners will love the "Dog Show at the Horse Show" on Thursday night, featuring six classes of canine competition—from jumpers to tricks to a costume parade—at 7:30  in the Dixon Oval. Admission is free after 5 p.m. and entries are limited, so register online now to be part of the fun.
Junior riders are featured this first weekend—junior hunters and jumpers and future Devon stars, plus the colorful costumed Pony Hunt Teams. The even-younger set gets into the action as adorable three-to-five-year-olds parade in the Dixon Oval in the Lead Line, a Devon favorite at 1 p.m. Saturday.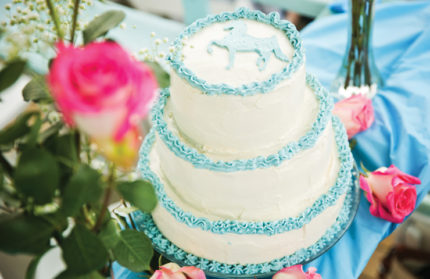 Since things are always more fun with good food, pencil in grazing under the sycamores in the Country Fair grounds. Devon fudge and lemon sticks are two classics, but you'll also find so much more. Crave quiche or tea sandwiches from the Tea Cart? Satisfying burgers and fries? Luscious lobster rolls, veggie taco wraps or a simple slice of pizza? And Mompops' special Devon pop. For adult refreshment, there are theme dinners, plus wine at the Pavilion and beer at Clydesdale Corner.
While you're there, stroll along the patio at Anniversary Square and see if you recognize any names on the bricks underfoot—loyal Devon fans who contributed to the Square's construction. Purchase your own brick to cement your Devon memories and become a permanent part of the tradition.
Grand Traditions, Carriages and Veterans
Be transported back to slower, gentler times on Sunday and find a spot on the route for the Pleasure Drive, where antique carriages grace modern roads through nearby neighborhoods. You'll see everything from simple carts with a single pony to grand four-in-hand teams pulling carriages of men in top hats and women in chic chapeaux.
Watch the period-perfect parade while enjoying your tasty tailgate picnic. Homeowners along the route have made parade watching a tradition and host front yard parties. Or get a front row seat at the special tailgate spot on Berkeley Road. There's a tailgate competition, so bring your silver and your best recipes!
A new exciting Devon Arena Eventing competition has been added to the Sunday night schedule. The course takes horse and rider through both the Gold Ring and Dixon Oval with over a dozen cross country and show jumps mixed in to add thrills and chills. Winner takes the $50,000 prize.
Memorial Day Monday's activities honor veterans, with free admission for vets, military members, first responders and their families. There's a Tribute to Heroes at 6:30 p.m.
Monday's daytime action in the ring includes fast-paced scurry driving and the return of the Shetland pony races. Plus more fun for the kids with clowns and face painting in the evening.
Family Day, Ladies Day and the Grand Prix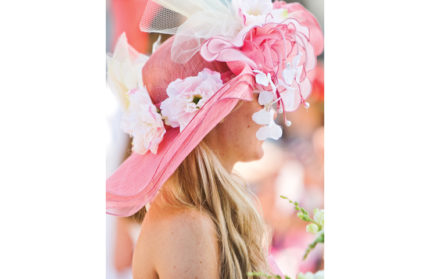 Family Day is back on Tuesday, in case you missed the fun last week—again with specials at the Midway, souvenirs and food. There's also a Back-Barn tour (3 to 6 p.m.) for those interested in a behind-the-scenes look at the magic that happens in the rings.
And Devon remembered the ladies. Wednesday is Ladies Day with free admission for ladies wearing elegant hats and special events and other goodies (tickets required for this)—champagne, tasty bites and goodie bags. And all the shops are open for this stylish crowd.
Ladies parade on the grounds with their millinery masterpieces, often towering several feet high! The sky and your imagination are the only limits for crafting a crafty topper in hopes of being judged best in this show. The hat contest begins at 10:30, as a panel of judges convenes to award prizes in several categories. See photos that follow.
Ladies Day is a fitting time to feature the popular Ladies Side Saddle event. Check out the period riding costumes, authentic down to the flask of sherry tucked into the saddle. Then marvel as fearless riders don't merely parade around the ring but clear the jumps. Jumps … while sitting sidesaddle!
The equestrian highlight of each year's show is Thursday night, the Sapphire Grand Prix, an exciting display of show jumping by top riders before one of the most knowledgeable and appreciative audiences in the country. Olympians, hopefuls and the best of our local talent jump astonishing heights on exquisite steeds for the $225,000 grand prize. A thrilling evening that's quintessentially Devon. Reservations for this event are a must.
You could win a prize, too. Thursday marks the drawing for Operation Goldmine—a chance to win a gold bangle bracelet with diamonds and sapphires. Then Friday's Devon Derby drawing gives the winner a two-year lease on a 2017 luxury vehicle and other great prizes. Purchase a "full boat"—two Operation Goldmine chances and five Devon Derby books—to maximize your chances to win.
Final Weekend
The last days of Devon provide future stars a chance to ride in the famed rings in several amateur owners events.
Closing day, Sunday, June 4, brings Devon to an end for this year with a final Family Day, filled with special activities for kids. The food vendors enjoy their last day of serving up their specialties and the almost 60 shops may just have a treasure you can't live without. It's your last chance to take home your personal souvenir to mark this year. And for gardeners, there's even a plant sale to find homes for the gorgeous greenery that's decorated the grounds over the eleven days of the show.
Then it's time to head home with your Devon memories.
IF YOU GO
What: The Devon Horse Show & Country Fair
Where: Devon Horse Show Grounds, Lancaster Ave., Devon
When: May 25–June 4; gates open at 8 a.m. and close around 10 p.m.
Information: DevonHorseShow.org and Facebook
---
The Art Gallery at Devon
Set between the Dixon Oval and the Midway, this gallery has earned a special place at the Devon Horse Show & Country Fair.
Amid non-stop action in the horse show rings and squeals of excitement at the midway, the Art Gallery at Devon offers a welcome spot for respite and reflection in the middle of the County Fair grounds. And there's wonderful art to enjoy as you step into the white clapboard cottage with walls filled from floor to ceiling with art.
You'll find paintings of horses and riders, at Devon and elsewhere, along with lush landscapes, still lifes and animal portraits—from farm animals to beloved dogs to foxes. More than 500 pieces are for sale at this juried exhibit that includes work from 60-some national and top regional artists.
Since opening in 1999, the Art Gallery has attracted artists, art lovers, collectors and browsers interested in art in a wide variety of mediums and price points. The gallery is one of the top-grossing contributors to the Bryn Mawr Hospital, beneficiary of the Country Fair.
Also on display is this year's official Devon Poster by Berwyn artist Genevieve Snyder, who had her work selected for the poster in 2013. Suitable for collecting, the poster (shown on this page) is previewed at the Art Gallery's opening night—called First Night.
Held on May 24th, the night before the official opening of the Horse Show, this fundraiser allows guest to enjoy cocktails and hors d'oeuvres, this year from Perfect Settings caterers, while mingling with the artists and other art lovers.
Come and enjoy the art and the First Night party!
Art Gallery at Devon is open from May 25 to June 4, 10 a.m. until closing of the Horse Show, around 10 p.m. Check their Facebook page for updates. 
Check out more of Brenda Carpenter's beautiful photography on her website.
back to top