Creating An Outdoor Oasis
Transform your backyard into your own private paradise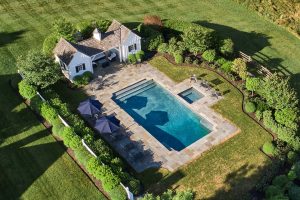 You've probably heard plenty about curb appeal, but how about backyard appeal? That should be a thing, right? Although some of us have destination vacations planned, many of us have developed a newfound appreciation for our homes. There's nothing like a good 'ol staycation!
And since you're unlikely to spend the entire summer away from home, think about how your backyard can be your own private oasis and your most convenient — and free —party venue.
Here are some ideas to transform your backyard into an outdoor oasis this summer, backed by the experts.
Gather 'Round
A cozy outdoor living space is the perfect starting point for creating your personal paradise. When designing this space, John McMahon of Dewson Construction recommends making it an extension of your home. "It used to be that once the house is done, then you start thinking about the outside," he explains. "Now, it's part of the whole design."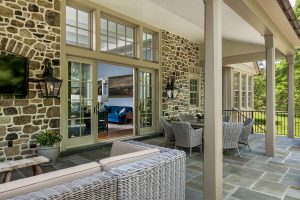 A great way to do this is to let the natural landscape of your property influence the layout. Ann Trethewey of E. C. Trethewey Building Contractors shared with us a home that did just that. "The living room space opens through sliding doors to a spacious covered outdoor space, featuring outdoor seating with a television and dining table for eating out," she says. "The home was built into a hill, so this outdoor space has steps leading down to another seating area.
As for what to include in your outdoor living space — even if you're not starting from scratch — a fire feature is a must-have. Humans have been gathering around fire since, well, forever, so it's no wonder this is such a backyard staple.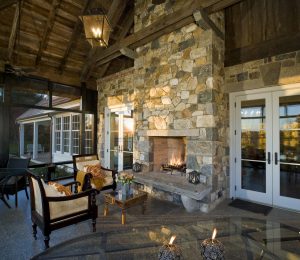 In addition to traditional fire pits, both built-in and portable, more homeowners are building outdoor fireplaces. A gorgeous masonry fireplace, whether wood-burning or gas, can give your space the coziness and feel of an indoor living room. And add value.
Upgrading your backyard should extend beyond the seating area. An outdoor kitchen is perfect for a barbecue with friends or a family brunch. "The grill is the centerpiece of an outdoor kitchen," McMahon tells us. But that isn't the only appliance to consider. Homeowners are adding ovens, refrigerators, sinks and even dishwashers to create a dream outdoor kitchen. And for those who enjoy a cold drink on a warm night, add a full outdoor bar!
When you start designing your outdoor living space, McMahon advises careful planning. "Lay everything out in the space and be aware of sizing and location." Ultimately, you want your outdoor living space to feel like a natural and well-designed extension of your home.
Make a Splash
When it comes to the perfect summer hangout, is there anything more classic than a swimming pool?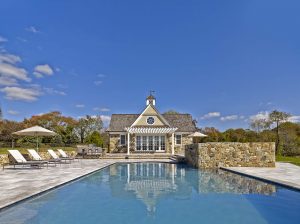 There's a reason pools are a quintessential backyard luxury and focal point. Who doesn't love to gather friends and family around the pool on a hot summer's day? Or, even better, just while away a sunny afternoon lounging poolside with a cool drink in hand … no company required.
If you're dreaming of an aquatic oasis, you may have to wait — many local pool companies are booked until 2023. Joe Perchetti of Ted's Pools tells us he's scheduled until the middle of next year. "We've found the pandemic-era craze for home improvements and pools hasn't calmed down yet," he says. But that doesn't mean you can't start planning now.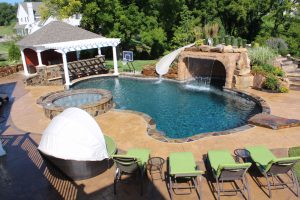 To start, spas never go out of style. Perchetti estimates about half the pools he builds have one. Elevated spas that sit above the pool are gaining popularity, and it's easy to see why. They look gorgeous — picture a waterfall cascading from the edge of the spa into the pool — and the raised walls double as seating by the pool.
Want to keep the party going all year long? Consider a winter spa. These have deeper piping, below the frostline, so you can soak in steamy water long after you closed the pool for the season.
Another must-have is a water feature such as a rocky waterfall to give the pools a more natural look. Also popular is a rock grotto, an alcove for pool-goers to swim into and imagine they're in an exotic paradise, not just your backyard paradise.
Thinking Green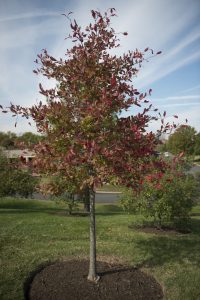 You might not have thought much about the trees on your property. But well-maintained trees can add value plus help with heating and cooling costs.
When deciding the kind of tree to plant, John Dwyer, board-certified master arborist with Shreiner Tree Care, says no two backyards are exactly alike. "The best course of action when planting a new tree is to consult an arborist about the best species for the growing environment," he explains. "Sunlight, soil characteristics, growing space and the homeowners' needs all influence the appropriate tree for a location."
Dwyer has a few suggestions. For those looking for low-maintenance options, white oak, blackgum and London plane tree are great choices for our region. Attractive Japanese maples and stewartia add ornamental value to your property. And for evergreen lovers, Dwyer says you can't go wrong with a Hinoki cypress or Norway spruce.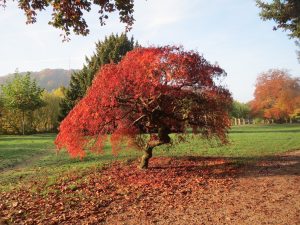 Not sure where to plant? Consider creating a natural border for your property. "Trees can make excellent green borders and can be used as a privacy screen around a pool or backyard," Dwyer says. He recommends using Norway spruce, green giant arborvitae or skip laurels for your green wall. Or go for a "mixed border" by planting several different species for "a wonderful way to introduce different colors and textures into a landscape screen and add to the aesthetic value of the screen," says Dwyer.
Outdoor Folly
If you're ready to take on a major project, consider adding a new structure to your property. Spruce up your garden with a gazebo or pergola, or go big with a pool house or garden room.
These structures "can be great stopping-off points in the landscape," explains Christopher Miller at John Milner Architects. "They often contribute most to our sense of wellbeing and delight."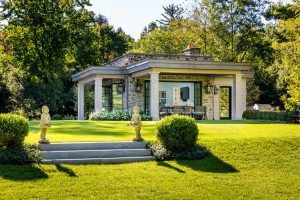 If you plan to build something on your property, consider consulting an architect. As Peter Zimmerman of Peter Zimmerman Architects puts it, "Architects look at designing outdoor spaces similarly to the way they look at designing indoor spaces — taking into account symmetry, balance proportion, scale and a sense of arrival. In essence, you're creating a series of outdoor rooms that need to be as thoughtfully put into the landscape as the siting of the house."
A pool house can be a great addition to your property — if you have a pool, of course. Beyond being a space to store pool supplies, it's another living space. Add a kitchen and bathroom and your pool house becomes another place for entertaining.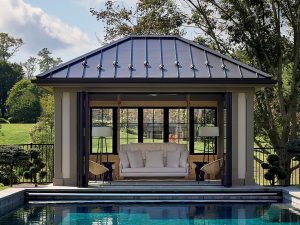 Zimmerman says pool houses can be designed to fit the style of your home as well as your personal needs. On a Gladwyne property, he designed a stone English Tudor pool house with a red terracotta roof. "It's a beautifully proportioned space surrounded by lush gardens," he says.
For a Bryn Mawr pool house, John Toates, of John Toates Architecture and Design, used tall windows and a large skylight to flood the space with natural light, and folding glass doors open to a covered outdoor dining space. "With our client's encouragement, we imagined what a pool house from the 1930s might have looked like and updated it with new and exciting features," says Toates.
If pool houses aren't your style, try a creative approach with a folly. As Miller explains, follies are "small buildings or site structures that are artistic, decorative or whimsical in nature that transcend the appearance of typical, functional outbuildings and site structures."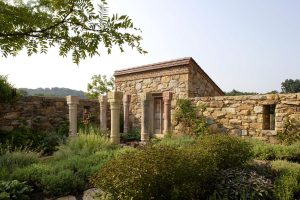 One of Miller's favorite projects was a children's cottage built for a couple's grandchildren. "For a new house project, we suggested we could create a children's cottage that defines the corner of their entry garden and ties into the garden wall," he says. "The reduced scale of the features and spaces relates to the occupants and provides a wonderful place for the grandchildren when they visit. We were partly inspired by salvaged small stone columns that came from an historic building in France."
For a different purpose, Zimmerman designed a meditation pavilion for a client. "It sits at the end of the pool and was created as a meditation space," he explains. "It's open and airy and creates a very peaceful place to contemplate." The pavilion accompanies a pool house complete with a seating area surrounding a fire pit.
Raise a Party Barn
Love hosting parties, but hate the hassles? Think about building a party barn!
Eli Zimmerman of King Construction explains the appeal of these rustic buildings. "I think about when you have people over. You can have them in your party barn, and you don't need to open your house and make that all messy. Afterwards, you can just leave the barn and go back in the house," he says. And clean up whenever.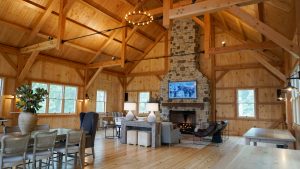 Consider adding a kitchen and bathroom to your barn. Then guests don't need to go into your house. And if you have the room, Zimmerman suggests building a two-story bank barn, with a living space on the ground floor and storage, bedrooms or an apartment above.
If you plan to build your dream barn, Zimmerman recommends choosing someone with experience constructing barns. "Timber frames are completely different than conventional ones," he explains.
As for renovating an existing barn versus building from scratch, Zimmerman works on both, "about 50-50." With renovations, he cautions you'll likely spend more time and money than you expect. "Renovations are possible," he explains, "but they might cost as much or more than a new barn."
That said, renovating a historic barn maintains the unique character of your property. And it may be easier to get permits for a renovation than a new structure.
One of Zimmerman's favorite projects is a two-story, timber frame barn in Paoli. Built into a hill, the open living space is upstairs, with three bedrooms and a bathroom downstairs. Glass doors open up to a patio downstairs, connecting the inside of the barn to the great outdoors.
Whether big or small, every backyard project has the potential to transform your home. Get creative and start imagining your perfect outdoor oasis!
back to top