Beagle Hill Farm
History meets luxury in Charlestown Township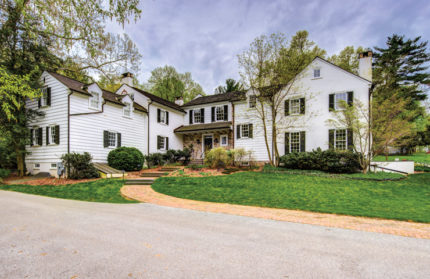 After 20-some years of choosing where to live based on work and family, the Berrys had a different goal in mind in 2005. "We realized we could do whatever we wanted. And we could even up-size," said Rick.
So, after looking at many properties, they found one at the end a long, single-lane, paved road in picturesque Charlestown Township. "We liked this property the best—the layout, the space, the room for our dogs," continued Rick.
"I grew up on a farm in Virginia, so a farm property was a good fit," added Carol. As an avid gardener, Carol also found plenty of space to cultivate that passion on the almost-15-acre property.
Beagle Hill Farm, as they named it, was ready to be transformed into their dream home.
Transformation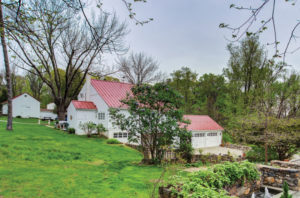 The charming 1820s Chester County farmhouse had been updated and expanded in the 1930s and 1950s, but the Berrys had grander plans in mind. They worked with Philadelphia architect Christopher Tantillo, whose vision was to "create an authentic quality to the architecture joining the 19th and 20th-century buildings together in a manner that kept the historic nature intact."
Maintaining the character of the place was essential to the Berrys' goals, too. "We wanted to integrate the old and new, to introduce modern features within a quaint farmhouse," said Rick. Carol continued, "To enjoy all the amenities in a home that was comfortable and luxurious, but not ostentatious."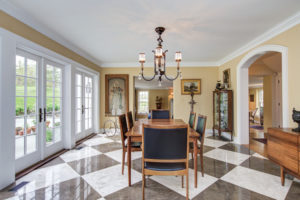 Throughout the thoughtfully renovated home, with its reconfigured interior, you'll see evidence of that balance everywhere. Walls of newly added windows have panes with the wavy patterns of historic glass. Old flooring was repurposed in new spaces where many floors boast radiant heat. New walls used native stone found on the property. And Okie-inspired features—archways and hardware accents on modern custom cabinets—show up in the details.
The process evolved over two and a half years—there's a 2008 datestone—and succeeded in creating the home the Berrys wanted. The various outbuildings on the grounds now appear unified, using design features such as red metal roofs. Updated landscaping and hardscaping created outdoor living spaces, one with a magnificent fountain and stone fireplace.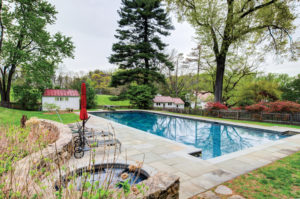 In addition to the main house, there's a three-stall barn with four-car garage, attached caretaker's cottage (where an artisan and his artist-wife live), plus a working forge that's provided some of the metalwork for the property. Improvements also extended to the large salt-water pool, pool house and potting shed.
Other improvements include an artificial turf tennis and sports court (for soccer, basketball) as well as a five-acre wildflower meadow (featuring monarda, coneflowers, black-eyed Susans) with mowed paths perfect for wandering and appreciating the countryside.
Main House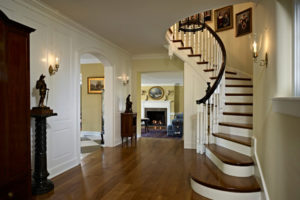 The graceful elliptical-shaped stairway in the stunning foyer is the perfect introduction to the 21st-century renovations. The entry space provides a glimpse of what's to come in terms of quality details and finishes throughout the home.
To the right is the spacious living room, with fireplace, chair rails, ceiling moldings and wide-board wood floors. Windows on three sides create a welcoming, sun-filled space with views to the bluestone patio garden and fountain. The adjacent dining room, with French doors to the expansive patio, has a dramatic black-and-white marble floor with radiant heat.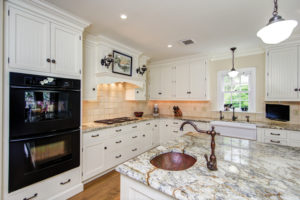 To the left of the foyer are the chef's kitchen—with top-of-the-line appliances, custom cabinets and huge granite island—that opens to the great room, with fireplace and built-ins, and a separate, sunny breakfast porch overlooking more gardens.
Another wing of the house is where you'll find a cozy den, with an original cooking fireplace, a billiards room with stone wall and leather floors, and original stairs to the second floor.
On that second floor are five bedrooms and a large laundry room. Cathedral ceilings, fireplace and many windows grace the updated master suite, complete with luxurious bath with Jacuzzi tub and steam room. In addition to two bedrooms (one en suite) there's a separate family suite, with two bedrooms and bath, perfect for visiting grandchildren, in-laws or an au pair's apartment.
In the newer of the two basements are a 1300-bottle wine cellar, with cork-floor tasting room, plus a home gym with mirrored walls and rubber floor. The final room is used as a potting room, complete with grow lights for sensitive plants and seedlings.
Gardens
The five-acre wildflower meadow, basement potting room, and potting shed by the pool house are just some of what makes this property a gardener's delight. More reasons include specimen trees, flowering trees, an apple orchard, camellias and five themed gardens: a more formal walled garden, less formal fenced garden, black and white garden, cutting garden and a well-protected vegetable garden.
This dream property only gets more beautiful as the seasons unfold.
---
This 14.8-acre farm in Charlestown Township includes an 1820s renovated main house (5 bedrooms, 4.1 baths); 3-stall barn with 4-car garage, attached caretaker's cottage; pool and poolhouse; gardens and more. For more about this conveniently located property in the Great Valley School District, contact Paul Czubryt (listing agent), Berkshire Hathaway Fox & Roach, 610-505-2195 (cell), 610-651-2700 (office), 610-888-3349 (Missy Schwartz); www.35CharwynnLane.com.
back to top