Ain't No (Indoor) Mountain High Enough
Indoor rock climbing gyms are transforming physical activity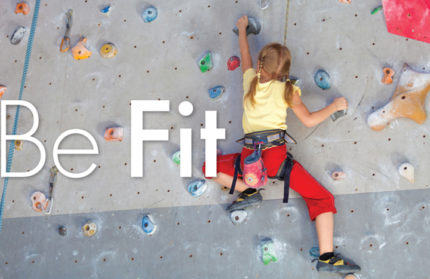 The act of climbing is synonymous with challenge. We climb our way to the top of careers, fight uphill battles in the face of adversity, and make mountains out of molehills when we overreact.
It makes sense that popular culture adopts lingo from the climbing world—mountains are seemingly indomitable obstacles, ancient and imposing. Overcoming a stone giant is no small feat. And while it's unrealistic to go outside and attempt to climb a mountain, the rise of indoor climbing gyms allows people a chance to push their physical limits in a safe, entertaining controlled environment.
Indoor rock climbing ranks among the most popular exercise trends. Although the sport itself has a long history—people have climbed mountains for centuries-—facilities capable of housing indoor rock walls began popping up in the early 2000s.
Climbing Business Journal, a publication dedicated to "cover[ing] the indoor climbing industry," includes over 600 gyms in the U.S. alone. The sport's recent ascent as the go-to form of non-traditional fitness even helped indoor climbing earn a place in the 2020 Olympics, a decision championed by International Olympic Committee President Thomas Bach due to climbing's popularity with a younger generation of athletes.
Learning The Ropes
Climbing requires a bit of preparation. Most indoor rock gyms include obstacles for three different types of climbing. Although the end goal is the same—reach the top of an artificial rock face —knowing the difference between each style is important prep.
First, there's top-rope climbing. This form of climbing is what most people think of when imagining the sport. Climbers strap into a harness that's connected to a rope running up the rock wall. At the highest point, the rope passes through an anchor and back down to a belayer—another person responsible for managing the rope's slack and preventing long falls.
Bouldering is a bit more free-form than top-rope climbing. When bouldering, climbers don't need a harness or rope. Instead, they'll work their way up smaller obstacles by sheer strength and precise movement. Because bouldering obstacles are usually smaller than traditional rock walls, many newcomers are encouraged to start with this format. While the prospect of scaling a rock wall without a harness might sound risky, bouldering routes have soft crash mats placed below the obstacle, dampening any falls with a soft cushion.
The third and most difficult version of climbing is lead climbing. This style requires participants to tie one end of their rope into a series of metal "quickdraws" affixed to the wall. While the quickdraws are built into the wall, manually moving from one to the next requires considerable practice, which means lead climbs are usually reserved for experienced climbers.
Dana Caracciolo, general manager of Downingtown Rock Gym, equates the difference between bouldering and roped climbing to types of running. "[Bouldering] is about short, powerful movement," she said, "and roped climbing is more endurance-based. It's like a sprint versus a marathon. You train for them differently."
Climbing in Chester County
Equipped with that understanding of what indoor climbing actually is, it's time to find a gym. According to Climbing Business Journal, the Philadelphia area is one of the sport's emerging hot spots on the East Coast.
The Chester County area has three major indoor climbing facilities. The Downingtown Rock Gym is a 10,000-square-foot location with options for lead climbing, bouldering and top-rope routes. The Philadelphia Rock Gym's Coatesville location is over 12,000 square feet, with more than 100 bouldering obstacles, and 100-plus routes for top rope and lead climbs. Radnor's Gravity Vault is a 16,000-square-foot location with hundreds of roped climbs and bouldering stations.
Both the Downingtown Rock Gym and Philadelphia Rock Gym offer climbs for participants of all skill levels, and most gyms offer classes and instruction aimed at kids.
Climbing, perhaps because of its challenging nature, fosters an active community. Grant Sobosinski, a 26-year-old climber from Downingtown, says he fell in love with the sport because of its unique blend of physicality and social atmosphere. "You get a great full-body workout without the monotony of a regular gym," said Sobosinski. "On top of that, it's just a great way to meet new people. What more could you want?"
Similarly, Caracciolo recommends newcomers try climbing with a friend or two. "It's not like a fitness facility where you go and jump on a treadmill, pop in your earbuds and don't talk to anyone," she said. "There's a great community of people to climb with, but if you come with a friend or two the first time, I think it's easy to cheer one another on and really get into it."
Despite the community aspect championed by Chester County's indoor rock gyms, Sobosinski notes that it takes courage to commit to trying a new sport. However, he notes that both Downingtown Rock Gym and Coatesville's Philadelphia Rock Gym—he's spent "hundreds of hours" climbing at both after a friend brought him to a gym—are exceptionally welcoming when it comes to new climbers.
"Don't be shy. Try it out," he said. "The gyms are affordable, and the staff will train you before you ever have to climb a wall. Rock climbing is an adventure that boosts your physical and mental health. Everyone should try it!"
Climbing Up to Drop Calories
As a workout, indoor climbing is a great alternative to regular gym equipment. It's an excellent way to build and tone both upper and lower-body muscle groups. A recent article in TIME suggests that high-intensity climbing can burn "eight to ten calories per minute." Like boxing and other emerging fitness trends, climbing straddles the line between strength and cardiovascular exercise, offering a stellar full body workout that rarely feels like genuine exercise.
Although the act of climbing is an athletic endeavor unto itself, Caracciolo notes that participants with backgrounds in full-bodied sports—like yoga and swimming—tend to take to climbing naturally.
With such notable health benefits, it's easy to see why climbing is so popular. And for fledgling climbers, there's never been a better time to start climbing.
Both Downingtown Rock Gym and Philadelphia Rock Gym offer introductory packages aimed towards newcomers, which range from $28–$50. Just show up at the gym in comfortable, athletic clothes (shorts are discouraged due to top-rope climbing's often constricting harnesses) and close-toed shoes.
According to Caracciolo, climbing shoes are available for rent at every facility in the area, but are never required. Climbing shoes are low-profile footwear without any treads on the soles. Wearing them is helpful for experienced and serious climbers, but not needed when you're just getting started.
With an introductory class, and a willingness to try something new, indoor rock gyms are a unique way of reaching new fitness heights. All you have to do is strap into a harness and start climbing.
And someday, with more experience, new gear and a guide, you may be ready to head for the great outdoors!
back to top