A Home at Isabella Furnace in Chester County
Live with history in northern Chester County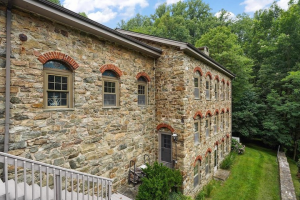 Few people dream of making a home surrounded by the remains of the last iron furnace built in Chester County—not even history buffs familiar with our area's rich past linked to the iron industry.
Yet several fascinating properties, once sites of former iron furnaces, dot the pastoral northern Chester-Berks County border: Warwick Furnace Farm, maker of cannons and cannonballs for the Revolutionary War; Hopewell Furnace, a National Historic Site and 848-acre park; Joanna Furnace, started by Samuel Potts with others and named after Potts' wife; and the Reading Furnace Historic District with a showcase mansion house restored by R. Brognard Okie.
Another property near Elverson—Isabella Furnace, named after Isabella Potts of the Potts iron-making family—was the last iron furnace to operate in Chester County, going "out of blast" in 1894. And it was the first place that Ted and Debby Flint visited when searching for a new home in 1985.
"Ted fell in love with it on the spot during the open house, as we looked out at the snow on the grounds," says Debby, remember her late husband. "He'd worked at Bethlehem Steel and felt a real connection to the place and its history."
And so the Flints created their dream home on a hill surrounded by 26 mostly wooded acres and the massive stone buildings from a bygone era. This property, on the National Register of Historic Places, is ready for its next owners.
Main House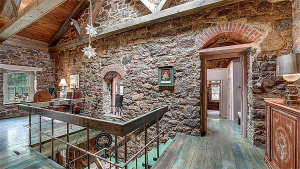 Previous owners had taken the first steps in 1972 in converting one of the industrial buildings into a residence. Towering stone walls provided the "good bones" for a unique structure that became a 5,700-square-foot house spanning three floors.
The Flints continued the process of sensitively restoring the historic buildings and creating a grand yet comfortable home—an open-space design, with soaring ceilings, wood beams and stunning stone walls. "Every window has a view of the grounds and, when open, lets in the sound of Perkins Run—a tributary of the East Branch of the Brandywine," says Flint.
A modern addition added amenities and joined the house to a charming landscaped courtyard. The addition was part of the "upside-down" design of the home with most living space—foyer, living and dining rooms, kitchen, primary suite, powder room, laundry room and workshop—all on the top level.
The second level includes much more open space, along with a large study and wet bar, while the ground level is where the home's second bedroom and two of the four full bathrooms are found.
This exquisitely restored and renovated two-bedroom, four-bathroom (plus two powder room) home has preserved the best of the historic character while adding modern amenities. You'll find air conditioning, upgraded utilities, security system, modern eat-in kitchen, four fireplaces, two-story open spaces, along with a pool, spa and gardens. Extra features include welcome details such as skylights, stained glass windows, cedar closets, soaking tub, wine storage and an electric vehicle charging station.
Other Buildings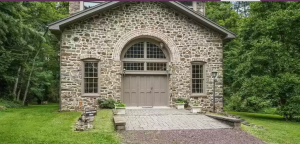 Along with the remains of the original massive stone furnace, several buildings—some fully, others partially restored—offer options for the next owners.
One of the largest stone buildings you're likely to see in our area is the charcoal storage building. At 100' x 50' and 60' tall, this massive stone building was once used by railroad cars to unload supplies. Railroad trestles and ties are still visible. It could easily house a large collection, of say, antique cars, or potentially be a stunning venue for events. It's already seen one family wedding.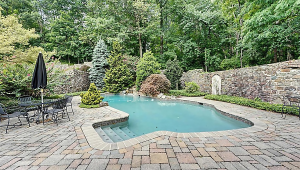 A second large building, the blast house, was rebuilt in 2007 and converted into a huge great room with fireplace and powder room on the main level, plus bedroom and bathroom above. The local historical society has held meetings and events in this large entertaining space, which also hosted another family wedding.
A multi-sided, charming (and much smaller) brick building resembling a folly has been partially restored, and now boasts a green terra cotta roof. This could easily become an office, studio, potting shed or other special refuge. And yet another historic building offers even more options for restoration and imagination.
The Future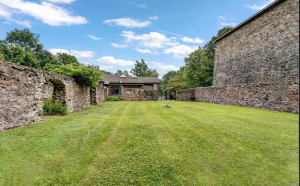 Debby Flint is ready to turn Isabella Furnace over to its next caretakers. After 35 years of enjoying large gatherings of friends and holidays with family—dinners included 30-some guests next to towering Christmas trees—as well as peaceful views from every window—of stone walls, deep woods, gardens—she's ready to move on.
The process of placing a portion of the property under conservation easement has begun with the help of Natural Lands. This will help preserve the special character of an area with adjacent tree farms and other conserved properties.
Now Debby has a new project: finding a new owner. "I'm looking for a new owner interested in preserving this piece of history."
For more information about this four-bedroom, four-full and two-half-bathroom home set on 26 partially wooded acres and offered by Berkshire Hathaway, Fox & Roach at $2.1 million, contact Mark Willcox, 610-347-2065 or 610-716-0592. TheCountryProperties.com.
back to top