A County Lines Country Christmas
Six Holly Jolly Hometown Celebrations You Can't Miss!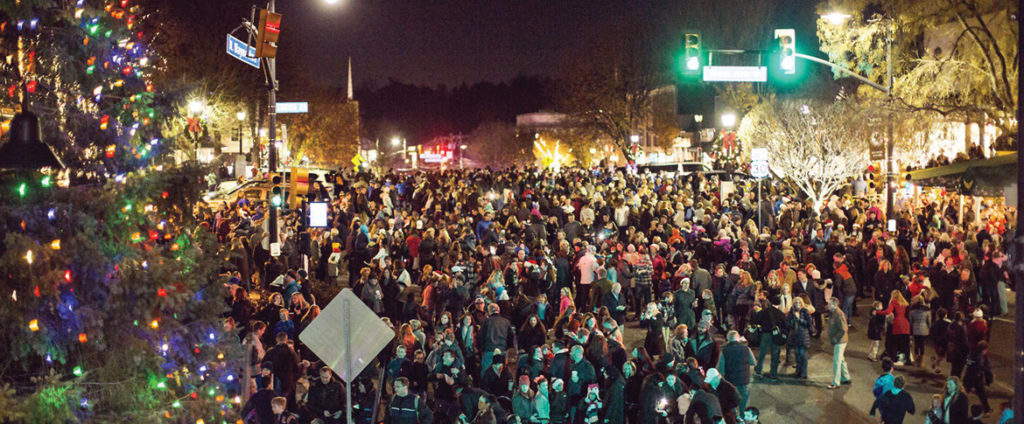 There's no place like home for the holidays! Our area towns are transforming into winter wonderlands, conjuring dreams of a White Christmas.
We recommend you stay close to home and join the local fun with everything from charming horse-drawn carriage rides to the dramatic burning of Phoenixville's iconic bird.
Dreaming of a Wayne Christmas
What's more fun than riding in a one-horse sleigh? Starting Friday, December 6th at 5:30 to 7:30 p.m., experience the magic of a horse-drawn carriage ride along South Wayne and Runnymede Avenues. Kids will love face-painting and ornament decorating at the Radnor Fire House from 5:30 to 7:15 p.m. Then listen to festive carolers from Valley Forge Military Academy as they sing Christmas classics.
The night's highlight is the Christmas Tree Lighting at the Wayne Train Station at 7:30 p.m. with retired 6ABC Action News Reporter Vernon Odom. Look for Santa on his new sleigh—the Radnor fire truck—as he rides down East Lancaster Avenue in style, bringing cheer to all. Old St. Nick is back on Saturday morning as he travels down Lancaster Avenue, accompanied by Radnor High School Marching Band & Cheerleaders and the Valley Forge Military Academy Field Music Group for the Santa Parade.
Warm up with hot chocolate and enjoy fresh baked cookies while visiting with Santa on the veranda of the Wayne Hotel after the parade. Santa will be around until 11:30 a.m. for photos.
Still looking for the perfect gift? Take advantage of Wayne's Holiday Shopping Weekend, December 14th and 15th, to find unique holiday presents from the 30-some local artisans and merchants. You're guaranteed to find something special in Wayne.
More at WayneChristmas.com and WayneArt.org.
A Classic Christmas on King
It's the most wonderful time of the year in Malvern as the town celebrates Christmas on King. Oh, hoe, the mistletoe, hung where you can see … and also the inspiration for Malvern's Christmas market! The Mistletoe Market has all sorts of goodies from local artisans and crafts-people. Visit this festive market and the King Street merchants to score the best presents for friends and family.
Santa didn't forget the big kids this year, providing adults with some liquid merriment and cheer with not one, but two, outdoor cocktail lounges. Continue the cheer by grabbing food truck fare, and then head over with the kids to visit old St. Nick!
More at Malvern-Festivals.com.
Light up Your Holiday Spirit in Phoenixville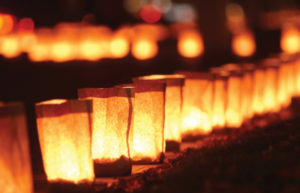 Santa's coming to Phoenixville! On December 6th, hear those sleigh bells jingle-jangle and watch Santa greet his fans. Visit the new Winter Wonderland Village at the Main & Bridge Street parking lot, starting at 5 p.m., with a tree lighting to follow.
From December 7th to the 22nd, Phoenixville weekends will be merry and bright with fun activities like visiting Santa at his adorable house on Bridge Street. Don't worry—he isn't relocating from the North Pole. And Wednesday, December 11th, is Luminaria Shopping Night, a beautiful time to visit shops as the streets are lined with holiday luminaria casting a winter glow on every corner.
If you're looking for unique holiday cheer, Phoenixville's annual Firebird Festival is the place for you! Mark December 7th on your calendar to watch the burning of the Phoenix this year. The community works together for months to construct the bird and plan the event for people from all over to enjoy. Come join the fun in Phoenixville!
For more visit PhoenixvilleFirst.org and FirebirdFestival.com.
(Mushroom) Cap Off the Year
Have yourself a merry little Kennett Square Christmas. The season starts Friday, November 29, with the Holiday Light Parade and Tree Lighting at 6 p.m., featuring marching bands, antique cars and Santa! Afterwords, pose with Santa and the Mrs. for pictures and drinks at Anchor Life + Fitness.
Cross shopping off your to-do list on Small Business Saturday, November 30th. Browse local art, pottery and specialty food items that Kennett shops offer, many with gift wrapping available. Enjoy the sounds of seasonal caroling from 2 to 5 p.m., with more on December 7th and 21st.
A free downtown shuttle will whisk you to Kennett's Holiday Village Market at the Creamery on December weekends—from the 7th to 15th—for more gifts from local and regional vendors. Food trucks, live music, ice sculptures and more entertainment!
Beginning November 22nd, Longwood Gardens has some of the prettiest sights to see this holiday season, and Kennett Square's shuttle makes travel easy. Gaze at Longwood's twinkling displays inspired by holiday ribbons and colorful confectionary to pine cones and snowflakes. Tickets available online.
While most New Year's Eves involve confetti and champagne, Kennett Square celebrates its own way. Ring in the New Year in a fungi, funky way with the Annual Mushroom Drop. At midnight, remember to snap a picture of the 8-foot, stainless steel icon.
More at HistoricKennettSquare.com.
Dashing through Downingtown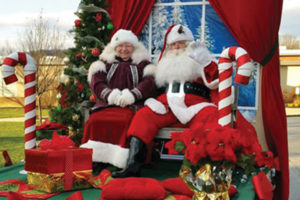 Downingtown is making spirits bright with holiday cheer. Festivities kick off with the Annual Christmas Tree Lighting on Saturday, November 30th, at 6 p.m. in the Log House Field. While you wait for Santa to arrive and light the tree, enjoy cookies, hot chocolate and a s'mores station and listen to the House Band from the School of Rock.
Bring family and friends to the Downingtown Good Neighbor Christmas Parade December 14th at 3 p.m., starting at Gable Avenue and on to Green Street. Get a glimpse of floats, Downingtown Blue & Gold and Bishop Shanahan marching bands, string bands, dancing and twirling groups. Stay to see Santa and Mrs. Claus arrive on a brand new float!
More at DTownChristmas.com.
It's a Swell Time in Media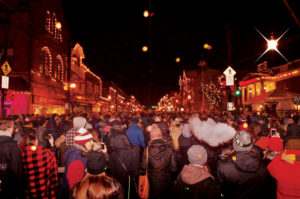 Bundle up in mittens and earmuffs to keep out the frosty air as you delight in Media's Holiday Stroll! The fun begins at 10 a.m. on Black Friday, November 29th. There's holiday music by The Brass Works, starting at 4 p.m. by the Town Tree outside the Armory (Trader Joe's) at Church and State Streets. Once the tree shines its twinkly glow, the Festival of Lights begins!
Bring your note to Santa because Media's Strolling Postman will patrol State Street during the Festival of Lights, from 5 p.m. to 8 p.m., to ensure the safe delivery of your most important letter of the season. Kids who include their name and address can expect a response straight from the North Pole, no postage required.
Media's 6th Annual Santa Fun Run & Walk adds to the festive spirit. Dress up in your favorite holiday garb—ugly sweater or a full Santa suit—as you sweat off those leftover turkey-day pounds. There's no admission fee, but do bring an unwrapped toy for CityTeam Ministries or canned goods for the Media Food Bank.
For more visit VisitMediaPA.com.
A Centreville Christmas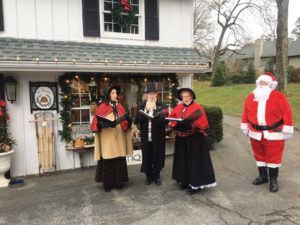 Centreville's Winter Stroll and Small Business Saturday, November 30, is a sweet spot for shopping. Bring your Christmas list and browse for unique finds in shops like Adorn Goods, Wild Thyme, Found Antiques & Decor and more!
Get your Centreville Passport and have it stamped six times from the dozen participating independently owned shops. You may just win a $200 gift certificate at the participating local business of your choice.
While you're there, find the perfect Christmas tree for your home, shop holiday greens in the Canby Grove Park, and grab baked goodies for the season. Food trucks and vendors will be there, so bring your family for some seasonal fun. Carolers and Santa himself will be there for the tree lighting at 4 p.m. Share the Centreville holiday spirit!
More at CentrevilleDE.info.
No matter where you shop or see Santa, have a Happy Holiday Season!
A Gift for Planet Earth—Buy a Local Fresh-Cut Tree
What's better than the scent of a live evergreen tree to get you in the holiday spirit? Whether it's a Douglas fir or white spruce, live tree sales support local farmers and the gigantic air purifiers that are Christmas tree farms. One tree-farm acre produces 10,000 pounds of oxygen or enough for 18 people to breathe for a year.
Make it a family tradition to give to the planet as you pick your holiday tree from one of our local tree farms and suppliers.
Clarks Christmas Tree Farm
235 Pusey Mill Rd., Cochranville
610-358-4933; ClarksChristmasTrees.com
CT Farm
175 S. Church St., Parkesberg
717-442-3132; CTFarmTrees.com
Old Stone Farm
688 Strickersville Rd., Landenberg
484-798-8413; OldStoneFarm.com
Heylmun's Pine Hill Tree Farm
1174 Sheep Hill Rd., Pottstown
610-323-8045; PineHillTreeFarm.com
Marsh Creek Tree Farm
301 Marsh Creek Rd., Elverson
610-996-TREE; MarshCreekTree.com
Schmidts' Tree Farm
1741 Flint Hill Rd., Landenburg
610-274-8560; SchmidtsTreeFarm.com
Tricolor Tree Farm
1480 Hall Rd., West Chester
610-269-1034; TricolorTree.com
Westlake Tree Farms LLC
2421 N. Hill Camp Rd., Pottstown
800-564-TREE; WestLakeTreeFarms.com
Wiggins Christmas Trees
1257 Westtown Thornton Rd.,
West Chester 610-344-7822
2176 Gap Newport Pk., Cochranville
WigginsChristmasTrees.com
Yeager's Farm & Market
1015 Pike Springs Rd., Phoenixville
610-935-8244; YeagersFarm.com
Concerned about that pesky spotted lanternfly hitching a ride on your ltree? A Penn State Extension educator advises live Christmas tree fans not  to worry.
While there's always a chance insects will come indoors with a tree—and the spotted lanternfly is no exception—horticulture educator Tanner Delvalle says "the risk is small and should not be a reason for anyone to forego having a live holiday tree. … Overall, the benefits of having a live tree outweigh any risks associated with pests."
And remember to stay green and recycle your tree. It makes great mulch.
Make plans to find your perfect tree!
* Check websites before you visit. Some farms haven't posted hours and activities for 2019 yet.
back to top