Your Guide to Local Wine
Even with current restrictions, you can drink locally and well this summer … and beyond.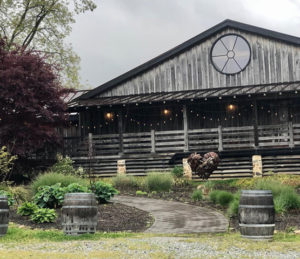 At first sip, wine-lovers discover the hidden winemaking talent of the Brandywine Valley. As fate would have it, the soil of southeastern Pennsylvania is similar to that found in France's Bordeaux region and California's Napa Valley. Our area has also been blessed with rich soil and the moderating influences of the Chesapeake Bay and Atlantic Ocean.
Thanks to this microclimate, local vineyards produce wines garnering local, national and international recognition. So no matter your preference, our area offers a wide array of taste profiles to suit any wine fan's palate and pairings.
As we head into summer, embrace local family-backed winemaking as a unique part of the spirit of Chester County.
Follow The Brandywine Wine Trail
Four of Chester County's wineries are on the Brandywine Wine Trail, all within a few miles of each other and near local sights like Longwood Gardens and the Brandywine Battlefield. Sounds like the makings of a fun day trip!
Black Walnut Winery, near Coatesville, usually holds wine tastings, private parties and special events. Closer to Phoenixville? Visit the Bridge Street tasting room and wine bar. Enjoy a bottle of white, red, port-style or seasonal wine delivered for free to your door. Call 610-857-5566, Tues.–Sat., 12 to 5, to order for delivery within 24 hours.
Enjoy outdoor seating and a relaxing ambience at Kreutz Creek Winery in West Grove as you sip red, white and dessert wines and local craft beers. Bring your lawn chairs and dogs to enjoy music and wine at one of their "Party in the Vineyard" events—scheduled for July 11th, 18th and 25th.
Spread over 100 rolling picturesque acres, Paradocx Vineyard in Landenberg is another spot where you can uncork and unwind. Producing 10 thousand cases of red, white, rosé and sweet wines, Paradocx sells at the winery and retailers—Booths Corner Farmers Market, Westtown Amish Market and Pinot Boutique in Old City Philly.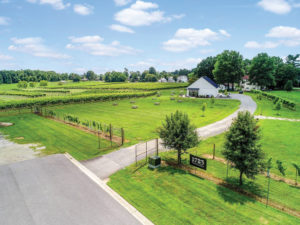 Honoring its history in its name, a portion of 1723 Vineyards was once owned by Benjamin Franklin. Today, the vineyard produces a classic and cutting-edge portfolio of reds, whites, sparkling and rosé wines. Reserve outdoor seating—parties of six, max—and experience what sustainable farming has to offer. Call 888-330-0526 for curbside pickup or carryout.
More Options
Consider creating your own tour of distinctive vineyards scattered throughout Chester County—explore your own personal wine trail.
Look out over Brandywine Creek as you enjoy a glass of Stargazer's Vineyard's wine. Their selection includes dry and semi-dry whites, reds and sparkling wines. New owners Michael Vorauer and Jason Kirkpatrick continue using sustainable and eco-conscious techniques from grape to bottle. Join Stargazers for a July 4th picnic or visit Fri., 2 to 7 and Sat. and Sun., 12 to 5.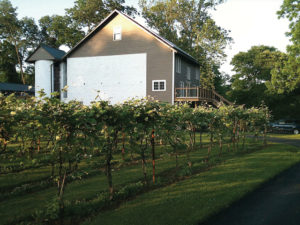 Overlooking French Creek, the 150-year-old German bank barn housing Stone Barn Cellars Winery is stocked with dry and sweet varieties of red and white wine and a beer selection. In addition to preserving their historic property, Stone Barn Cellars aims to preserve the environment by recycling their bottles and water. Arrange delivery at 484-985-8077, Tues.–Sat., 9 to 5.
Family-owned and operated, Va La Vineyards delivers top-rated small-batch wines, featuring field blends of both North Italian and French varieties, including dry table wines, from dry rosato to their popular orange wine. View their website's live barrel-aging cam to watch the action (or lack of action). Sample something special with takeout service at 610-268-2702, every day, 12:01 p.m. to 4:59 p.m.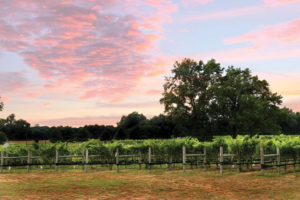 Harvest Ridge Winery's Pennsylvania tasting room rests on the Mason-Dixon Line in Toughkenamon and features Rebel Seed cider, sangrias, sweet wines, whites and reds. At outdoor seating, you can enjoy a bottle, flight or glass, Tues.–Thurs. and Sun., 12 to 5, or Fri. and Sat., 12 to 8.
Honoring Europe's premium dry wine tradition, winemakers at Elverson's J. Maki Winery expertly craft and handpick only the best grapes for their red and white wines along with award-winning champagne and a variety of ice wines, from cabernet to chardonnay to pinot noir. Order on the website or stop by Thurs., Fri., Sun., and Mon. 12:30 to 4:30 and Sat., 11 to 5.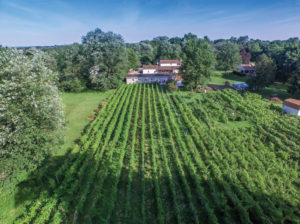 "Taste the fruit of the gods on your lips," says West Hanover Winery. As the oldest winery in Dauphin County, West Hanover has over 45 years of experience, producing a variety of wines, including dessert, specialty and fruit wines. The winery, which also lets you personalize the label, hosts outdoor events, summer festivals and parties. Sip at their Pottstown location or call 610-469-9540 for curbside pickup.
Neighboring Wineries
Delaware County has its share of wineries, some featuring award-winning labels along with yoga and wine events.
The Inn at Grace Winery's 35 acres are a tranquil haven for wine lovers. Sip as you enjoy the sunset and the stars, then head for your room for the weekend at this charming winery and historic inn. Or enjoy the Glen Mills property and a glass of wine, Fri. 5 to 8, Sat. and Sun. 12 to 6.
At Byrsa Winery, you're offered a variety of wines, ciders, beers and Western Mediterranean food at their Glen Mills and Kennett locations. Fill your glass with rosé, pinot noir, red blend, white blend, cabernet sauvignon or syrah. Order online or call 610-558-4700 for curbside pickup, takeout and delivery Fri. and Sat. 3 to 8.
Chaddsford Winery will likely soon return to hosting lively on-site events, but currently has virtual events on social media to entertain you. Featured wines include sauvignon blanc, sangria, vignoles and The Red Standard. Contactless drive-though orders at the winery, or call 610-388-6221 or go online for curbside pickup, Fri.–Sun., noon to 5.
Since 2004, Penns Woods Winery has been producing a variety of reds, whites and rosé, with special acclaim for their cabernet franc, chambourcin and ameritage. The intimate space at the winery hosts wine tastings, special celebrations and events, including "Yoga in the Vineyard" sessions—July 12, 26 and August 9th at 10 a.m.—and "Red, White & BBQ" on July 4th. Call 610-459-0808 for curbside pickup, local delivery, shipping and reservations (for six max) for wine tastings.
Setting the scene in a rustic Italian-style villa, Patone Cellars in Landenberg specializes in traditional, European-style wines, paired with focaccia and pasta options now available for takeout. Choose chardonnay, merlot, rosato, sangiovese and reserve cabernet sauvignon. Call 302-545-7388 for curbside pickup.
Galer Estate Vineyard and Winery in Kennett Square mixes Old World and New World processes to produce wines reflecting our Brandywine Valley terroir. The winery earned over 100 awards for their wines, including a silver for their 2017 Cabernet Franc in the 2020 San Francisco Chronicle Wine Competition. Outdoor tasting reservations available (for 6 max). Call 484-899-8013 or order online for gate-side pickup Tues.–Fri., 4 to 6; Sat.–Sun. 12 to 6, or by appointment.
Wine fans, look no further than your own backyard for a sip of something special. This summer, enjoy your wine from grapes grown in local soil.
Cheers!
The Spirit(s) of Chester County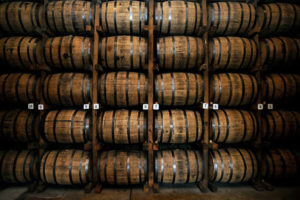 Sipping spirits is another way to raise yours! Take a shot at these local distilleries. And tell them we sent you.
Bluebird Distillery
This grain-to-glass distillery produces four grain bourbon, sugar cane rum, American wheat whisky and agave blanco salvaje. Open Mon.—Fri., 2 to 7; Sat. and Sun., 12 to 7, or order for delivery. 100 Bridge St., Phoenixville. 610-933-7827; BluebirdDistilling.com.
Manatawny Still Works
An upcycled new distillery space that honors its historical roots, with a tasting room and bottling workshops. Now offering pre-batched cocktails alongside their regular offerings. Available for pickup on Tues., Thur., Sat., 12 to 5. Free delivery on orders over $100. 320 Circle of Progress Dr. #104, Pottstown. 484 624-8271; ManatawnyStillWorks.com.
Pennsylvania Distilling Company
Featuring spirits made from scratch from local ingredients including small batch vodka, Frontier Explorer's gold rum and artisan dry gin. Open for bottle sales Mon.—Fri., 12 to 6; Sat. 2 to 6. Curbside pickup. 50 Three Tun Rd. #3, Malvern. 484-568-4920; PennDistilling.com.
Revivalists Spirits at Brandywine Branch Distillers
Enjoy crafted barrel-aged bourbons and award-winning infused craft gins. Free delivery of two bottles or more in PA. 350 Warwick Rd., Elverson. 610-901-3668; RevivalistSpirits.com.
West Branch Distilling Company
This distillery's operations are deeply rooted in Chester County—their logo features a berry native to the banks of the Brandywine River. Their handcrafted vodka is sold in Kennett Square bistros and local eateries. Shop online and view their complete list of retailers. 227 Birch St., B-Unit, Kennett Square. 484-734-0162; WestBranchDistilling.com.
back to top