West Chester BID's Executive Director Talks About His Book
Four score and seven years ago … well-known words. So well-known you probably don't need the next sentence to identify the source.
So much is known about our 16th president, but do you know his connection to our area? Though never stepping foot in West Chester himself, Abraham Lincoln does have important ties to the town.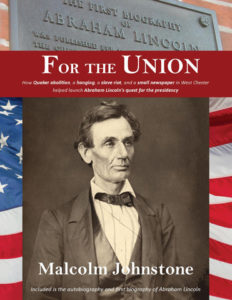 Malcolm Johnstone's first book, For The Union, tells the story of Lincoln's presidential campaign and the role West Chester played in helping him become the Republican presidential nominee. The book also examines how West Chester developed an enduring culture of equal rights and political influence.
The heart of Johnstone's book includes a reprinting of the first published biography of Lincoln, published in 1860 in the heart of West Chester, in what's now known as the Lincoln Building. The biography was initially published in a local newspaper, The Chester County Times, as an editorial piece, about 3,000 words long.
Stories of community leaders and their roles in propelling Lincoln to the presidency give texture to the history in For The Union. There are conversations between Lincoln and former Chester Countians, like Jesse Fell, who had an office at the Lincoln Building and gathered autobiographical material for the biography.
Even now, our community commemorates Lincoln. Each year before the Christmas Parade, the Gettysburg Address is read from the balcony of the Lincoln Building as part of a competition among school children dressed as the former president. In addition, the Chester County Historical Society preserves a collection of Lincoln artifacts periodically on display. And during weekday business hours visitors can explore the writings of Lincoln at the Lincoln Building (28 W. Market St.), now home to the Chester County Community Foundation and the tea house, The Lincoln Room.
"His legacy certainly lives here," says Johnstone. And this book is another step in preserving that legacy.
We'll tip our hat—our stovepipe hat—to that!
Q&A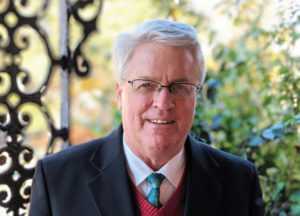 We recently chatted with Malcolm Johnstone to learn a little more about his book and his inspiration behind writing it …
Is this the first book you've written?
I've worked with authors and publishers on books about West Chester, but For The Union is the first book I've authored. It's a collaborative effort with a great team from the Chester County Community Foundation, like Karen Simmons, Jamison Ludgate and Cierra Eckenrode. And Victoria Flickinger has been an outstanding editor. It's been an exciting project.
What inspired you to write this book?
There are only two copies left in the world of the original biography of Abraham Lincoln. One is at the Chester County Historical Society—but it was misplaced in the 1990s. Later, when it turned up again, I was part of a small group of enthusiasts able to view it. When I saw it, I thought, 'We're seeing an important part of our history. The story of how this happened needs to be told.'
When can Lincoln fans buy this book?
There are two editions planned for the book. In February, a deluxe edition is being offered as part of a fundraiser for the Chester County Community Foundation. Then in April, a paperback edition will be offered. Readers can find specific information at DowntownWestChester.com.
Learn more about Malcolm Johnstone and For the Union: How Quaker abolition, a hanging, a slave riot, and a small newspaper in West Chester helped launch Abraham Lincoln's quest for the presidency at the website: DowntownWestChester.com.
back to top