Welcome to Dressage at Devon!
This world-class competition is back, September 28–October 3
Yes, Dressage at Devon is back for 2021! Like the rest of the world, the equestrian industry faced massive disruptions from the pandemic. Shows were cancelled and the fallout for vendors, sponsors, competitors and spectators was enormous.
But as the world is getting back to a new normal, so too is the equine world and its world-class competitions. Once again Dressage at Devon will be held at the Devon Horse Show grounds, as it has been for over 40 years, this year running from September 28 to October 3.
Open to the public all six days, the show features some of the world's top horses and riders. Plus, there's the Fall Festival to enjoy, with vendors whose products—from clothing to jewelry and art—appeal to equestrians and non-equestrians alike.
And don't forget to bring the family on Sunday, when top junior riders compete and younger children can join Dressage Explorers, featuring a Make n' Take stick horse competition in the Dixon Oval.If you're not (yet) in the dressage world, and didn't learn enough during the brief Olympics coverage, here's a quick primer to help you understand and enjoy the Devon show.
What is Dressage, Anyway?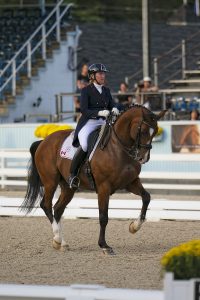 Often known as horse ballet, dressage is an Olympic equestrian sport that requires training and experience for both horse and rider. At dressage shows, riders compete individually, performing prescribed tests or routines comprised of specific maneuvers.
As defined by the International Equestrian Federation, dressage is "the highest expression of horse training," where "horse and rider are expected to perform from memory a series of predetermined movements." At the upper levels, difficult movements like "piaffe" (a slow elevated trot without forward motion), "passage" (similar to a piaffe but with forward motion), and "pirouette" (like the ballet movement of a turn, with the horse rotating yet keeping its back hooves in place) are integral parts of the test.
Maybe Some History Will Help …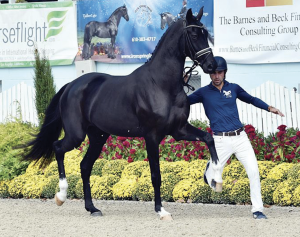 This may seem surprising, but dressage actually dates back to classical Greek horsemanship. Ancient military trained their horses to perform movements intended to evade or attack the enemy while in battle. These specialized movements were developed to provide a strategic advantage in battle. The earliest work on training horses was written by Xenophon, a Greek military commander born around 430 BC.
Later, in the late 1600s, dressage reemerged at the court of Louis XIII of France and his son, 'Sun King' Louis XIV. These monarchs built the palaces of Versailles into world-renowned splendor, including the Ecole de Versailles, Europe's finest equestrian center.
According to the USDF (United States Dressage Federation) Guide to Dressage, for entertainment, "Louis XIV held quadrilles (choreographed rides featuring four horses and riders, still popular today), dressage extravaganzas know as carousels (hence the name of the modern merry-go-round), staged mock battles and other over-the-top equestrian amusements."
Over the centuries, these teachings formed the basis of dressage as the equestrian discipline we know today.
You'll find that a variety of breeds are trained in dressage, combining the athleticism of the horse and the rider to create breathtaking performances.
The Breed Show
From the adorable Haflingers to the impressive Hanoverians, horses and ponies from breeders representing barns from around the country compete in the world's largest open breed show at Devon. Two of the largest breeders of dressage horses are local—keep an eye out for horses from Iron Spring Farm in Coatesville and Hilltop Farm in Colora, MD.
The term Open Breed Show (held Sept. 28–30) indicates that the show is open to all breeds and that breeds compete against each other. Also, at the breed show you'll see babies from mischievous three-month-olds (with their dam/mother) to four- and five-year-olds showing off their top-of-the-line breeding.
Individual Breed Classes are held on September 28, when horses of specific breeds compete against each other for the best in breed.
The Performance Division
(Sept. 30–Oct. 3)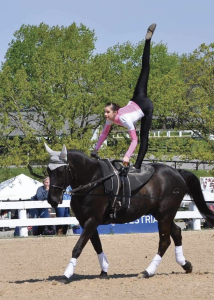 In general, dressage levels represent the dressage training progression developed for the purpose of competition. Starting with the Introductory Levels (which include basic gaits such as walk, trot and canter in specified patterns) and moving up through Grand Prix levels (the peak of performance), each has proscribed movements that get more difficult as the levels progress.
Dressage at Devon starts with the relatively high 4th performance level and culminates on Friday night with Grand Prix qualifiers. Top scorers enter the Dixon Oval again on Saturday night for the Grand Prix Special and Freestyle.
In between are increasingly difficult levels that represent years of training for both horse and rider. In dressage, perhaps more so than any other equestrian discipline, it's the partnership between horse and rider that can make a performance truly special.
Horses at the Grand Prix level signify the highest degree of dressage training in the world. Horses at this level are expected to execute every movement with the utmost self-carriage, relaxation, elevation and suppleness.
So, while all days of Dressage at Devon are special, Saturday night is a must-see. The Grand Prix Freestyle is a favorite, in part because it features choreographed performances under the lights, ridden to music selected by the rider, often in conjunction with a professional freestyle choreographer. Get a preview by watching videos on YouTube showing this ballet on a horse (search dressage freestyle).
A Well-Dressed Rider and Horse
Equestrian sports are well-known for being steeped in tradition. That's why, except for the now-required safety helmet, each rider's attire is basically the same as others and unchanged over the years (see photo).
That said, a little bit of bling is now accepted by most, but not all, judges.
For a show to be sanctioned by the United States Equestrian Federation and the United States Dressage Federation, the rules for attire are strict. For instance, almost no jewelry is allowed, but for earrings and a stock pin worn on a stock tie. (A stock tie, or stock, is a tie worn around the neck of equestrians dressed formally for a hunt or certain competitive events and is mandated attire for use in dressage.)
Light colored breeches, black tall riding boots, a shadbelly (short waistcoats in front with two long tails in the back) and gloves—all in specified standard colors (dark blue and black). And that's just the rider!
Similar and even more detailed regulations exist for the horse's tack—saddle, bridle and other accouterments. The rules are, in large part, for the safety and comfort of the horse.
Sufficed to say, the USEF Dressage Attire and Equipment is 24 pages long.
Dressage Explorer & Family Fun Day (Oct. 3)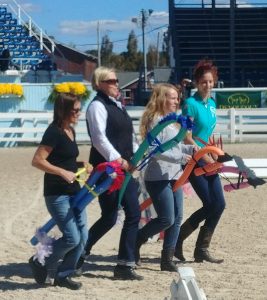 Dressage at Devon remembers the kids with lots of fun on Sunday, organized around a newish program, Dressage Explorers.
This special day started with one great idea—letting kids make their own stick horses, then ride them down the center line in the Dixon Oval. That first year of Explorers, a few adults and two pro riders joined the kids as they practiced their dressage movements—announced and judged by dressage professional.
This year kids of all ages are invited to make, decorate and ride their own stick horse, with supplies provided. Afterwards, Explorers can take their stick horse home with them.
Since that first year the Dressage Explorers program has grown every year—both in terms of participants and activities.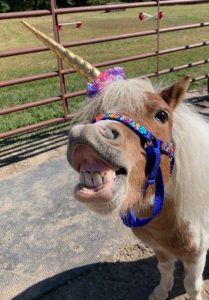 For more kid-friendly fun, children can have a tea party with the Unicorn and the Princess, enjoy a selfie scavenger hunt (with prizes), have a meet-and-greet with the Silver Moon Vaulters (both equine and human).
Families can watch the future stars of dressage as younger riders compete in classes that show off their ability and creativity including the FEI Pony Freestyle, the Children's Individual Test and the FEI Young Rider Freestyle.
Plus, equestrians never forget their canine friends. Explorers can meet the adoptable dogs from the All4Paws Rescue and participate in the Blessing of the Animals.
Sign up information for these activities is at the front gate.
Dressage at Devon
Steeped in history and tradition, the show is one of the premier equestrian events in the world, and it happens in our own backyard. Get a glimpse of future equestrian stars at the breed show, and enjoy the beauty and grace of equine performances.
Even if you're not yet a dressage devotee, come to Dressage at Devon to enjoy the great shopping, great food, kids fun on Sunday, and much more.
Vaulting
For more than 2,000 years, people have been performing equestrian vaulting or dance-like movements on or over the backs of moving horses. Some trace the origins of vaulting to the ancient Roman games, where acrobats demonstrated their skills on cantering horses. Others believe vaulting originated in ancient Crete where bull-leaping was prevalent.
Vaulters compete individually, in pairs (known as Pas De Deux), and as a team, having up to three vaulters on the horse at one time. Vaulting teaches balance, strength, coordination, and teamwork.
This year, Dressage at Devon will host the Silver Moon Vaulters from Suffolk, Virginia. Head coach, Cindy Rohrer and assistant coach Lucy Rohrer will be on the grounds Friday, Saturday and Sunday to talk about vaulting and to introduce their human and equine team members.
Mark your calendar for the vaulting exhibitions during the breaks on Friday, Saturday and Sunday.
If You Go:
When: September 28 – October 3, 2021
Where: Devon Horse Show Grounds, 23 Dorset Rd., Devon
Highlights: Tuesday–Thursday features the world's largest open breed show.
Thursday–Sunday, see performance division featuring upper level dressage.
Sunday, Dressage Explorers for the kids.
Everyday, enjoy great boutique shopping and great food.
Tickets: Check website. Reserved seating, group sales info on the website
Information: DressageatDevon.org
back to top