We Love Local: New Places to Love
Greystone Oyster Bar
7 N. Church St., West Chester
610-241-3369 / GreyStoneOysterBarWC.com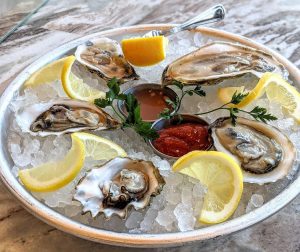 Transport yourself to the Northern Italian Coast with a visit to the highly anticipated Greystone Oyster Bar (from the Mercato folks), the newest local option for fresh seafood. Enjoy the hip ambiance as you browse the menu for all things seafood, including, you guessed it, fresh oysters. With oysters in the name, we suggest you try them raw, fried in Greystone lager batter, or grilled with garlic butter and Parmigiano. Other tempting dishes: New England style lobster roll with hand-cut fries or Greystone gnocchi in vodka sauce. Grab a signature drink at the black-and-white marble bar—Church St. Paloma, Greystone Cosmo or craft beer brewed onsite. Cheers to this welcome addition!
Sedona Taphouse
44 W. Gay St., Ste. 1, West Chester
610-738-5104 / SedonaTaphouse.com
West Chester no longer has to envy Phoenixville, where its branch of Sedona Taphouse quickly became a local fave. This upscale, casual spot serves up 50 craft beers on draft and in bottles along with a broad menu, including steaks, seafood, pasta, sandwiches and salads. Try Desert Fire Jalapeños before digging into Devil's Pass pasta or Acapulco fish tacos. Save room for the huge desserts, like salted caramel cheesecake. This location is the second in PA and the 15th throughout the East. We also love the patio seating, weather permitting, on the 44 West mixed-use plaza at Gay and Church Streets, where local musicians play in the evenings.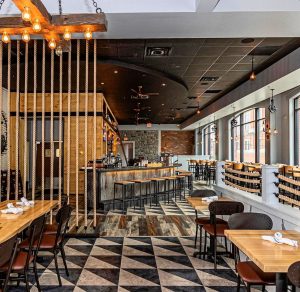 Stove & Tap
158 W. Gay St., West Chester
484-999-0922 / StoveAndTap.com
(Locations in Malvern and Landsdale)
Happily West Chester got a branch of the popular Stove & Tap local restaurant group (the owners also have a stake in Al Pastor and DePaul's Table, along with S&Ts in Malvern and Lansdale). Sample their self-named Tappy Hour, Taco Tuesday, Kids Eat Free Wednesday and Bottomless Brunch or choose from their menu of shareables, handhelds, flatbreads and large plates. Pork belly bao buns, according to one satisfied diner, are "to die for." Smoked chicken Cobb salad, brisket dip, coconut curry mussels, DanDan noodles, plus 20 beers on tap will keep you coming back.
Peter Clark Kitchen
698 E. Market St., West Chester
610-783-3004 / PeterClarkKitchen.com
Our introduction to Peter Clark Kitchen was at a food competition where we discovered Chef Erin Morrison's scrumptious crab cakes with remoulade and decadent chocolate-covered bacon (don't knock it 'til you've tried it). Influenced by watching his father cook, Morrison opened the eatery during the pandemic, creating the perfect place to put together dinner on the fly. Pick up gourmet versions of your favorite comfort foods: lobster mac and cheese, zucchini Parmesan, meatballs, garlic-smashed potatoes or take a taste adventure with sophisticated lemongrass blueberry lemonade. We've seen 17 types of frozen soups, including vegetarian and vegan, to take home for warm, healthy, tasty meals. We love a break from cooking, so we'll be back.
Wrong Crowd Beer Company
342 Hannum Ave., West Chester
484-983-3003 / WrongCrowdBeer.com.
With a name like that, you've got to check out West Chester's first microbrewery with on-site brewing and canning. There's an obvious sense of humor here: the website responds "Heck, yes I am" when you answer you're 21, and the beer names bring a smile—PilsNerd, Dan Good Beer. While owner/brewers Dan Shaw and Bob Bagonis embrace their outsider persona, they brewed up a love letter to West Chester in their signature lager … The Borough. Stop by on Fridays for new releases and order from their beer-food pyramid of nachos, wings and pizzas. A warm, friendly addition to the west side of town.
Artillery Brewing
The Barracks, 333 Granite Alley, West Chester
484-999-5976 / ArtilleryBrewing.com
A second microbrewery arrived in the Borough's west end, this one with a clear theme—join the revolution. Starting as a nano-brewery near the site of the Battle of the Brandywine, Artillery Brewing carried the battle theme to its new location, the Barracks, and brews—Paoli Massacre (English bitters), The Traitor (English pale ale), Fog of War (hazy NE pale ale, of course). Owners Paul Zippel and Mike Loveless brew a wide variety of styles from Bohemian lagers to light ales and the inescapable IPAs, to Belgian and German styles. There's pub grub (pretzels, pizzas, handhelds) plus cocktails and a house sarsaparilla to sample and love.
Paloma Restaurant Market
101 Bridge St., Phoenixville
484-302-7830 / ILovePalomas.com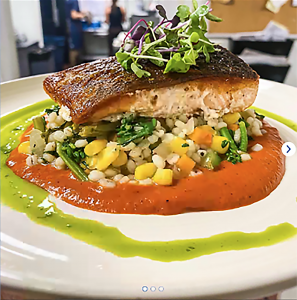 A hop, skip and jump away from Phoenixville's luxury apartments, one of the newest restaurants in the oldest building in town is dishing up international flavors. Swing open the wrought iron gate, walk past the stone patio glowing with globe lights, and enter Paloma. Executive Chef Chris Siropaides and Executive Sous-Chef Chris Riordan are satisfying sophisticated palates with Asian-influenced duck breast with vegetables, thick udon noodles and hoisin broth; cavatelli Bolognese (pasta with homemade veal ragout); French onion soup and warm baguettes that get raves. For dessert, Tahitian vanilla crème brûlée or butterscotch budino. Remember your furry friend at outdoor dinners with Paloma's pup-cuterie. Another reason to visit Phoenixville.
Bella Tratorria
366 Ridge Rd., Spring City
610-495-5272 / BellaTrattoriaSC.com
This remodeled former pizzeria (Bella Pizzeria) in Spring City, now under new management by a chef with stellar credentials (Jennifer Basanavage of Savona, Lacroix), is attracting attention with its seasonal Italian + craft pizza menu. It's not often the bread plate gets shoutouts, but this one with special dipping oils is a star, along with the octopus and grilled artichoke starters. Lemon thyme gnocchi, carrot ravioli, Barolo glazed beef cheeks show this is well beyond a mere pizza joint—though the bacon and leek pizza proves even that part of the menu is elevated. Worth a trip.
La Sponda
20 E. Lancaster Ave., Downingtown
484-593-4488 / LaSponda.com
We're all rooting for the latest restaurant in the best location in Downingtown—in the restored stone mill with an expansive patio overlooking the East Branch of the Brandywine Creek, a spot that escaped the ravages of Hurricane Ida last year. Firecreek, Stella Rossa, Barra Rossa, Milito's and an abandoned Enoteca Tredici plan preceded La Sponda (meaning water's edge). The concept is authentic Italian + wine bar, featuring seafood and homemade pasta. The menu ranges from on-trend Mason jar carbonara to classic chicken and veal Parmesan, with plenty of seafood—whole branzino, cioppino, seafood risotto. Try the long Happy Hour, 3 to 6 p.m., and toast local restaurants.
Santucci's Original Square Pizza
379 W. Uwchlan Ave., Downingtown
610-664-8100 / SantuccisPizza.com/Santuccis-Downingtown
A square pizza? With the sauce on top? Mmmm, it's good! Especially the crust. Dating back to 1959, the original restaurant in Northeast Philly on "O" Street was founded by Joseph and Philomena. Three generations later, the Santucci family, using the same recipes, has expanded to the suburbs and Jersey shore. Santucci's opened in Downingtown last year, producing pies that are just as good as the original. Check out the menu—short rib gravy fries, stromboli, flatbreads, fries, wings will also keep you coming back to try all the signature items. Plus there's a bake-at-home option.
Iron Hill Taphouse
260 Eagleview Blvd., Exton
484-874-2897 / IronHillBrewery.com/Exton-PA
(Many Iron Hill Brewery locations in PA and DE)
Marking its 25th year with 19th locations in five states, Iron Hill opened a new concept back in January 2021—a taphouse and production brewery in a 45,000-square-foot space in Exton. The fast-casual spot in an industrial setting (concrete floors, gleaming brew tanks) has counter orders from the still extensive menu—small plates, big bowls, burgers, pizzas, handhelds. Sample mini-corndogs, upside-down pizza, fried garlic bologna sandwich alongside their award-winning beers, plus rotating options on tap. This large-scale production facility pumps out 20,000 barrels per year (20 times what a brewpub can do). See what the next phase for this beloved brewer/restaurant chain delivers.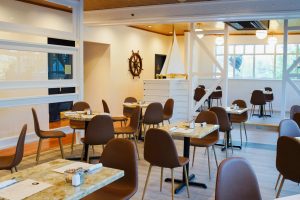 Ship Inn Seafood & Steak
693 E. Lincoln Hwy., Exton
610-363-7200 / ShipInn.net
Did any local foodies miss the episode of Robert Irving's "Restaurant Impossible: Sinking Ship Inn"? Yes, the popular Food Network show came to the historic Exton restaurant—founded in 1796 as the Ship Inn—for a 48-hour makeover of the interior, menu and management. The old-fashioned space was modernized and made lighter and brighter. Similarly the menu—heavy on heavy foods—was infused with new dishes—fried brie, Korean BBQ chicken cheesesteak, spice crusted swordfish, crispy eggplant flatbread. Many recent visitors were curious about the changes and report being favorably impressed. Watch the TV episode online to preview the update to this Chester County classic. Then go taste for yourself.
GuGu Asian Table
638 E. Baltimore Pk., Kennett Square
610-388-1062 / GuGuAsianTable.com
Whether you're a patron or a worker, you're esteemed family at GuGu Asian Table, the new BYOB restaurant near Longwood Gardens that opened last fall. GuGu, meaning "family," is owned and operated by Tony and Suki Liu, owners of Lily Asian Cuisine in downtown Kennett. Fans love the interior, a fusion of Asian simplicity and local Chester County stone and wood touches. The Asian fine food also has a hint of Pennsylvania influence. We suggest sampling broadly from the menu—crab dumplings, bang bang shrimp, sushi, sweet potato rolls, savory drunken rice noodles and Thai iced tea. Then indulge in melt-in-your-mouth coconut pumpkin cheesecake or mochi ice cream balls. Love at first bite!
Letty's Tavern
201 E. State St., Kennett Square
610-444-5688 / LettysTavern.com
It's said the ghost of William Penn's daughter, Lettitia, haunts the historic Kennett Square Inn. But the three new owners—Matthew Killion, Jacob Short and Executive Chef Dan Daley—clearly weren't scared because they named the restaurant after her. Letty's eclectic menu includes local and international references—mushroom toast with whipped ricotta and crispy sage as well as a Korean fried chicken sandwich—plus a variety of soups, salads, sandwiches, burgers, pizza and other entrees. Cocktails are especially creative. Try a Mi Novia or a Sweater Weather. We're glad this landmark got a new life and a bottle shop on the lower level.
The Naked Olive
759 W. Cypress St., Kennett Square
610-444-2424 / Facebook.com/TheNakedOlivePA
What's not to love about The Naked Olive, a new Mediterranean BYOB with Greek favorites in a garden-inspired setting? Opened in early 2021 by the Iliadis and Stamatiadis families, the casual, airy space delights with a bicycle-based sideboard holding green plants and seasonal décor, shelves of copper kettles on the wall, and fresh flowers on tables. Try red wine-marinated lamb lollipops in tzatziki sauce, traditional Greek salads, and fig and prosciutto flatbread. Don't skip dessert! Lemon mousse cake with smooth frosting is so delicious you'll want three slices. Tiropita, a round pastry with golden rings of phyllo filled with cheese, drizzled with honey, is another perfect ending to the meal.
Revival Pizza Pub
240 Windgate Dr., Chester Springs
610-947-0999 / RevivalPizzaPub.com
A spinoff of Stove & Tap, helmed by Joe Monnich and Justin Weathers, this new pizza place is in Weatherstone Town Center. Pizza here is wood-fired and you can build your own or select a specialty, such as a spicy pepperoni with pickled jalapeño and Calabrian honey. Not in the mood for pizza? Try shareables, handhelds, pasta, mussels, salads and crostini as well as ten taps of craft and national beers. All served up in a large modern space, high ceilings, oversized windows, overlooking the Chester County countryside.
Di Bruno Bros. Main Line
385 W. Lancaster Ave., Wayne
484-581-7888 / DiBruno.com
(Locations in Ardmore and Philly)
Open since spring 2021, Di Bruno Brothers' newest space in Wayne is like an artisanal market in Tuscany. Lose yourself among rows of delectables: breads, olive oils, balsamic vinegars and gourmet chocolate bars. Stop at the Alimentari for wine. Twirl the carousel of truffle oils. Follow enticing aromas to its café. Need recommendations? Staff—passionate about food—guide you to samples while telling stories of meals they designed for wedding proposals. Take home slices of salamis in brown wrappers or chubs—short, plump sausages. Ask at the Fromaggi counter for suggested pairings and discovered rich mole salami with cocoa and chili spices, perfect with melt-in-your-mouth Brabander cheese. A food lovers dream!
Fox Barn at Twenty9
16 Great Valley Pkwy., Malvern
610-251-9229 / FoxBarnAtTwenty9.com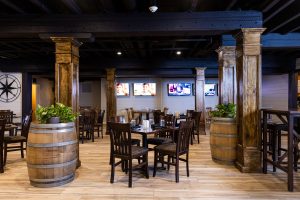 A $1.3-million renovation transformed a two-story, full-service restaurant into a pub, catering operation and barn venue (weddings, meetings, parties and more). Exposing the beamed ceiling in the historic building uncovered the charm of the original barn, and redesigning the 2,000-square-foot deck added space for enjoying sunsets in Great Valley at Happy Hour. The menu leans into comfort food, exemplified by the app combo—prime rib egg rolls, wings, tater tots, buttermilk chicken fingers. There's plenty of meat and BBQ laced through the selections, including samplers offering beef brisket, pulled pork and bratwurst, along with grilled salmon, fish tacos and veggie wings for others. A great new look!
Pizzeria Vetri
138 W. Lancaster Ave., Devon
484-207-6663 / PizzeriaVetri.com
The art of authentic pizza-making found a new location at the Devon Yards complex in late summer 2021. Located in the Amis Tratorria building, this sleek, industrial space uses a simple formula: four ingredients in dough that's fermented for four days, then cooked in a 650-degree oven for distinctive leopard spots. First a pop-up, it's now expanded to seven days a week, offering Neopolitan round and 28-inch-long Metro pies including squash, crudo and Maurizio (rosemary). Try the prosciutto and burrata boards, pear truffle salads, chocolate budino. Or order the adult or little chef pizza kits for take out. Next location is planned for the KOP Town Center. More to love.
DePaul's Table
7 E. Lancaster Ave., Ardmore
610-589-0500 / DePaulsTable.com
"Big steaks are coming to the Main Line," read the Inquirer headline announcing that the stunning space of the former brasserie-concept Bercy in Ardmore had evolved into a modern Italian steakhouse. Justin Weathers and Joe Monnich (of Stove & Tap) partnered with Anthony DePaul (of ChopHouse fame) to bring 28-day dry aged Pat LeFrieda beef to the 'burbs last May. Designed to be a fresher take on a Center City steakhouse, DePaul's menu is full of the usual suspects—NY strips, Delmonicos, chops, lobsters, seafood towers—plus a 48-oz. bone-in tomahawk rib eye for $140. There's a Happy Hour, kids food, porcini dusted scallops, and celeb spottings (Charles Barkley, Adam Sandler).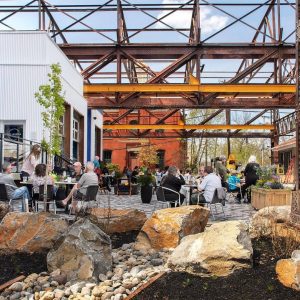 Lark & The Landing Kitchen
611 Righters Ferry Rd., Bala Cynwyd
484-434-8766 / LarkPA.com
It's a bit outside our territory, but trust us—the destination is worth the drive. Renowned Philly Chef Nick Elmi (Laurel) and Fia Berisha landed in Bala Cynwyd with the opening of The Landing Kitchen for sandwiches, salads, pastries and coffee, later adding Lark for elegant dinner options like goat cheese gnocchi and glazed rohan duck breast. Both eateries embrace the industrial setting of the former Ironworks along with stunning views of the Schuylkill River. Start with breakfast and lunch at The Landing and then finish the day on the rooftop for a memorable dinner and cocktails at Lark. Here's to a full day of show-stopping food. All without a trip to the city.
Rye BYOB
112 W. State St., Media
610-263-7832 / RyeBYOB.com
Who doesn't love small plates? That's the basic concept of Ryan Sulkowski's newish (opened October 2020) reinvention in the former Lotus Farm to Table space in Media. Local, seasonal ingredients and some chef magic are designed to elevate the food, yet keep it approachable and affordable in a place to visit week after week. From the grilled celeric steak to the hearty double cheeseburger and an array of satisfying pastas—ricotta and Meyer lemon cappelletti with fig and maple—the menu delights. There are summer truffles, tempting mocktails and decadent desserts like affogato and chocolate rye cake with chocolate berries and stout sorbet. As we said—what's not to love?
back to top