Toast to Tailgating
Equestrian season wouldn't be complete without tailgating … and special cocktails. Mix up one of our local specialty drinks and enjoy the season in true equestrian style!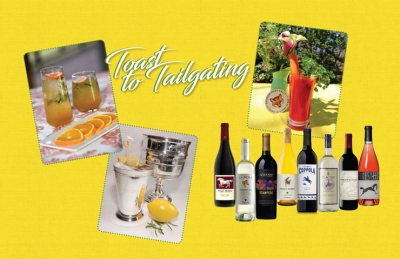 The Winterthur Cooler
Cool off with Winterthur's new refreshing spring drink—the Winterthur Dandelion Clementine Cooler. Prepared by the museum's onsite Restaurant Associates chef, this drink is perfect at the Point-to-Point races or during Winterthur's After Hour events. Or anytime!
½ C. chopped dandelion green leaves
2 clementine tangerines, zested and juiced
2 limes, juiced
2 oz. agave syrup
2 oz. gin (optional)
Ice cubes
Sparkling water
Clementine slice, for garnish
Muddle clementine zest, clementine juice, lime juice, agave syrup and dandelion greens.
Shake with gin and ice—or omit the gin. Pour over ice. Top with sparkling water and clementine slice.
Makes 2 drinks.
The Willowdale Steeplechaser
This Willowdale Steeplechase race day cocktail is a bright, lemony cousin of the well-loved Mint Julep. Enjoy it with alcohol or without—the nonalcoholic
version is aptly named "The Water Jump."
2 parts Maker's Mark or bourbon of your choice
1 part fresh lemon juice
1 part honey syrup or simple syrup
Ice cubes
Lemon slice, for garnish
Sparkling water (optional)
Fill traditional silver Mint Julep cup or highball glass with ice cubes and pour in Maker's Mark or bourbon.
Mix simple syrup and lemon juice and add to glass. Stir gently and garnish with a round slice of lemon.
For a nonalcoholic version, substitute sparkling water for bourbon.
Toast and enjoy!
Radnor Hunt Races Riders Up Bloody Mary
The first race is at 1:30 p.m., but at high noon before the tailgating begins, it's time for a Radnor Hunt Races Riders Up Bloody Mary.
20 oz. V8 Juice
6 oz. vodka
2–3 Tb. horseradish
1 dash Worcestershire sauce
2 dashes Tabasco sauce
Pinch of celery salt
Pinch of black pepper
1 lemon, jucied
Ice cubes
Carrot sticks, for garnish
Fresh cilantro, for garnish
Combine all ingredients, but garnishes, in a small pitcher. Stir.
Add ice to the glasses and pour. Garnish with carrot sticks and cilantro. Makes 4 drinks.
And they're off!
Wine: Equestrian Style
Prefer to pour wine than mix cocktials? These wines come complete with horses on the labels and fitting names for your tailgate. Trot over to your nearest retailer and stock up!
14 Hands Hot to Trot Red Blend
14 Hands Hot to Trot White Blend
14 Hands Stampede Red Blend
14 Hands Kentucky Derby Red Blend Limited Release
14 Hands Pinot Gris Columbia Valley Washington
14 Hands Sauvignon Blanc Columbia Valley Washington
Cecchi La Mora Vermentino
Firesteed Pinot Noir Rosé Willamette Valley
Firesteed Riesling
Francis Coppola Director's Merlot
Light Horse California Cabernet Sauvignon
Light Horse California Chardonnay
Light Horse California Pinot Noir
Placido Chianti
Placido Pinot Grigio
Whiplash California Red Blend
Whiplash California Zinfandel
Wild Horse Pinot Noir Central Coast
back to top