The Rising Selection of Modern Saisons
Get to know the perfect beer of summer.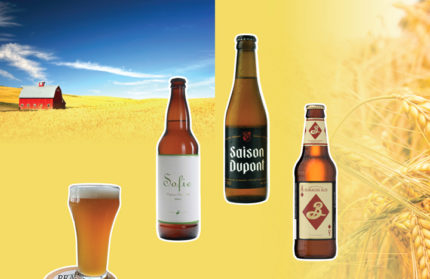 Ahhh, the saison.
Pretty much wherever you go, the description of the saison on tap will begin with something like—"a refreshing pale ale that's highly carbonated to bring out the many flavors and aromas of the beer."
Following this, though, the descriptions start to deviate, sometimes by quite a bit.
That's partly because brewers are a creative lot. Some brewers add spices like coriander, orange zest and maybe even ginger. Others add rye malt or other earthy spices. Still others strive for a dry finish or a small amount of residual sweetness.
Yet there are more commonalities than differences. Most brewers have floral notes emanating from the esters from the yeast (for the non-beer geek, that's the fruity flavors from fermentation). And most brewers will agree that the saison style is a simple beer that can offer nuanced complexities—just plain fun for brewers and drinkers.
And for our hopheads out there, have no fear—some brewers are making hoppy saisons as well.
But no matter where you go, expect to sip a classically golden-orange colored, refreshing, lighter-body pale ale that has elevated carbonation (and a big, long-lasting, lacy head) with a blend of earthy and floral notes. These last two features are responsible for the variety from brewer to brewer. And make sampling so much fun.
So in the end, each brewer's saison represents a unique interpretation of the style, giving the beer its own story. And for beer fans, the saison is one of those beers that's great for the beginner craft brew drinker, while it's also enjoyed by seasoned beer geeks.
Want to learn more?
You Say Saison, I Say Farmhouse
Beer fans often ask about the difference between a saison and a farmhouse ale. The short answer is these names refer to essentially the same beer style. But a little history is instructive. Feel free to pour yourself a beer as you read on.
Legend has it that saisons/farmhouse ales date back to the 18th century when the beers were brewed in the farmhouses in Wallonia, the French-speaking area of Belgium. Farming was manpower intensive back then—no air conditioned John Deer cabs to ride in.
To keep farmhands hydrated and fortified, farmers brewed beer in the off-season, taking advantage of cooler weather to store and age the beer. Later, they'd serve it to the farmhands during their hard work in the warm months. Hence, farmhouse ales.
Brewing farmhouse ales in the off-season of farming inspired the French term saison, meaning season.
Farmer Brewers
Traditionally, saisons were relatively simple in their flavor characteristics and were brewed with a practical purpose—to satiate the farmer and seasonal workers (saisonniers) during the summer. The ale was brewed in the cooler non-farming months, and then bottled, unfiltered, and aged during the winter.
To survive the long winter storage, plus some warmer-month storage until consumed, the beers were hopped up (added hops act as a preservative) and generally dry (higher residual sugars could cause stability issues).
This type of brewing had substantial challenges: make a beer that can survive the long winter and spring storage, while keeping the alcohol low enough (in the 3.5% range) that farm workers could quench their thirst but still keep working.
Farmers had their own unique saison flavor characteristics, depending on the ingredients available on their farm and the wild yeasts that caused the fermentation.
This history is likely the main reason these beers are traditionally available in the summer.
Modern Saisons
Even today and off the farm, the refreshing nature of the saison just screams summer. Surely you've heard the call of a saison when choosing a warm-weather brew. Be aware, though, that for modern saisons, while the varying characteristics remain, the alcohol level is now generally in the higher 5% to 8% range.
No matter the variations, you're sure to find many saisons that will quench your thirst. Refreshing, light body and tingly on your tongue, saisons also combine an added blend of earthiness and fruity esters that make them very drinkable.
Brewing Saison
When asked what makes a great saison, I find that's tough to answer. In part, that's because of all the fun and nuance a brewer can put into that style.
My interpretation of the saison is to keep the alcohol in the low 5% range, add some rye malt to the grain bill for subtle peppery notes, so that when combined with the hops (Styrian Goldings and Saaz), there's a nice combination of spice and hop to the finish of each sip.
Next, fermentation with a saison yeast starts around 67° and climbs to 72°, to bring out a pronounced level of fruity esters. The resulting beer is a bubbly pale ale with nice fruity notes that finishes in the back of the mouth with a slight hop bite combined with pepper.
To sample this approach at Braeloch Brewing, try the Apricot Saison that combines the tartness of apricots to complement the fruity esters of the base saison. To keep this beer on the dry side, the sugars introduced by the apricot are further fermented, increasing the alcohol level to 6.5%.
Sample Some Saisons
To understanding the beauty of saisons, head to your local craft beer shop and grab a selection to compare and contrast. Given the growing popularity of saisons in the craft brew world, this task should be as easy as it is enjoyable.
For an iconic example, try Saison Dupont from Belgium. At 6.5% ABV, it's bottle conditioned (often in a bottle with cork and cage, like Champagne) and unfiltered, representing the epitome of the style. Other good options are Goose Island's Sofie and Brooklyn Brewings's Sorachi Ace.
Wondering about food pairings? The simple answer is that the inherent crispness and wide range of flavors offer almost limitless options—from spicy Asian to grilled meat. Or go old-school and pair this farmhouse-style ale with rustic food, like a simple grilled chicked with herbs.
If you're already a fan of saisons, devote part of this summer to enjoying the growing selection and variations available. If you're new to saisons, this beer style can be a fun exploration to see which brewer's interpretation matches your palate.
Cheers!
A home brewer for 12+ years who's now turned pro, Kent Steeves is a former rocket engineer and business leader in semiconductors and electronics. Working with partners Amy Steeves, Matt and Kathy Drysdale, he opened Braeloch Brewing in Kennett Square this March. The 10-barrel craft brewery has a 78-foot-long bar, large taproom, outdoor beer garden and great food and beer. Visit at 225 Birch St., Kennett Square. BraelochBrewing.Beer.
back to top